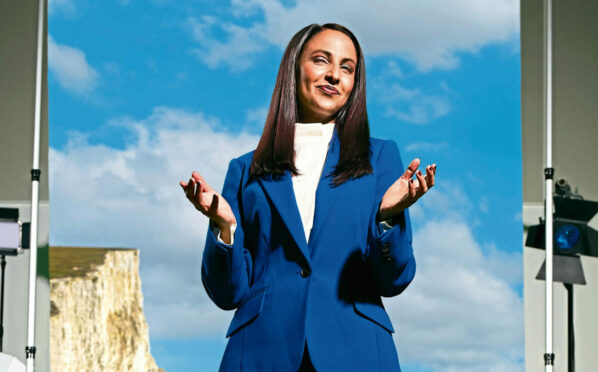 It was meant to be political satire but, as the news unreels from Westminster, has become more like a fly-on-the-wall documentary.
The National Theatre of Scotland's new drama Exodus, telling of an ambitious, power-hungry politician willing to do just about anything to get the keys to No 10, edged closer and closer to reality as the opening night approached.
"There's always a bit of you inside that's going, 'you know it's not that far off what is actually happening right now,'" said director Debbie Hannan. "One of our stage managers said, 'We started out as a farce but now it's like we're making a documentary!'"
Exodus is the first production that the National Theatre of Scotland has brought to the Edinburgh Festival Fringe since 2018. It follows Home Secretary Asiya Rao who has travelled to the White Cliffs of Dover for a publicity stunt but, when disaster strikes, Asiya and her political adviser Phoebe decide to turn the situation to their advantage, ultimately asking the question – how far will a mercilessly ambitious politician go to gain power?
Hannan said: "It feels as if we're in a 'Fall of Rome' moment, it's all gone very, very far. What this play does is show that people in power lose their humanity a bit to make decisions. What we need is some finely tuned satire that points out how absurd things have gone.
"Our whole political system is made up and we've bought into it but the wonderful thing is that it can also change. It's a very deliberately silly play with these really big themes about politics and the systems that politicians operate in."
Uma Nada-Rajah was moved to write the play when she became increasingly fatigued from seeing politician after politician making grandstanding statements about immigration.
She said: "I started writing it in winter 2018. Around that time it started becoming a thing for politicians to have this kind of ritualistic performance of pointing at people in dinghies and such, and to participate in lots of political posturing, and often just before a cabinet reshuffle. There was something about these horrendously tragic events and the farcical spectacle around them that I found really interesting and compelling."
Hannan added: "With the systems of power, particularly in the West, the people that tend to want to go into that system are from privileged backgrounds who are interested in extending their power and privilege, and as a result they extend inequality.
"Despite a few patches throughout the 20th Century of workers getting rights and unionisation, we are in a time of inequality on a whole new level. More billionaires than ever before, people profiting through a plague, with no checks and balances or caps on it, and it leads to extreme poverty and inequality.
"This play is about who is inside, who is outside, who has power, and who will never have it. Because it's a satire, that sometimes makes it deep, dark and sad but actually it's still quite entertaining and silly while pointing out these ridiculous elements of a toxic society and system."
Nada-Rajah is a rising star but still holds down her job as an NHS nurse. The twin happiness and tragedy that comes with the role has a profound influence on her writing work.
She said: "The way that I see the world is quite comedic, and working as a nurse in the West of Scotland, it's in the air and that's how you see the world. My family came from the north of Sri Lanka, which is very wartorn.
"I've always been interested in the way people speak about that conflict. Humour is very multi-faceted, it opens people up and you go can go places you wouldn't normally go in a serious situation. When people are being serious I tend to close up more but comedy can help you explore certain ideas in a more open way. You have to be careful of what you are laughing at though, of course."
One thing Nada-Rajah wanted to explore through comedy was the unfettered, and perhaps unexamined, enthusiasm that accompanies projects that are fronted by ethnic minorities or the disadvantaged.
She said: "There is a preciousness that stems from the debate around identity politics, that if there is a woman and a woman of colour at that, they are going to bring this quality and redeem the power-hungry nature of a certain department or role. Obviously, that is not the case.
"We've seen time and time again that there is not necessarily a demonstrable innocence in these particular characteristics. For actors of colour, there are not enough juicy roles out there of people behaving badly and being interesting."
Exodus tours after Fringe run. For venues and dates visit nationaltheatrescotland.com
---
Priti familiar? Star reflects on how role compares to real-life Home Secretary
Aryana Ramkhalawon, who plays Cabinet minister Asiya Roa, believes her character is driven by ego.
"Her eyes are firmly on the top job," said Ramkhalawon. "Every decision she has made in her career is to get closer to that goal. We also see her political adviser Phoebe, who is perhaps the more clever and manipulative one and who actually seems to be running the whole shop.
"You see politicians on TV but, actually, they have a huge team of people working for them. When it comes to the policies she comes up with, you think 'how much of this is her own ideas?' Were they always her ideas, or did she start down this road to get attention?
"She has become so clouded by the need to land this top job, and her desperation to be in the political boys' club. She is so far down the rabbit hole it's impossible to climb out."
Who is and is not allowed to have power in Britain has always been both a bitter and tender discussion. If the system is rigged to allow people through who are more concerned about their career trajectory than serving their constituents, neglect, disaster and, of course, farce, are all likely to occur.
The similarities between main character Asiya and a certain other female home secretary are hard to ignore. The actress explained to The Sunday Post how Priti Patel was, and was not, an inspiration for her while building the character of Asiya.
"It was written in 2019, before Priti Patel was the home secretary, so it's a bit of a coincidence that a South-Asian woman is the home secretary in this piece," she said.
"Really weirdly, art seems to be mirroring reality. There's parts where you think – 'this is really pushing it', but then it happens! Our political climate is so farcical that everything is so unexpected.
"I was attracted to the role because of how high-status Asiya is. I have never been able to play someone so powerful before. She is a power-hungry politician, but she likes to do it in designer heels. You see her public persona but you also see behind the scenes – her insecurities and all the ridiculousness that goes with political manoeuvring.
"Her parents were Ugandans who were ousted by Idi Amin and now she is home secretary making decisions about refugees. It's a great dilemma because, how can you be doing that when your family was in the same situation? But she manages to!"
On her experience of preparing for the role of a Cabinet minister, Ramkhalawon said: "It has been really thought provoking to work on. Before Brexit, I didn't vote, and it was the first time I thought, 'I have to vote, my vote is necessary'.
"I used to think all decisions get made and there is nothing I can do about it. When you see behind the curtain, and politicians being unpolished and being fed lines, it gives more power to the public.
"This piece is clever. It has made me think more and has driven me to be more engaged and vote. We think we don't have any power, but that's what some politicians want you to think. We have the power."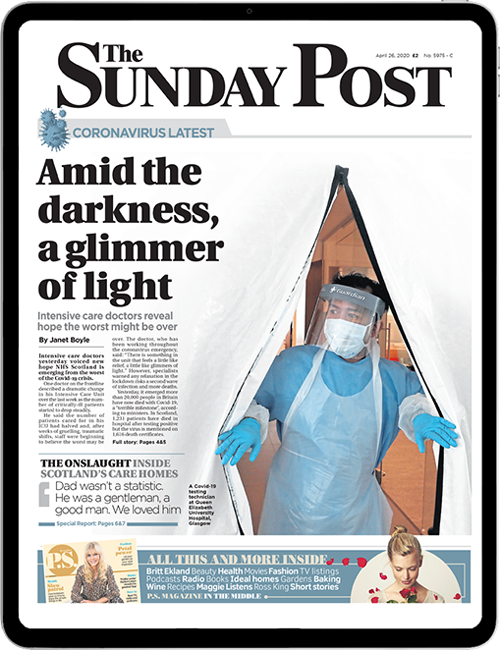 Enjoy the convenience of having The Sunday Post delivered as a digital ePaper straight to your smartphone, tablet or computer.
Subscribe for only £5.49 a month and enjoy all the benefits of the printed paper as a digital replica.
Subscribe