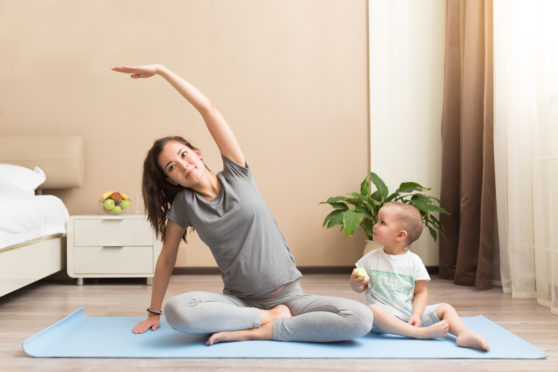 Lockdown has left the nation in isolation but one of the few saving graces is that people are still allowed outdoors to exercise.
Whether that be for a cycle, run or just a pleasant walk, in this time of isolation, physical activity has never been more important.
It's also a great time to learn lots of new ways to keep fit within the home, including even using tins from the kitchen cupboard for weight training.
Personal trainer Bryan Sutherland said: "Keeping fit is ordinarily very important, but especially now that people are cooped up at home the majority of the time, we need that fitness feelgood factor more than ever.
"People are going to be working or stuck in the house all day long, so they will need to think of ways to break up their day. And exercise is a great way of doing that.
"Not only for the physical benefits, but the mental ones it brings as well. Fitness is a great way of distracting yourself from work – and constant news updates – and provides a bit of head space which will be welcome over the next few weeks."
The NHS recommends 30 minutes of light exercise every day. And, even with limited movement, we should endeavour to keep this up.
"The best thing about exercise is that we can really do it anywhere," says Bryan, a former Army corporal. "Once I was posted on a hilltop site for eight weeks – so I had to learn how to keep fit in isolation.
"All you need is a space equivalent to your body height and you have enough room for a whole workout. So whether inside or out, everyone has the space to stay active."
The 45-year-old, who runs Thistle Fitness in Aberdeen, says keeping your muscles moving becomes a priority when you are working from home.
"You don't have the correct desk and chair set-up. Many people will be at a kitchen table, on the couch, their bed or even the floor, without the correct support or posture.
"And if you don't exercise, you'll end up less flexible…your heart strings, hip flexors and glutes will shorten, and your back will be hunched, and your shoulders and your chest muscles will shorten.
"You need to keep moving to help with that. I deal with GP referrals, working with patients with mild obesity, diabetes, arthritis and osteoporosis and, while many of them need drugs, the No 1 thing that was found to help them was exercise.
"You can work out at home, in the garden or indoors. Running on the spot, jumping, planks, push ups, hopping, skipping, balancing and burpees…there's so much you can do.
"Use anything from balls and tins of beans for core and weight training and walls for sliding down…there are so many exercises with simple props.
"If you are ready and willing to stay active there are options so just embrace them."
---
Five to follow
Go online for fab ways to keep fit during the long hours spent at home
Davina McCall
The fitness fanatic TV presenter is offering free membership on her online platform.
Full of home workouts, healthy recipes and wellness tips and tricks, Davina shows you how to work out at home with no equipment, helping you stay strong, physically and mentally.
The fitness coach has been streaming live PE sessions since the nation was asked to work from home, and they've gone down a storm with more than a million viewers tuning in. They'll get you moving – and boost your mental health.
FLY LDN
After temporarily shutting its doors, FLY LDN is streaming classes via Instagram Live. Try your hand at an array of sessions – from candlelit hip hop yoga, to early morning sweaty barre. All last 45 minutes – and are completely free.
Core Collective
The luxury fitness studio has rolled out six types of digital classes, ranging from Strength to Sweat to Pilates, lasting from five to 45 minutes. They vary in intensity, too (meaning even if you're a beginner, you'll find one on your level).
School Of SOS
The empowering dance studio teaches slick choreography to the latest bops – meaning that once quarantine is over and you're back on the dance floor, you'll be fiercer than ever. Tune in for a range of daily dance classes. You'll be bumping and grinding like a Pussycat Doll in no time at all!