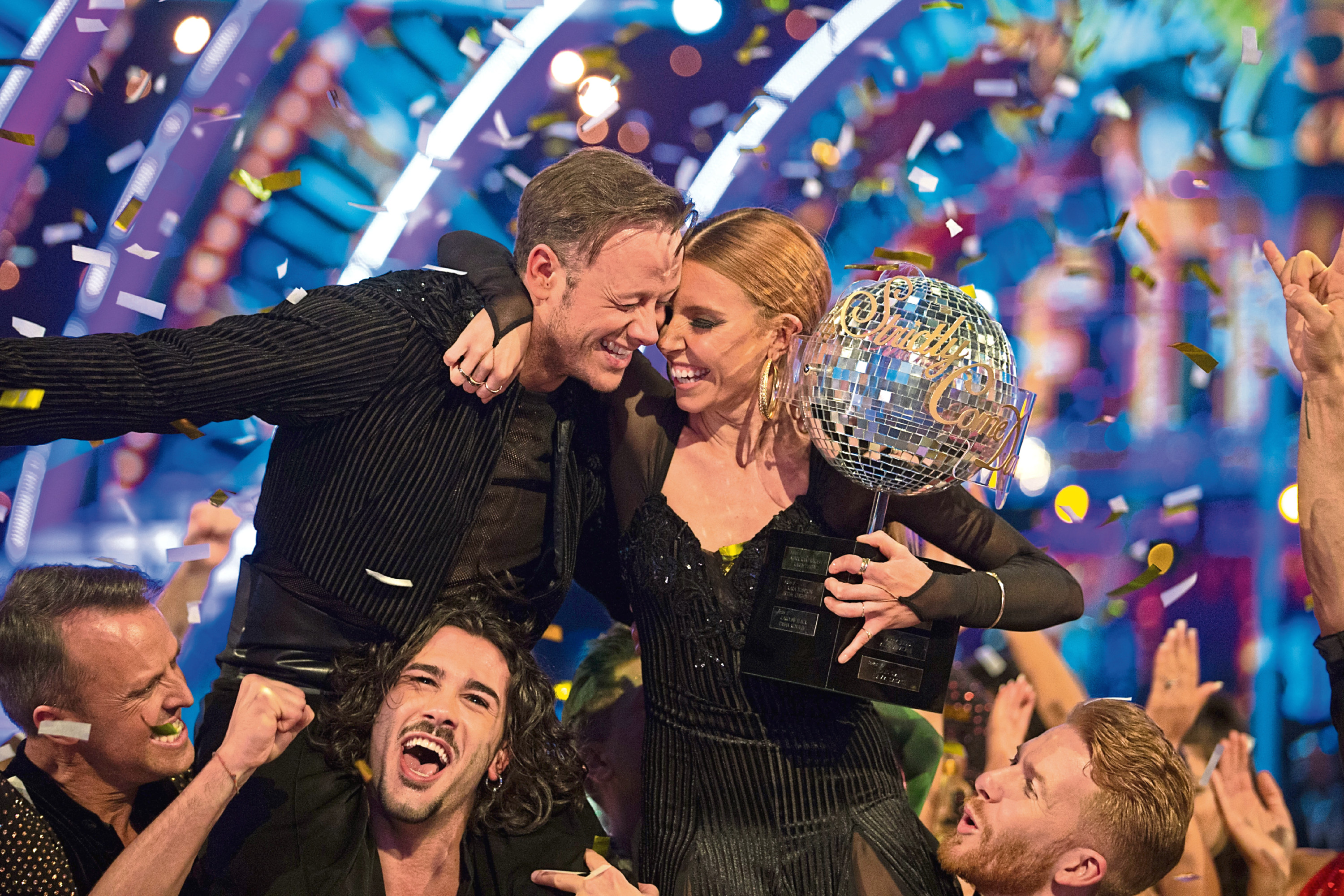 STRICTLY winners Kevin Clifton and Stacey Dooley very nearly never made the final.
The hugely popular couple waltzed off with the Glitterball Trophy after what many felt was the best-ever series of the Beeb's dance contest.
But as the man Strictly fans know as "Kevin from Grimsby" reveals, injury almost ended their dream just as it was gaining momentum.
"My favourite routine was when we did couples' choice week, and we did a commercial routine to Empire State Of Mind," says the 36-year-old.
"That's because Stacey was injured that week, she'd really hurt her ribs when she got a lift wrong during our Doctor Who tango the week before.
"She tore the muscles between her ribs and was struggling to breathe and we weren't able to start learning the routine until the Wednesday instead of the Monday.
"We weren't sure we were even going to be able to dance at the weekend, and thought we were going to have to pull out of the competition.
"We were quite close to having to say: 'Stacey can't continue on Strictly', but then she decided she didn't want to stop and we worked round the clock.
"And not only did she knock it out of the park, I was so proud of her attitude. I think people saw that and that she wanted to do well. I thought: 'Wow, she's properly going for this!'"
Kevin could be the most popular winner in Strictly history after four successive runner-up spots in his first four years on the biggest and best show on TV.
"Winning has been something I've been trying to do for the last few years!" laughs the man who is swapping sequins for spandex to play rock star Stacee Jaxx in the stage musical Rock Of Ages.
"I was actually back home in Grimsby the following weekend because my mum and dad have a dance school there and it was their Christmas do.
"And there was a load of people there who'd just been voting and voting for me and I said to them: 'I have to thank you all very much, but you don't have to spend any more money on me' as they'd all worked up these massive phone bills.
"And they all cheered because I think everyone was going without Christmas presents after the amount they'd voted!"
It was a popular win with Kevin's fellow pros, too, who hoisted him up on their shoulders when the result was announced.
"That was really lovely. I think they knew how much it meant to me after how close I've been a few times before, and it was really nice to have that feeling from your colleagues.
"They just grabbed hold of me and lifted me up and I was shouting: 'Where's Stacey?! Get her up!' and then they lifted Stacey up as well and the two of us were up there for a really lovely moment."
This was Kevin's sixth series and he says: "All of my partners have been lovely and I get on with all of them, I've been lucky.
"Susan Calman last year was wicked! I loved working with her and we're still mates. We text all the time and she got an 'I love Grimsby' tattoo – the deal was I have to get an 'I love Glasgow' one, but I haven't done it yet.
"Susan took it really seriously and did a really good job with the dancing and that's why it worked, and I think Stacey had that similar thing.
"At the beginning, she was struggling, then she worked really hard and got really invested, more than she expected, and she enjoyed it.
"There was never any act with Stacey, she was completely genuine. What you see is what you get with her.
"In the first couple of weeks, stamina-wise, she could barely get through the dances, and on week two, we were getting fours and fives from the judges and she was worried we were going to be the first ones eliminated.
"But after that, we decided to up our training hours as she decided she needed it and we started doing 14-hour days, from eight in the morning.
"On week three, Stacey really went for it when we did that Minions dance and she gave everything she had for that dance and got decent scores, eights.
"From then, she started to believe she could do it whereas before she thought she was rubbish!
"She wasn't perfect, but started to believe she could get round a routine and not embarrass herself and she went from strength to strength."
During the final, Kev was giving Craig Revel Horwood a bit of stick for scoring them lower than the other judges.
"He does it every time in the final!" he laughs. "All apart from Kellie Bright. So Susanna Reid, Frankie Bridge, Louise Redknapp and now Stacey Dooley, he seems to hammer them in the final.
"He'll say: 'I didn't like your show dance, it was a bit this, a bit that' and he never wants to give them a 10.
"I didn't expect us to win, but I thought if there was any chance, we'd need the judges on our side, we'd need them to say we'd done a good job.
"When you've been working so hard and it's all culminating in that one night, and Craig sits there and says: 'Oh, I didn't like it', it's so frustrating.
"I thought: 'Well, we're not going to win now because you've rubbished us.'
"But it was funny as when we did the Paso Doble and the other judges gave us a 10 and he gave us a nine, the whole place started booing Craig!
"He was one of the first people I saw in the bar afterwards and I said: 'Craig, you were killing us!' and he just laughed and said: 'Oh, darling, you and Stacey were so popular you didn't need me anyway!'."
Kevin's latest venture – Rock Of Ages – is at Glasgow King's Theatre from January 22-26, and then on tour until July. For information visit www.atgtickets.com