OH what a night! On Friday, Scotland's sporting heroes came together to celebrate the best of the best over the last 12 months – and all for a wonderful cause.
After months of preparations, the Nordoff Robbins Scottish Sporting Awards were dished out on a star-studded evening at Prestonfield House Hotel in Edinburgh.
The glitzy ceremony saw rugby hero Alastair Kellock, round-the-world cyclist Mark Beaumont, golfer Stephen Gallacher and broadcasting legend Archie Macpherson walk off with the top awards.
But it wasn't all about iconic names.
The nation's community champions were hailed too, along with our Winter Paralympic heroes from Pyeongchang, Millie Knight and Brett Wild, in a ceremony hosted by David Tanner.
It's only the second year the ceremony has been staged, but already it's one of the hottest tickets in Scottish sport.
The awards were the brainchild of The Sunday Post columnist Donald MacLeod, chairman of Nordoff Robbins Scotland.
He presented Mark Beaumont with this year's Sporting Ambassador Award, recognising the record-breaking cyclist's outstanding work both on and off his bike.
But the man of the hour was undoubtedly former Scotland and Glasgow Warriors legend Alastair Kellock, who picked up the Outstanding Achievement in Sport Award.
After collecting his gong, presented by Scottish rugby legend and Sunday Post columnist David Sole, a beaming Kellock said: "I was part of a team that was incredibly special, so you're not used to getting individual awards.
"I was very lucky that the team we had built something and the full-stop on my career was a Pro 12 win with Glasgow, so to get an award like this is fantastic. I've got to say that the work Nordoff Robbins do – and I've heard a lot about it tonight – is phenomenal.
"Some of the stories we heard were great and I'm a massive advocate of what can happen when you mix charitable work and sport together."
The legendary Archie Macpherson has been commentating on Scottish football for more than 50 years.
In that time, his voice has danced across the most iconic moments of the Scottish game, weaving its way into the national consciousness.
He kicked the night off in fine style by presenting former Scotland women's football goalkeeper Gemma Fay with the Sportswoman of the Year Award.
And after being presented with his own gong – the Contribution to Sport Award – the humble broadcaster knew exactly how to sum up his feelings.
"I feel as though I should be on a different stage to some of the men and women I saw tonight because they really did achieve something in sport, but I'm delighted to be with them," he said. "I could never have foreseen my career going the way it has when I started.
"I started off very nervously, I wasn't sure of myself, I was very tense, particularly in front of a camera.
"But gradually, it became a job for me, and I was never after any particular glory.
"I just wanted to do an effective and professional job, so I just worked at it that way."
Golfer Stephen Gallacher spends his professional life jetting around the world.
But he was recognised for the work he does closer to home offering Scots youngsters a path into golf with the Unsung Sporting Hero Award, presented by star uncle – and Sunday Post columnist – Bernard Gallacher, the former European Ryder Cup captain.
Stephen said: "Without the day-to-day people that work with the Stephen Gallacher Foundation, it wouldn't run the way it does, so I've got a lot to thank them for.
"This is my sixth year with the Foundation now and slowly but surely we're getting the numbers off.
"We're offering free golf now for youngsters and we're trying to get into schools.
"We just want to get more kids playing the game, and if I can make a difference, I'll be delighted."
Mark Beaumont smashed the round-the-world cycling record last year, circumnavigating the globe in an astonishing 79 days.
But the star, educated at Glasgow University, still found time to put in the hard yards at home, juggling his charity, educational and ambassadorial work with truly admirable gusto.
He picked up the Sporting Ambassador Award for his troubles, and said: "As an athlete it has been an incredible few years.
"You don't look for recognition like this but when it happens it's wonderful.
"Since I was a 12-year-old kid, charity has always been at the heart of the expeditions, the ambitions and the records.
"I've always been competitive, but I have also realised that you can't have a career like mine without building a profile.
"Through that, you can very quickly give back, and I'm in the lucky position of being able to do this."
When all was said and done, the winners then partied into the night accompanied by a rousing set from singer Stephanie Cheape.
The roll of honour…
Sportswoman of the Year
Sponsored by SSE Hydro
WINNER: Gemma Fay.
NOMINEES: Beth Potter, Laura Muir, Elise Christie.
Sportsman of the Year
Sponsored by SSE Hydro
WINNER: Stuart Hogg.
NOMINEES: David Florence, Josh Taylor, Scott Brash.
Coach of the Year
Sponsored by The Sunday Post
WINNER: Adrienne Hunter.
NOMINEES: Judy Murray, Andy Young, Ann Dickson.
Sporting Breakthrough of the Year
Sponsored by The Sunday Post
WINNER: Josh Taylor.
NOMINEES: Bradley Neil, Ieuan James, Scotland Tug of War Team.
Team Performance of the Year
Sponsored by Radisson Red
WINNERS: Scotland men's hockey team.
NOMINEES: Celtic FC, Glasgow Warriors, Team Muirhead.
Unsung Sporting Hero Award
Sponsored by Radisson Red
WINNER: Stephen Gallacher
NOMINEES: Adrienne Hunter, John McGlashan, Geoff Brown.
Female Parasport Personality of the Year
Sponsored by Paul Hodgkiss Designs
WINNER: Katie Ford.
NOMINEES: Sammi Kinghorn, Maria Lyle, Amy Carr.
Sporting Teamwork Award
Sponsored by Trespass
WINNER: Millie Knight & Brett Wild.
Male Parasport Personality of the Year
Sponsored by Paul Hodgkiss Designs
WINNER: Martin Perry.
NOMINEES: Derek Rae, Micky Yule, Gordon Reid.
Contribution to Sport
Sponsored by Parachute
WINNER: Archie Macpherson
Outstanding Achievement in Sport
Sponsored by Ennova Law
WINNER: Alastair Kellock
Sporting Ambassador Award
Sponsored by Ennova Law
WINNER: Mark Beaumont
Extreme Sports Award
Sponsored by Trespass
WINNER: Danny MacAskill.
NOMINEES: Murray Buchan, Katy Winton, Charlie Guest.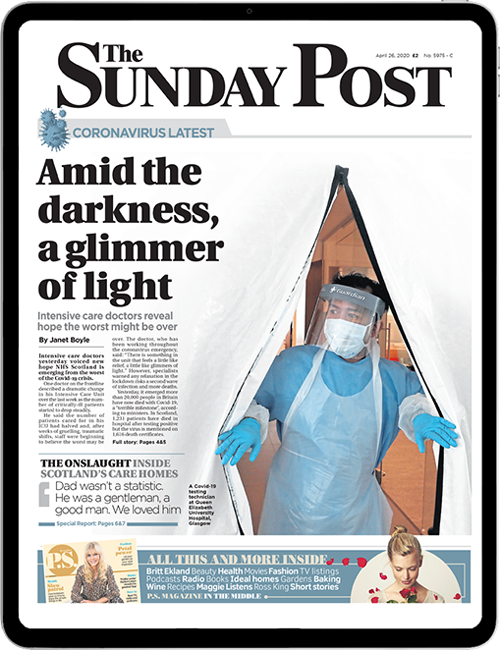 Enjoy the convenience of having The Sunday Post delivered as a digital ePaper straight to your smartphone, tablet or computer.
Subscribe for only £5.49 a month and enjoy all the benefits of the printed paper as a digital replica.
Subscribe