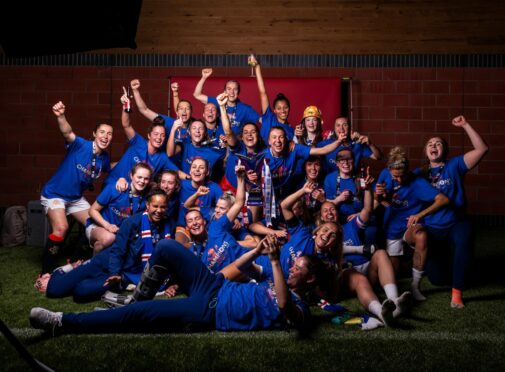 The players and head coach Malky Thomson have rightly enjoyed plaudits for Rangers winning a historic first SWPL 1 title but the driving force has been Amy McDonald.
A former Scotland player, McDonald is the club's women's and girls' football manager and club insiders are clear in their insistence that her work behind the scenes has created the environment for the landmark triumph.
Rangers finished seven points clear of 14-in-a-row champions Glasgow City and 17 ahead of third- placed Celtic, ending the season unbeaten, having won 25 of their 27 league games and drawn the other two.
The historic achievement was recognised when they were named SWPL team of the year – again a first for the club.
"Everyone has bought into what we're trying to achieve, and to do it in the manner we have is unbelievable," McDonald said. The 36-year-old's playing career was cut short by an ankle ligament injury, and after being told she risked permanent damage she retired in 2012.
At the time she was with Glasgow City, but two years earlier had been captain of Celtic when they won the League Cup. Until this season, when they won it again, it was Celtic's first and only women's trophy win.
That means that McDonald, uniquely, has played a huge part in both Rangers and Celtic winning their first major competitions.
Rangers were only formed in 2008, when they took the place of Paisley City in the Scottish Women's First Division. In their first game against Celtic they lost 8-0, with McDonald getting one of the goals.
The defensive midfielder also played 30 times for Scotland before her career was curtailed. Her journey with Rangers started five years ago.
At the time it was inconceivable that the club would go on to have a full-time women's team, including professional players from Jamaica, the United States, both sides of the Irish border, Denmark and Holland. All were members of the title-winning squad but the core are Scotland internationals, including full-back Nicola Docherty and striker Jane Ross.
"I went in part-time in 2017," recalled McDonald. "Part of it was that I needed a job, but the other part was that I was a Rangers supporter. I knew the size and scale of the job that probably was ahead of me in terms of what they wanted to achieve."
The first two years were tough, with McDonald not only being the team's head coach, but having to do most of the administrative tasks. She and her mother were even washing the team's strips.
"I think my mum just wanted to see me," laughed McDonald. "She asked me to come to her house and she helped me wash the strips."
McDonald's job was made full-time the following year, but it wasn't until the second half of 2019 that matters took a turn for the better.
The catalyst was the World Cup in France, where Scotland made a tournament debut, and the potential of women's football was belatedly recognised.
"I got an email from (former chairman) Dave King," explained McDonald. "I was out walking my dog and it basically said: 'Amy I would like to learn more about what you are doing with women's football, would you be free to meet?' That was just the heading – there was no body to the email and I thought somebody was obviously winding me up. Anyway, I wrote back and met with Dave and that's when it all changed. I told him that the girls' academy players were still having to pay to play and he told me on the spot that was going to change and he wanted to invest."
King gave McDonald and head of academy Craig Mulholland a month to come up with a plan to turn Rangers into a force in domestic football and try to get European football also.
"I went to a board meeting to present the plan and I knew I would only get one shot."
The board bought the plan and agreed the team would become professional at the start of the following year. The move did, however, come at a cost. McDonald had the unenviable job of telling the majority of her first-team players that they would be let go at the end of the season to make way for better ones.
"I'll always have a huge regret over it," McDonald admitted. "I don't like to give up on people. I'll be forever thankful to these players but it will also always stick in my throat that we could probably have handled it in a much better way because they helped get the programme to where it is now."
The start of 2020 also saw former men's player Gregory Vignal appointed as head coach, with McDonald opting to move "upstairs" to the girls' and women's manager role. The Frenchman, in turn, was replaced by Thomson last year. The onset of the pandemic at almost exactly the same time as the new professional squad were starting to play their first matches was an unexpected setback.
The 2020 summer season was eventually declared null and void – and replaced by a more traditional 2020-21 winter campaign.
Rangers, having recruited heavily from Glasgow City and Hibs – the two clubs which had dominated Scottish football in the previous decade – as well as wider afield looked set to make an instant success in their first proper season.
They led closest challengers City by five points going into the winter break, but a four-month suspension of women's football due to Covid halted their momentum, and they ended the campaign a poor third behind City and Celtic.
Having made further additions to what was already the most expensive squad in Scotland, there were no slip-ups at all this season.
After losing all three league games to Celtic in 2020-21, Rangers turned that record on its head and they got over the line with a 0-0 draw against runners-up Glasgow City in the penultimate game.
They will now play Champions League football for the first time next season, with City Scotland's other representative.
Signing delivers in biggest games
The signing of Scotland striker Jane Ross from Manchester United last summer was an astute move by Rangers.
She scored five of the seven league goals against Celtic, and McDonald has no doubt of her worth to the title-winning team.
"Jane brings a calmness and level of professionalism," she said. "We needed players like her, and not just on the pitch because we knew she could score goals for us at big moments.
"We have a mix of players who have gone through the evolution of amateur to elite. We needed players in the building who knew what elite was and Jane epitomises that."
Ross, a former Glasgow City team-mate of McDonald's, also played for Swedish club Vittsjo, Manchester City and West Ham.
She comes from Rothesay and used to travel with her father to Paisley to play for a team there when she was a girl. Now 32, she has scored 62 goals in 146 games for her country.
Manager hails skipper's impact
Californian Brianna Westrup is Rangers' captain, having signed for the club in 2020.
"We do quite extensive scouting," McDonald pointed out. "We were looking for a centre-back and we managed to speak to some people at the university she'd gone to in America. They spoke really highly of her character.
"We went on to a Zoom call because she was back in California after having played with Newcastle. You could just tell by the way she articulated herself that she was a leader.
"Some of her family are still in Dundee and her mum was originally from there.
"What's really important for us is not just the player on the pitch – it's about the person off it. Brianna has been absolutely fantastic for us."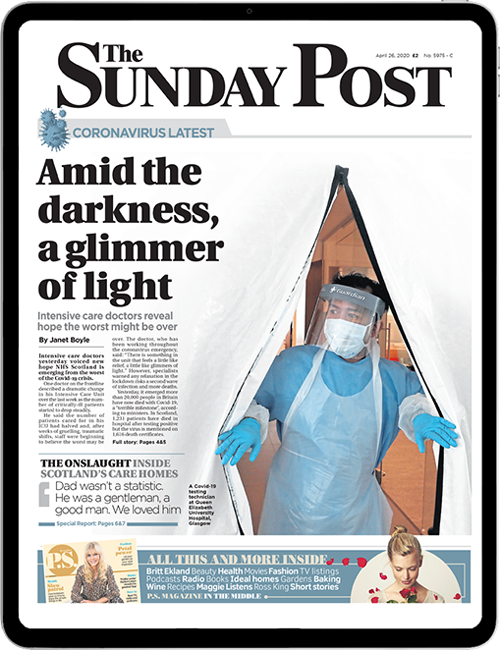 Enjoy the convenience of having The Sunday Post delivered as a digital ePaper straight to your smartphone, tablet or computer.
Subscribe for only £5.49 a month and enjoy all the benefits of the printed paper as a digital replica.
Subscribe