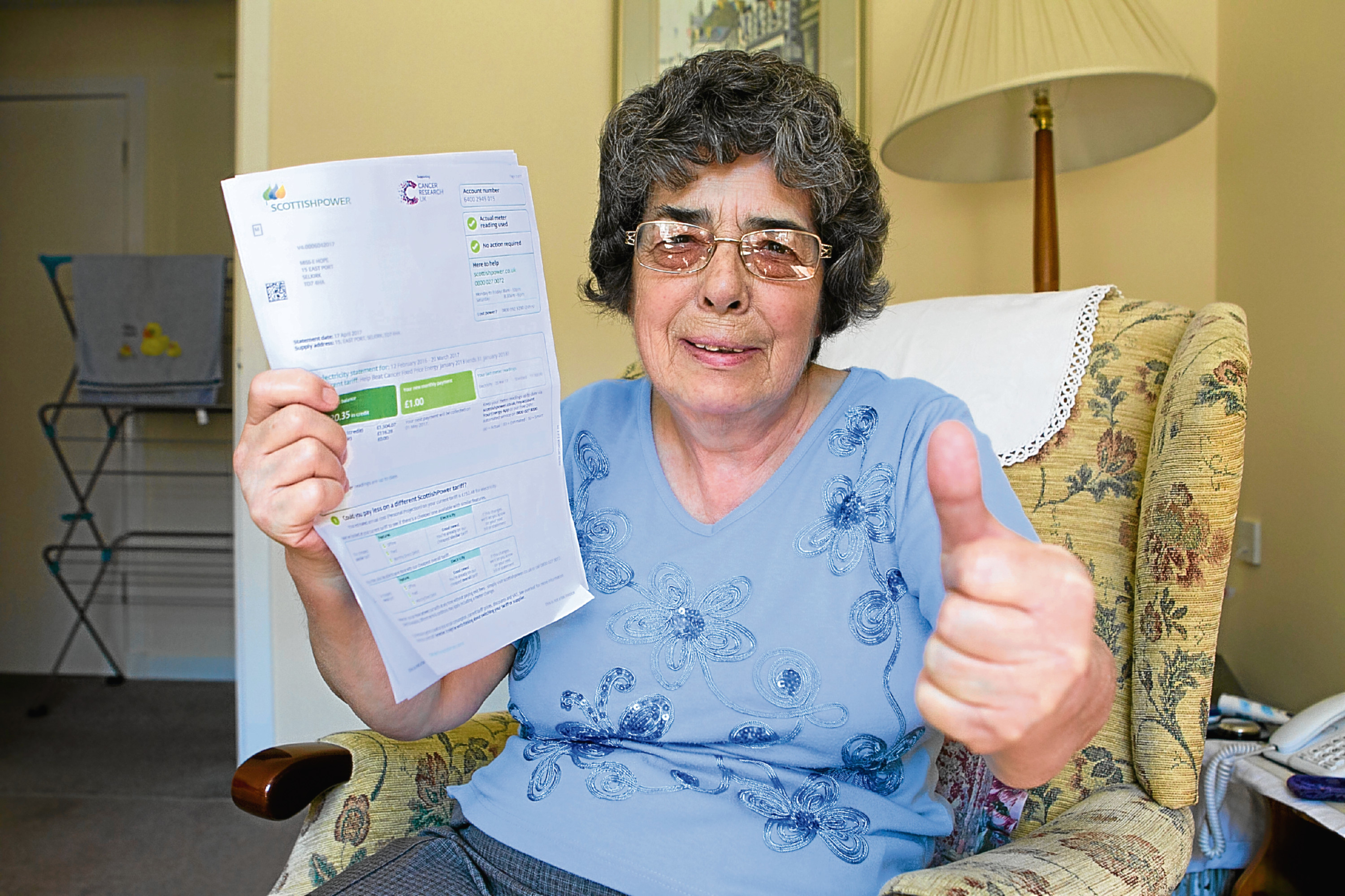 IT always pays to check your bills. And if you are puzzled by something, then get an explanation.
That's what Evelyn Hope, of Selkirk, did – and good job too.
In the summer of 2015 Evelyn began wondering about her electricity charges.
She lives in a housing association property, which is all electric, and has always been careful with her power usage. She couldn't understand why her bills were so high.
Her tariff is ScottishPower's "comfort plus control", which means she has two meters – one for domestic usage, the other for all forms of heating, including storage and water heating.
The domestic meter has a higher charge, while the heating meter (always higher usage) has a lower charge.
She contacted her local authority, who sent out an energy advisor.
He checked Evelyn's bills and metering and – wait a minute – she was being incorrectly charged.
ScottishPower had transposed the meters on their bills.
Evelyn's higher-usage heating was being charged at the higher rate.
What's worse, these meters were installed in 2009, so it seemed that she had been overcharged every month since then.
The advisor from Scottish Borders Council calculated she might have overpaid by as much as £1750 over the years.
The council advisor got on to ScottishPower and the ombudsman service but couldn't get a satisfactory reply.
It took a great number of phone calls, and broken promises, before December 20, 2016 – a full 15 months after the problem came to light – for ScottishPower to get a community liaison officer out to Selkirk to investigate Evelyn's problem.
Once there, though, he immediately agreed that something was wrong.
He confirmed that the domestic and heating meters were wrongly recorded on their records and Evelyn had indeed been overcharged for all those years.
But getting a refund proved to be another huge task.
The liaison officer said that Evelyn would hear from ScottishPower within two months, but after three months (and another barrage of phone calls from the Borders Council energy advisor who was thankfully still helping Evelyn) nothing had been done.
ScottishPower kept saying that the account was "in dispute", whatever that meant, and that a resolution would soon be forthcoming.
And, all that time, Evelyn kept paying her direct debits every month, even though she knew she was still being overcharged.
Tired of the whole saga, she wrote to Raw Deal.
We were rather surprised that a mistake that had been acknowledged by ScottishPower, and had been ongoing for eight years, wasn't being swiftly dealt with.
We suggested that Evelyn be given the money she was owed – doublequick.
ScottishPower had another look at the situation and sent us a statement which said: "We sincerely apologise to Miss Hope for the length of time it has taken to resolve this issue.
"Our customer liaison officer confirmed we had transposed readings.
"The account has now been updated and refund of £1544 has been made to Miss Hope.
"We have also issued a goodwill payment of £150 by way of an apology."
About time too.