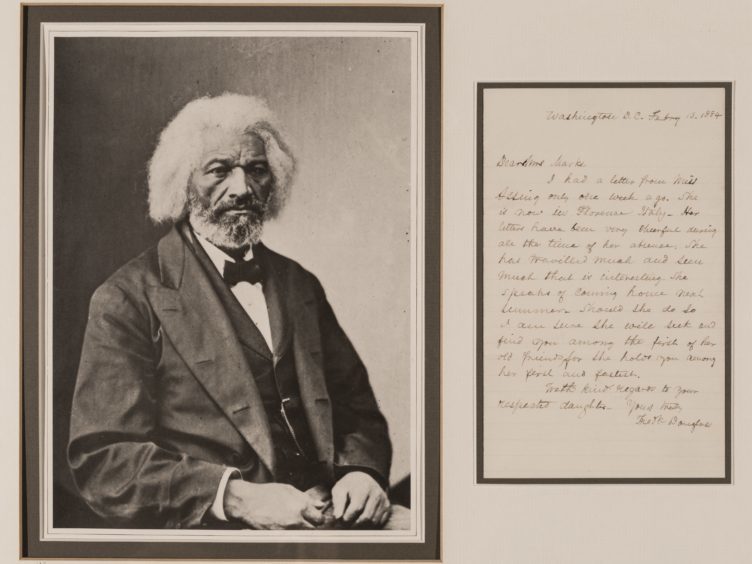 AN exhibition about anti-slavery campaigner Frederick Douglass is going on show at the National Library of Scotland to mark the 200th anniversary of his birth.
The display features letters, speeches and photographs loaned from the Walter O. and Linda Evans Collection, which until now have never been seen by the public.
Douglass visited Scotland twice to campaign against slavery, and was subsequently appointed "Scotland's antislavery agent."
He toured the country's cities, towns and villages between 1846 and 1847 claiming that slavery and Christianity were incompatible, and returned in 1859 to do the same.
A letter written by Douglass in 1846 showed his condemnation for Scotland's Free Church in its support of slavery:
"Scotland is a blaze of anti-slavery agitation. The Free Church is in a terrible stew. Its leaders thought to get the slaveholders' money and bring it home, and escape censure.
"They had no idea that they would be followed and exposed. Its members are leaving it, like rats escaping from a sinking ship.
"There is a strong determination to have the slave money sent back, and the Union broken up. In this feeling all religious denominations participate.
"Let slavery be hemmed in on every side by the moral and religious sentiments of mankind, and its death is certain."
---
---
Douglass spoke at four meetings in Dundee in January 1846, and the first three were so crowded that tickets had to be issued for his last speech.
He promised Christians that he was not against religion, but argued that both slavery and Christianity were incompatible.
Who was Frederick Douglass?
Frederick Douglass started life as Frederick Augustus Washington Bailey when he was born into chattel slavery in Maryland in 1818.
In freedom, his new surname was inspired by Sir James Douglas from Sir Walter Scott's The Lady of the Lake.
Reputedly fathered by his master, Douglass was raised largely by his grandmother following the death of his mother when he was seven or eight.
He escaped after 10 years living under Captain Auld's slave regime 1838, heading to Massachusetts – around a three week walk – where he got a job in the shipyards.
Walter O. Evans, a collector and conservator of African American art, history and culture, personally delivered the material to the Library in August, and returns to Edinburgh later this week for the launch of Strike for Freedom: Slavery, Civil War and the Frederick Douglass Family.
Dr Evans said: "I am pleased that the letters, papers and photographs from my Douglass collection are being exhibited at the National Library of Scotland.
"Douglass loved Scotland and I can think of no better place or time to exhibit this material than in Edinburgh on the 200-year anniversary of his birth."
The display tells the story of Douglass as a private individual and family man and features manuscripts, letters, speeches and photographs of Frederick Douglass and his sons, Lewis Henry, Frederick Jr, and Charles Remond.
Celeste-Marie Bernier, the University of Edinburgh's professor of black studies and personal chair in English literature, is guest curator.
She said: "For the first time, Strike for Freedom tells the story of the revolutionary activism not only of Frederick Douglass – world-famous freedom-fighter, liberator and human rights campaigner – but of his family members.
"Douglass's wife, Anna Murray; daughters, Rosetta and Annie; sons, Lewis Henry, Frederick Jr; and Charles Remond all sacrificed everything they had in working towards a 'new dawn of freedom'."
The display also shows that Douglass was not alone in his journey to Scotland, and examines his work with Scottish antislavery societies.
He was joined by a number of African-American freedom-fighters who travelled to Scotland in their campaigns to abolish slavery, segregation and lynchlaw, including
Ida B Wells-Barnett, Amanda Smith, Josiah Henson, Moses Roper, and Ellen and William Craft.
National Librarian Dr John Scally said: "We are very pleased to host this world-first display of material related to Frederick Douglass, alongside material from our collections.
"The exhibition sheds new light on Douglass's time here in Scotland in the mid-19th century, as well as providing insight into the work of the wider Douglass family as they campaigned for social justice in the US."
The exhibition will run at the National Library of Scotland in Edinburgh from Thursday 4 October 2018 to Saturday 16 February 2019.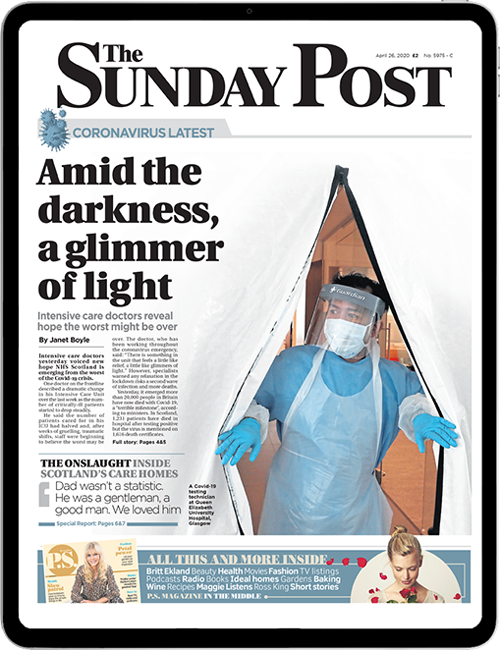 Enjoy the convenience of having The Sunday Post delivered as a digital ePaper straight to your smartphone, tablet or computer.
Subscribe for only £5.49 a month and enjoy all the benefits of the printed paper as a digital replica.
Subscribe