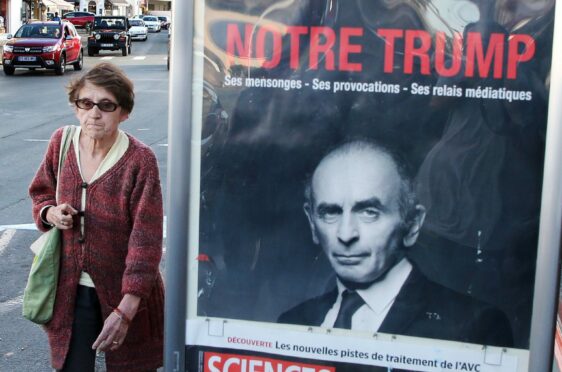 It has been a deeply disturbing month for Eric Zemmour, the far-right ultranationalist who is hoping to become President of France.
Over the past four weeks, the 63-year-old has been tried for allegedly spreading racial hatred; faced allegations from eight women that he sexually abused them; been physically assaulted at his first campaign rally; and gone to civil court to try to prevent revelations being published that he is expecting a love child with his personal assistant.
The married father of two grown-up sons and a teenage daughter, a former TV pundit turned ultra-nationalist politician and possible candidate in the presidential race, said he had no intention of stepping back from a campaign which commentators believe is the preparation for a tilt at power.
"There will be non-stop attacks on me, including threats on my life, but the struggle is worth it," he said during an interview at a rally in the eastern city of Lyon.
Referring to France's most famous ever wartime leaders, Zemmour added: "My heroes are Napoleon Bonaparte and Charles de Gaulle – they fought continually, and so will I."
He said he was ready to "Save France" from decades of immigration that had reduced his nation to a crime-ridden mess, and that "my work will never end".
Just how the diminutive Zemmour – 5ft 6ins in his heels and very thin – manages to maintain his combative image is remarkable in itself.
Even his early bounce in the polls is now slowing. At one stage he looked as though he might go head-to-head with incumbent President Emmanuel Macron in the final of next April's two-round election.
But now Valerie Pecresse, a married mother-of-two who describes herself as "two thirds Angela Merkel, one third Margaret Thatcher", has leaped ahead in the ratings.
The Republican candidate is not just the kind of moderate conservative that Zemmour abhors, but her very sex annoys him.
Zemmour has blamed feminism for men "losing their virility" and he would like to see women returning to traditional household roles, rather than becoming high-flying politicians.
The polemicist made such claims in his 2006 book, The First Sex, and often repeated them on CNews TV, where he made his name as a current affairs commentator.
In January, there will be a verdict in the case in which he is accused of referring to child immigrants as "thieves, rapists and murders" on the same channel – one that is often likened to a Gallic Fox News.
If Zemmour is found guilty then it will be his third conviction for spreading racial and religious hatred.
Despite such criminal antecedents, and the six shaven-headed heavies who make up his permanent bodyguard, Zemmour looks nothing like a thug himself.
On the contrary, the career journalist and author was impeccably polite as he talked through his plan to Make France Great Again (Zemmour is a great admirer of former US President Donald Trump, and does not object to comparisons).
Speaking in French only – he detests the way English is the lingua franca of the west – Zemmour outlined a programme that was frequently not just offensive, but positively blood curdling.
The root of Zemmour's politics is intense antipathy for millions of immigrants from France's former colonies, and especially the North African ones.
Most are Muslims, and Zemmour hates Islam, maintaining that one of the world's three great monotheistic religions is "incompatible with the values of modern France."
Not only does he want to believe that newcomers are breeding too fast – he is an adherent of the "Great Replacement Theory", which contends that dark-skinned Muslims will one day outnumber white Christians – but he wants Arab names such as Mohammed banned.
This is despite Zemmour himself coming from a North African immigrant background.
His Berber Jewish family fled Algeria – once the jewel in the crown of France's Empire – before a savage War of Independence resulted in victory for indigenous Arab nationalists in 1962.
By this time, the Zemmours lived in a council flat in Drancy, the Paris suburb where Paris police had infamously helped set up a concentration camp from where 70,000 French Jews were entrained to the gas chambers during the Second World War.
This is a historical fact, yet Zemmour has been accused of anti-Semitism for denying that France's Vichy regime in fact collaborated with the Nazis during the Holocaust.
Last week, Emmanuel Macron warned against "manipulating" history when he visited Vichy, the spa town where France's puppet regime was based after the Germans took charge, in a clear message to Zemmour.
A government spokesman, Gabriel Attal, said: "There are several visions of the history of France that are confronting each other in the public debate. Ours is the work of historians, on the basis of facts, documentation, research, and not based on personal whim and a will to use it for politics. Those who erase the crimes of the past are in some way justifying those of the future. On the contrary, we must learn from the past in all its complexity, including the darkest pages of our history."
Zemmour's rewriting of history is only part of the often-baffling contradictions that his platform is built on, however, but still, he seems to have a constituency in an increasingly divided nation where public faith in a provably corrupt political establishment is at rock bottom.
Nicolas Sarkozy, the former conservative president, was this year handed two convictions for corruption, and only remains a free man because of the torturously slow appeals system in France.
"Recent presidents are all in a long line of failures," said Zemmour, as he referred contemptuously to Emmanuel Macron, France's current head of state, as someone who "represents nothing except himself".
Zemmour, who wrote another best-seller called The French Suicide, blames decades of liberalism for bringing France to the brink of collapse.
Macron, a former merchant banker and civil servant who stood as an independent, managed to overcome such extremism, but Zemmour and Marine Le Pen, leader of the National Rally (formally the National Front) were his nearest rivals to win in 2022, before Pecresse started campaigning last week.
Zemmour and Le Pen continually reference the Islamist terrorist attacks which have plagued France since 2015, as they strive to link such atrocities with an overwhelmingly peaceful and law-abiding Muslim community of more than five million people.
Meanwhile, policies that might alleviate living conditions on the sink estates where many religious and ethnic minorities end up living are largely ignored.
Zemmour was certainly far more interested in discussing deportations and border security than how he might improve his country's economic performance.
Similarly, Zemmour had no comment on the claims by the women he allegedly attacked, two of whom have renounced their legal right to anonymity to offer evidence against him.
Violence against women was also much in evidence at Zemmour's first campaign rally in Paris last Sunday – at which there were 62 arrests and he suffered a sprained wrist – when supporters were filmed repeatedly punching a female anti-racism campaigner.
Zemmour's wife, lawyer Mylene Chichportich, has also remained silent on the subject as has his campaign manager, Sarah Knafo, with whom he is expecting a baby in April.
By this time Zemmour could be preparing to move into the Elysee Palace as his life – along with the troubled history of the French Republic – becomes even more turbulent.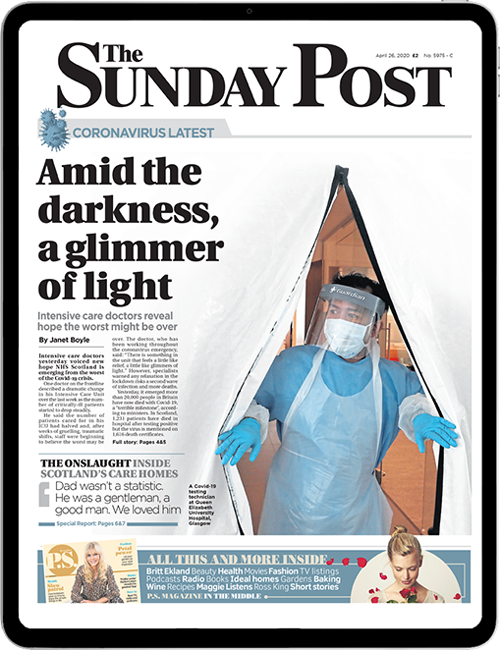 Enjoy the convenience of having The Sunday Post delivered as a digital ePaper straight to your smartphone, tablet or computer.
Subscribe for only £5.49 a month and enjoy all the benefits of the printed paper as a digital replica.
Subscribe