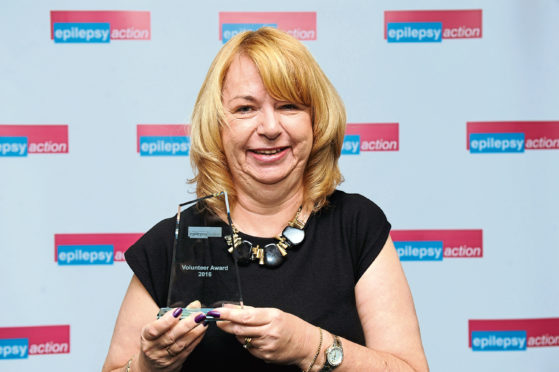 Like many of us, Jayne Burton has had some of her plans for next week derailed by the coronavirus.
She was hoping to mark Purple Day – the international epilepsy awareness day held every year on March 26 – by holding a coffee and meet-up group in her home town of Liverpool, and talk about various aspects of living with epilepsy.
And Jayne, 57, knows exactly what she's talking about, as she explains: "I developed epilepsy when I was about 16 but it wasn't diagnosed as that then, I was told I was having panic attacks.
"That was probably partly because I was having focal aware seizures – when you know what's going on and can see everything but you just can't do anything – and absence seizures instead of the classic seizures."
The latter, now known as tonic-clonic seizures, are what most people will probably think of when they think of an epileptic episode, as opposed to the ones Jayne experiences which used to be termed simple partial seizures.
But as she says: "When I'm doing a talk to people, they will sometimes say 'grand mal' or 'petit mal' seizures and because they know what they mean by that, I'll just say that, too.
"I was diagnosed in 1995 after a colleague of mine actually saw me have one of the focal aware seizures at work and knew what it was.
"She said, 'Get yourself downstairs and get an EEG' – this was in the days you could still do that – and because I'd just had the seizure the EEG (electroencephalogram, which monitors electrical activity in the brain) was still able to pick it up.
"I was put on medication to try and control the seizures but in 1999 I had to have very serious surgery. I had part of my frontal temporal lobe removed."
This procedure is known as a partial temporal lobectomy surgery and Jayne admits: "It sounds absolutely terrifying but it worked, I was seizure-free for two or three years, but then I started having seizures again because I have scarring in a couple of other areas of my brain.
"I take medication to prevent or at least reduce the number of seizures but I had to give up my job because of the impact the epilepsy was having on my short-term memory and concentration – and I'll never be able to drive again.
"It was a very hard decision to make and I was devastated that I had to retire on medical grounds from a career I had a passion for.
"I was what used to be known as an enrolled nurse, and I specialised in intensive paediatric care.
"I'd always wanted to be a nurse, probably because I spent so much time in hospital as a girl with other health issues – no one had as many nurses' outfits as me growing up!"
Not willing to take this blow lying down, Jayne became involved with Epilepsy Action and is now a trustee on their Council of Management as well as an accredited volunteer for the charity, delivering training sessions on epilepsy.
"It's made such a difference being able to use my transferable skills," she says.
"Now I can raise awareness with organisations to make it more possible for people living with epilepsy to stay in employment.
"I also talk to medical students at Liverpool University about a patient's experience."
Jayne still has seizures which affect her memory and can cause her to feel extreme fatigue and anxiety but her husband and parents have been a huge source of support, especially when her mental health has not been at its strongest.
Epilepsy can be very isolating but Jayne says: "I don't let it isolate me. If my husband knew how many taxis I get – because I don't like using public transport just in case!
"I'm lucky in a way because the types of seizures I have mean I don't fall on the floor and bang my head, and end up in an ambulance after having a tonic-clonic.
"Most of the time people don't know I'm having one but it's certainly had an impact on my mental health.
"It's quite common for people with epilepsy to experience depression and anxiety, and I've not long finished CBT (cognitive behavioural therapy) which has helped the anxiety.
"Basically I just keep myself occupied and that's why I do what I do with Epilepsy Action to keep myself occupied, and I talk all day – even if I'm talking to myself at home! – and I do barbershop singing as well.
"I want people to know that epilepsy is one of the most common neurological conditions, affecting 50 million people around the world, and it can affect anyone at any time.
"People with epilepsy can lose a lot because of their condition but by talking about it and sharing those experiences, we can help them to feel less alone and isolated."
Purple Day is March 26. For more information visit www.epilepsy.org.uk or call their helpline on 0808 800 5050.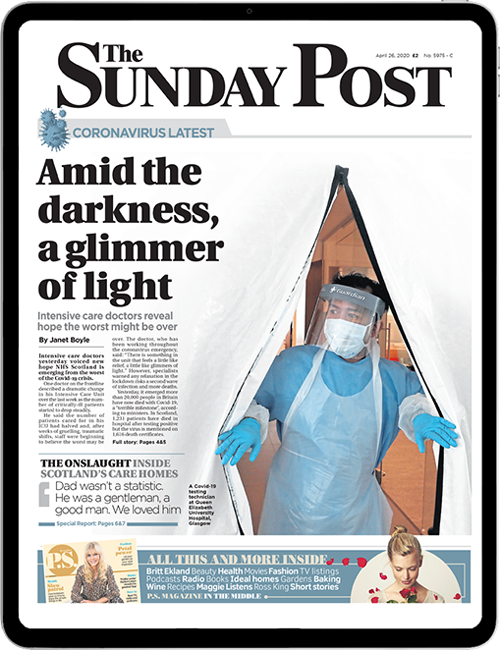 Enjoy the convenience of having The Sunday Post delivered as a digital ePaper straight to your smartphone, tablet or computer.
Subscribe for only £5.49 a month and enjoy all the benefits of the printed paper as a digital replica.
Subscribe