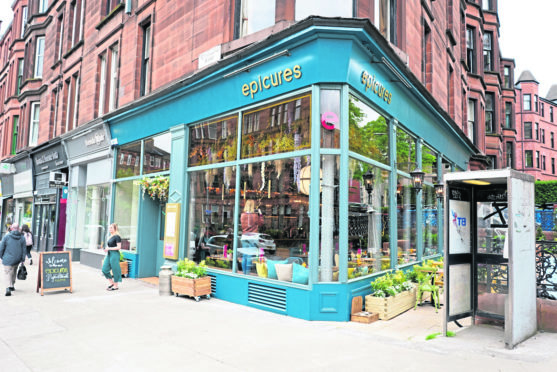 If you're visiting after a night on the tiles, try one of Epicure's Curers. Bloody Mary, Bloody Maria and Red Snapper cocktails are all served over ice with tomato juice and "Epic Spice".
Location
Nestled in Glasgow's leafy West End, Epicures sits beside independent boutiques and welcoming cafes.
First impressions
The eatery recently enjoyed a modern makeover, and the fresh-look dining room is now filled with twinkling fairy lights, bright furniture and even a few indoor trees. Tres chic.
Service
We booked a table in advance, which is recommend for the busy Sunday lunch service. Despite the crowds, our server was friendly, attentive and quick to take our order. The food arrived promptly and with a smile. However, we did have to wait a while to pay the bill.
Menu
If you have a big appetite, you've come to the right place. The day menu is packed with every type of egg dish imaginable, as well as full breakfasts, sandwiches, snacks, and even a salad bar. Separate gluten-free, vegan and kids' menus are also available.
Taste
After a quick round of much-needed coffees, we ordered two veggie breakfasts, complete with plant-based sausages, halloumi and all the trimmings, and a tuna mayo sandwich topped with red onion, sweetcorn and mixed olives. The staff were also more than happy to provide a cup of milk and side plate for the wee member of our group. The portions were generous and we couldn't fault the quality of the ingredients, with every plate scraped clean in no time at all.
Ambience
Lively, fun and relaxed, the up-market restaurant still feels welcoming for families, and there is plenty of space for big groups.
Price
Bit plates start at £7.50, sides and extras from £2.50. For three coffees, three mains and an added hot chocolate dessert our bill came to just a snip under £40. Not bad for the West End.
Toilets
Clean and stocked with all the essentials. No complaints.