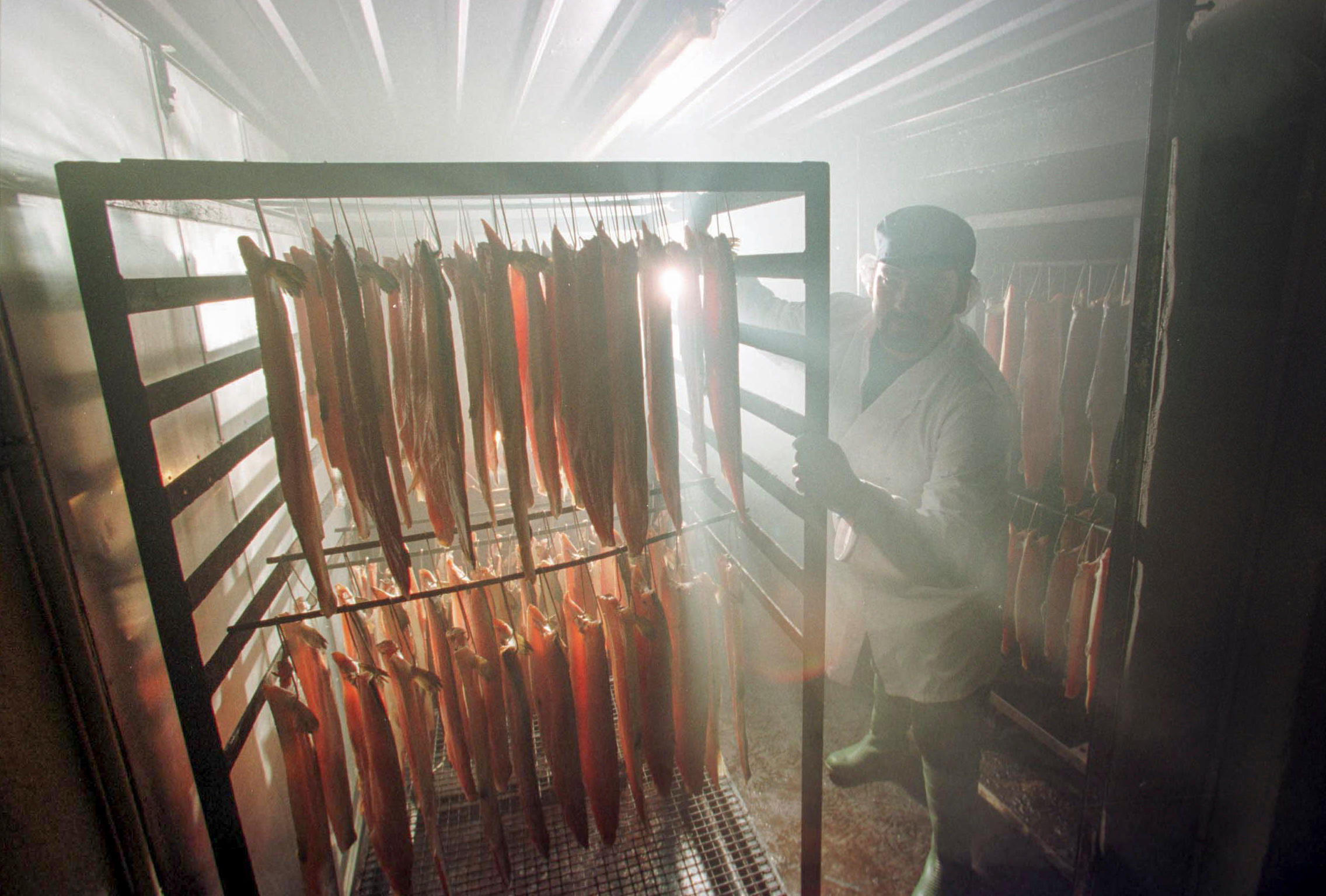 THE methods are slow, traditional and very, very smoky but they have secured a Scots food firm a prestigious Golden Fork.
Staff at Inverawe Smokehouse are celebrating after their smoked trout was hailed at the Great Taste Awards, the food industry's Oscars.
It was the only product from north of the Border to be placed in the top 50 ingredients of 2017, while the Argyll smokehouse took home the award for Scottish Producer of the Year.
Managing director Patrick Campbell-Preston said: "My father first started smoking our trout using traditional methods in 1982. It remains our signature product."
The Taynuilt business was launched with just one smokebox after Patrick's dad, trout farm owner Robert, realised smoking his fish would be a good investment.
Today, it's one of the biggest mail order smokehouses in Scotland, with a global customer base stretching from Peru to Singapore.
Patrick believes its success is down to the time-honoured method of "slow-cooking" smoking.
While the average mass producer smokes a fish for six hours, Inverawe Smokehouse likes to take things a little more slowly.
Patrick said: "It's a fair bet we smoke our fish for longer than anywhere else in the world.
"We use whole logs of windblown Scottish oak, rather than chips or sawdust in our old-style brick smokehouses.
"Using logs gives a gentle, creamy smoke but it takes time for that to penetrate the fish so we can smoke them for up to 72 hours.
"It's totally reliant on the trained smoker to know when it's ready.
"No fish comes out at the same time."
This method is what gives the trout its rich, deep, full-bodied flavour.
To ensure the finest fare, the company uses sustainable trout farmed along the west coast of Scotland.
While most of us automatically reach for smoked salmon in the supermarket, Patrick argues trout deserves equal recognition.
He added: "Trout is a very understated fish that I've found really catches the attention of the chefs.
"When I put our smoked salmon and trout on the same plate, 60% will go back to the trout because they are blown away by the taste.
"Many people associate trout with bigger portions and mainly these are from land-locked trout but sea-grown trout has a completely different depth and most amazing flavour."
Other Scottish ingredients to receive a three-star rating at the Great Taste Awards include Tayberry & Sage Vinegar by The Little Herb Farm in St Andrews and Green Pepper Venison Salami from Great Glen Charcuterie in Roy Bridge, Inverness-shire.
Here, The Sunday Post speaks to some of Scotland's leading chefs to discover the essential ingredient in their kitchen cupboard.
Nick Nairn: Kailyard, Dunblane and Nick's Pizza Bar, Aberdeen
One thing I always have in the store cupboard is Italian San Marzano tinned tomatoes.
I use a brand called Mutti. They were once a very "cheffy" ingredient but you can get them in the supermarkets now.
They are fantastic, and far-removed from the acidic watery rubbish you get in supermarket value tins.
I discovered these about 20 years ago and haven't bought cheap tinned tomatoes since. You get a sweet, ripe, intense flavour. It's my ultimate store cupboard standby.
Jak O'Donnell: The Sisters Restaurants, Glasgow
A store cupboard staple for me is the Egyptian spice mix dukkah.
I came across it earlier this year when I was skiing in Switzerland of all places. We had it with bread and oil.
Being a chef, there I was up a mountain Googling this amazing ingredient. You can buy it in some supermarkets but homemade is best and it keeps for a good few months.
It adds a great depth of warm spice flavour but isn't overpowering. I love using it to transform a Scotch lamb rump from a midweek tea to an exotic dish, or even to brighten up roast beetroots.
Tony Singh: Tony Singh at the Apex Grassmarket, Edinburgh
Chillis are always in my store cupboard.
Dried, fresh or ground, they are so versatile.
Some might worry about making a dish too spicy but the trick is to start off small – you can always add more.
Serrano Pepper Chilli is a favourite. It packs a punch without blowing your mouth off.
My mum always used them, so it's something I've grown up with and has been a steadfast ingredient in my house for more than 40 years.
Neil Forbes: Cafe St Honore, Edinburgh
My favourite essential is cold-pressed rapeseed oil for its versatility and taste.
It's a real go-to.
I like to have it on hand to either fry at a high temperature or to use as a dressing.
It is wonderful used in a dressing for a salad of tomatoes and Crowdie, a traditional Scottish cheese.
There are several brands produced in Scotland, such as my favourite, Summer Harvest, made in Perthshire.
Carina Contini: Contini, Edinburgh
I could never be without good extra virgin Tuscan olive oil.
I love the oil made by my brother. It's from our olive groves in I Ciacca, a small hamlet halfway between Rome and Naples where my family has lived for 500 years.
Olive oil is the foundation of any dish – I can't cook without it.
Authentic Tuscan olive oil is expensive but the difference is like drinking a cheap blended whisky compared to a beautiful single malt.
Coming into winter, I'd use it in pumpkin soup with a drizzle of olive oil on the top.
Mark Greenaway: Restaurant Mark Greenaway, Edinburgh
When it comes to cheese I love Lanark Blue, although it's a bit controversial.
I love a couple of cubes swirled into macaroni cheese right at the end to give the dish a real punch.
It's also great in an omelette or Spanish frittata.
You get red onions, chorizo, potatoes, then fry them off, add egg, bake through in the oven then just before you serve, sprinkle the cheese on top.
After a long shift in the kitchen it's a great, easy dish. Not every cheese is for everyone though, so try before you buy!
There's not a cheese counter in the world, whether at a supermarket or cheesemonger, that won't give you a wee sample. Just pick one that you enjoy, even if it's a bit smelly.