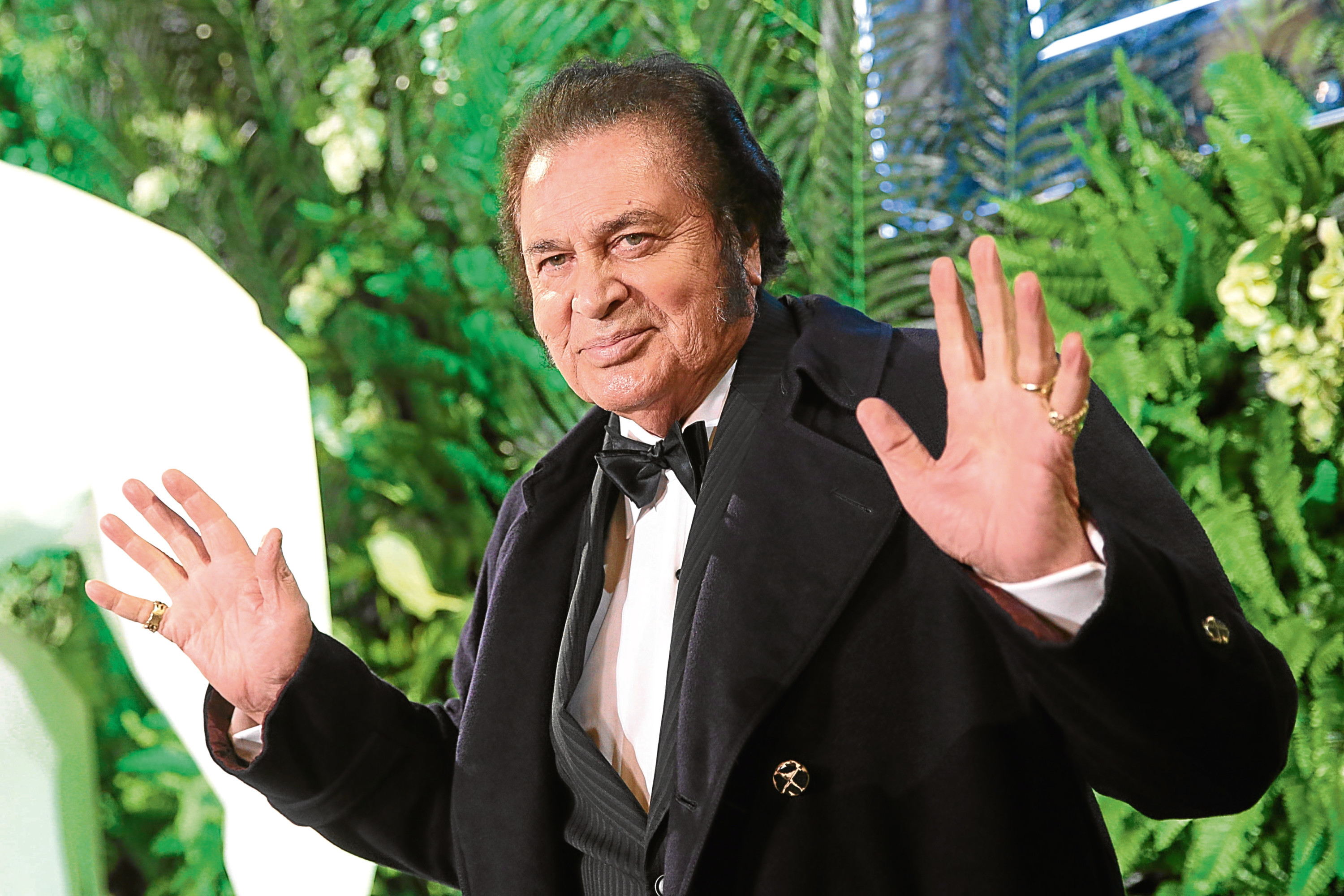 LAST year marked the 50th anniversary of the great Engelbert Humperdinck in show business.
And you have to admit, racking up his half-century isn't bad for someone who claims they never wanted to be a singer.
"Exactly!" laughs Engelbert. "It never entered my mind when I was a boy learning the saxophone. I wanted to be a musician.
"But apparently, the instrument happened to be in my throat and that was good for me because it was less to carry — a saxophone is heavy, and I was taking my instrument everywhere I went without any effort!"
Engelbert was born Arnold Dorsey in what was then Madras in India 81 years ago, taking the stage name of a 19th-century German composer, despite never having heard of him before.
He became a worldwide star in 1967 with the huge hit Release Me, which kept The Beatles' Strawberry Fields and Penny Lane double A-side off the No 1 spot and stayed in the charts for 57 weeks.
"The highest amount that ever sold in one day was 127,000," he recalls.
"I used to call every day and ask: 'What figures do we have, what did we sell today?' because it was the first big seller I ever had in my life.
"It wasn't the money-making side of it, it was the challenge of knowing that nobody was selling as many records as this."
To celebrate his 50 years in the limelight, Engelbert has released a new album called The Man I Want To Be, which seems odd as most men would be happy to be Engelbert.
"Well, you know what, I think I'll never know who I want to be because it's an ongoing thing with me to better myself and to learn," he says.
"That's why that particular line suits me well, but the song itself depicts the fact the person who's with you, you want to prove to them you are the man for them."
The album is melancholic, which is understandable considering Engelbert's wife Patricia, the mother of his four children with whom he's been for more than 60 years, is living with Alzheimer's.
"I think that might be the case, because of the situation," he admits.
The album is a real mix from Country-style songs to big-band numbers, as he explains: "I thought this album should have a piece of what belongs to me.
"You know, these are the things I do on stage as well, like The Broadway Song and Welcome To My World, which are of the past.
"People who have witnessed my concerts and listen to the album will say: 'Oh, I remember that, he did that in his show' but I also gave them a piece of the new me with all the new writers and the new compositions that are a new lifeblood for what I do now."
The mix of styles suits Engelbert as he's never liked to be pigeonholed. Someone once labelled him a crooner and he didn't take too kindly to it.
"Well, you hope to be what you want to be and don't label me wrong," he says.
"A crooner — and I don't disrespect the title — has a range of an octave or maybe an octave and a half, but a contemporary singer like myself has a three-and-a-half octave range.
"That increases my ability of taking crooning to another level, so that's the reason I don't like to be contained as a crooner.
"Maybe when I first started in show business, because you're in a learning period, you tend to emulate the people who are successful at the time like the Sinatras and the Dean Martins, and I love them both.
"But they didn't have a very big range, they had a limited range."
Speaking of his friend Sinatra, Engelbert was offered and recorded Strangers In The Night, but was refused permission to release it as a single because Ol' Blue Eyes had requested it.
The song went on to be a huge hit for Sinatra, so does Engelbert ever think: "Damn you, Frank!"?
"No. That was the power of Sinatra, he could make the call."
Engelbert would also pal about with the likes of Cary Grant and says: "He was amazing. It was his company that sponsored my television show.
"That's how we became friends and when he viewed the first show, he was over the moon.
"He had a great sense of humour. He just said: 'My, you're a handsome boy!'. Mind you, I was young at the time!"
The Man I Want To Be by Engelbert Humperdinck is out now on OK! Good Records. For more info, visit www.engelbert.com
Elvis stole Engelbert's sideburns!
ENGELBERT was close friends with Elvis Presley, the pair first meeting when Elvis went to one of the British singer's shows.
Elvis copied his trademark sideburns from Engelbert, who explains: "I had them in 1965 and Elvis put his on in 1972.
"He had a lady sketching him to find an outfit for him to go on his world tour. She designed this white jumpsuit with the high collar and the long black sideburns.
"She presented it to him and he went: 'Hell, that's not me, that's Engelbert Humperdinck,' so you know who had it first."
The pair also shared a keen interest in karate, both becoming black belts.
"I studied martial arts as I felt I needed to balance my mind and my body, not to be a fighter but to have confidence in my being," he says.
"And going out into this extraordinary world, you have to be prepared and I found it at a very valuable time in my life because Mike Stone, who was my martial arts teacher, was No 1 in the world.
"I took him on the road with me to prepare me for later in life, which he did do, and it stood me in good stead for how I am now.
"With Elvis, he was a good martial arts man but took a different road.
"He didn't adhere to the thinking of his martial art teacher and I think he may have been in the wrong company in order to sway him in the direction of what he did do to shorten his life, you know?"
Star has no regrets over Eurovision adventure
IN 2012, the BBC announced Engelbert had been chosen to represent the UK at the Eurovision Song Contest in Azerbaijan.
Drawn to perform first, alas the usual shenanigans meant he came second-last, with just 12 points.
"Do you know, I was very proud to represent my country and the fact they chose me for this particular task," says Engelbert.
"But the fact is the people controlling this whole contest are biased, it's very political in every which way and form.
"I was probably the only, and pardon me for saying this, superstar in the whole 26 acts.
"They had people who'd never had hit records, who'd never had the experience of travelling around the world playing to different audiences.
"In contrast, my first album gave me a global career. All my albums were released in different countries and I can go to Russia and the people who don't speak the language can sing along with my songs — how do they do that?!"
Engelbert must be the only man with a star on the Walk Of Fame in Hollywood, Las Vegas and his native Leicester.
And while he may have missed out on Eurovision glory, the Leicester City fan was delighted when they won the Premier League title last season.
He grins: "The team came to LA where I have a home. I met the entire team and I got to have my picture taken with them."