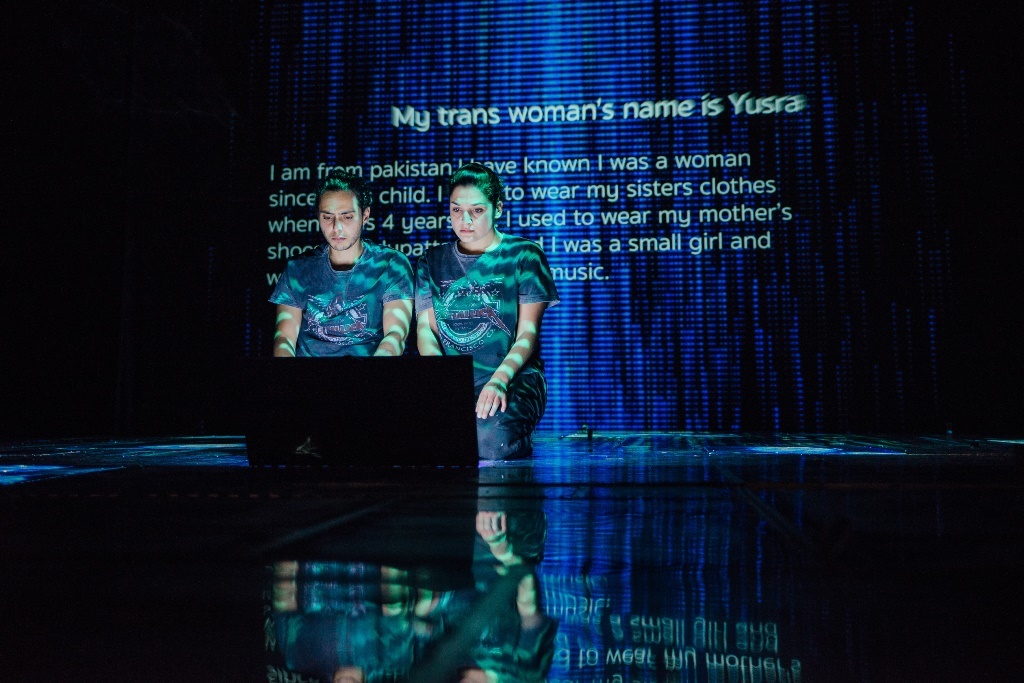 ADAM is the true story of a young trans person's journey across borders and genders as he transitions from woman to man and journeys from Egypt to Scotland to find a safe space to call home.
Conceived by National Theatre Scotland associate director Cora Bissett and written by Frances Poet, it's a remarkable play about a remarkable person.
The play is a two-hander between the real Adam behind the story (incredibly, Adam Kashmiry's stage debut) and Neshla Caplan, who plays his female 'alter-ego' as well as a myriad of other characters.
The production came about after Cora Bissett saw Adam tell his story on stage at a Scottish Refugee Council and Citizens Theatre event called 'Here We Stay'.
A bright and early press performance of #NTSadam to start our Sunday. #BreakALeg team! ? pic.twitter.com/ob4z4ihdYC

— NatTheatreScotland (@NTSonline) August 6, 2017
"It was his personality that really struck me," explained Cora, who also directed Glasgow Girls.
"I'm drawn to real stories that can encapsulate an issue, that can personalise it."
Chatting later, Adam admitted he didn't realise who Cora was when she first approached him at the event.
"I didn't know how big she was at the time," Adam laughed. "She just said my story had touched her heart and invited me out for a coffee."
At first, there were no plans for Adam to act in the production.
"I was searching for a middle-eastern trans actor, which was quite tough. I'd actually been Skyping a trans actor in Chicago when Adam got in touch saying he'd be interested in acting," explained Cora.
"He was very humble, he learnt the speeches for his audition and I completely believed in him as a performer."
Explaining his initial reluctance, Adam said:  "I didn't want to be the one who drags the play down. And as an ethnic trans actor in the UK  I didn't know how people would react to me."
"When I read the script, it hit me that this was going to be a big thing. I saw it in development in London, saw actors perform bits and got goosebumps."
'The world burst with all this information'
One of the most powerful moments in the play is when Adam types "can the soul of a man be trapped inside the body of a woman?" into his computer.
"The searching moment is very true to life, that's genuinely what I wrote" said Adam.
"Then the world burst with all this information. I'd never heard the term 'transgender' before.
"I saw Youtube video of a man with a beard. Before that, I didn't believe I could ever look like a guy, then I realised it was a trans man in the video."
For Cora, deciding how to portray the incredible moment where Adam realises he's not alone was a challenge.
"I thought to myself: 'How am I going to tell Adam's story?'
"He was searching for an answer from the universe, and one came back to him. He found a community.
"I watched a fascinating Ted Talk which featured a global virtual choir. I wrote to the composer and asked him if I could use this idea for Adam, and he was extremely gracious and generous. He said 'ideas are free, go and do something lovely with it!'"
In a world first, Adam features a 120-strong, international digital world choir of trans individuals from across the globe.
When the choir appears to Adam, it's a special and completely unique moment that beautifully showcases how technology can bring people together.
And, if you're anything like me, it's a moment that makes you weep. A lot.
Both Cora and Adam are full of praise for Neshla Caplan, who fiercely plays Adam's other self  and together the two portray an inner, fractious turmoil between identities, gender and home.
Reactions to the production have been unanimously positive, receiving five-star reviews and recently a Herald Angel award.
"The reaction has been incredible," said Cora.
"At the end of the first performance, people got on their feet."
"It's been met with such warmth".
"It's been absolutely overwhelming," said Adam.  It's grown my faith in people even more.
"Being ethnic and trans, I didn't know what to expect. I haven't been disappointed."
Adam then mentioned that the day before he had received a letter from the mum of a trans person thanking him for sharing his story
"That warmed my heart. That's what this is all about about. I felt really proud I'd been able to help someone ."
Looking forward, Adam revealed that despite his initial reluctance, he'd now like to take acting classes and pursue an acting career.
"Life is weird that way. I wasn't sure at first but now I really like it. It's a blessing to find something you love doing."
On the future, Adam said there is still a need for more support for LGBT refugees and asylum seekers.
"I don't judge anywhere for not being able to help me. Being an asylum seeker complicates things. It was quite hard to get the help I needed.
"There is support for LGBT. There is support for asylum seekers. Not for both.
"More support is needed in this area, not just advice. Some of these people might have had really traumatic experiences. They might want to share their stories or find people who have gone through something similar.
"Asylum seekers and refugees can feel scared to come out.
"LGBT Unity Scotland are doing great work in this area, but it's still quite small. There's a gap in this area."
Reactions
*****
Cora said that when she pitched some story ideas to National Theatre Scotland, Adam was 'unanimously picked' because it was 'engaging, digital, current and important'.
It's a play that's timely and at it's core quite simple – it aims to discuss complex and nuanced issues by really getting to know Adam and telling his story truthfully.
It's a five star production, the best thing I've seen in the Fringe, and has stayed with me since I sobbed through the standing ovation at the preview.
'A safe space in the world'
Pauline Diamond Salim, media manager at Scottish Refugee Council said: "We had the privilege of getting to know Adam in 2013 when he took part in one of our arts projects to help refugees and local Scottish people get to know each other. To see him now, just four years later, perform on the stage of the National Theatre of Scotland is an amazing testament to his talent and resilience and to the power of the arts to make a difference to people's lives.
"Like many of the people we work with and many of the people in Scotland because they've been persecuted for their sexuality or gender identity. Adam said he felt very isolated and lost in his early days in Glasgow. I'm sure his story will resonate with many people who find themselves excluded from mainstream society and struggling to find a safe place in the world."
'A system which is no longer fit for purpose'
Oceana Maund, Scottish Trans Community development worker said: "Adam delivers a powerful, unflinching, sensitive and emotional insight into a world that very few will ever experience at first-hand.
"I thought using Neshla to bring to life Adams internal dialogue was a very clever idea
"I want to thank National Theatre Scotland. It's amazing that they've done this and performing at the Fringe gives you the potential to reach a worldwide audience
"I hope we can use that in a positive way.
"The issues Adam raises are very current and although gender services in Scotland are much better than in some other parts of the world, we are falling behind many in our efforts to simplify a system which is no longer fit for purpose."
After the play's wildly successful run at The Traverse, it will head to the Macrobert Arts Centre in Stirling and then the Citizens Theatre in Glasgow (Or, as Adam calls it, 'Where it all began'.)
A book featuring the stories from some of the Adam world choir will be released in October in partnership with the Mental Health Foundation.
Edinburgh Fringe Review: Eve tells a poignant yet powerful story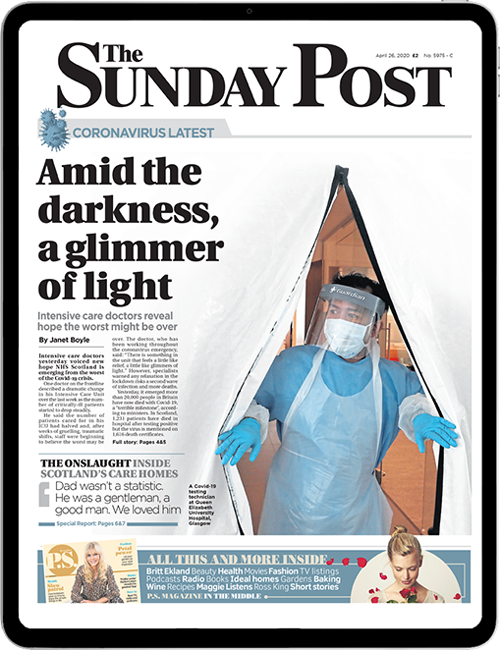 Enjoy the convenience of having The Sunday Post delivered as a digital ePaper straight to your smartphone, tablet or computer.
Subscribe for only £5.49 a month and enjoy all the benefits of the printed paper as a digital replica.
Subscribe