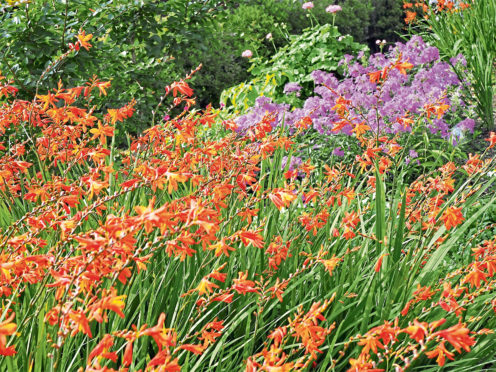 Recent heavy rain has helped to replenish soil dried out by spring drought, but it's done precious little for those flowers that need extra support and some of mine have ended up face down on the ground.
Staking early is the best way to support tall-growing blooms with heavy heads, but if you haven't done it now then it's already too late so, instead of trying to prop up wayward stems, cut them and bring them indoors where you can enjoy them without getting wet.
If you have anything waiting to be planted, then get it in while the soil's warm and wet and it will establish very quickly. I've just added several clumps of Crocosmia "Lucifer" to provide height amongst lower-growers and to add a shot of scarlet in places where there wasn't much colour.
The flowers themselves don't last long but the seed-heads look decorative for months and the sword-like leaves are attractive from the moment they emerge in spring until they die down in autumn.
Meanwhile, several deutzias, bought when they were no more than rooted cuttings, have all come into flower. Most of the plants are white but my favourite is an unnamed pink variety that has bell-shaped flowers hanging in clusters from the branches. At the moment the plant is small but eventually it will become a good-sized shrub. And, if I take cuttings, then in a few years I could have enough plants for a hedge, which would make a lovely feature in late spring and early summer.
One of the most attractive qualities of deutzia for me is that deer don't normally touch it and, as this week has seen the return of rabbits in the garden, I'm keen on planting anything the local wildlife won't munch.
Admittedly, I'd let my guard down and didn't do enough to protect the salads, but in the space of a few days I've lost several trays of lettuce and most of the parsley to our population of bunnies. So I've been busy sowing seeds and stocking up on young veg plants from the local garden centre to plug the gaps. And this time everything's growing under chicken wire.
A family of wild foxes lives in the field on the far side of the trees. They don't often stray into the garden but we do have "Fox-and-cubs", an alpine flower, that has become naturalised in the UK after escaping from gardens.
It looks like a skinny, orange dandelion and each central flower is surrounded by smaller ones, hence its name. It spreads like wildfire, scattering its seed and travelling on underground stolons.
It has only recently put in an appearance with us but already it is widespread, growing amongst daisies and buttercups. It's not exactly a thing of beauty but the bees love it and that's good enough for us.
Heavy rains have proved a double-edged sword, says our expert Agnes Stevenson, as flowers take a battering but there's a chance add more colour