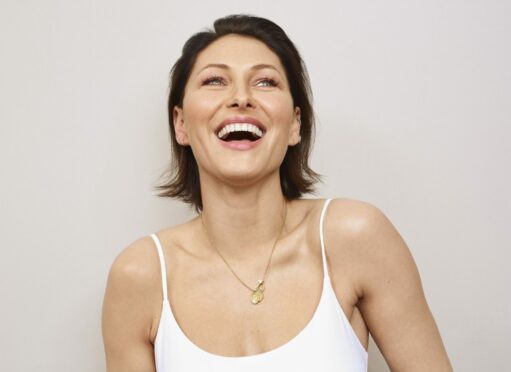 What makes you feel strong and confident in your own skin? For Emma Willis, it starts on the inside.
"The mind comes into play a lot, for me," says the TV and radio presenter, and host of ITV's The Voice UK. "Strength to me definitely comes more from a mental point of view.
"And there are days when I don't feel strong, and I think you get to a certain age and anxiety kicks in quite a bit, you over-think, you over-worry. But if I can stick to a routine, stay on track, stay positive mentally, that gives me the strength I need to call on when I need it."
The mum of three, 47, has teamed up with Absolute Collagen on its new Strong In Your Own Skin campaign. The supplement brand found 63% of women say they feel strong in their own skin – yet nearly half admit they also lack self-confidence, with a third saying they've avoided socialising with friends as a result.
For Willis, feeling strong goes hand in hand with self-care. "It's also getting older and really thinking about what your day-to-day life entails," she explains. "For a long time, I was just running on empty really – because I've got three kids, I worked all the time, and life can just get really hectic and heavy. And I was always at the bottom of the priority list, because I wanted to make sure everyone else was OK and everything was getting done," says Willis, mum to Isabelle, 13, Ace, 11, and Trixie, six.
"I had to step back and go, you know what, I will be at my best and my strongest for my family if I take a bit of time to prioritise myself every now and then."
She has achieved this through exercise, mainly Pilates and strength training. "My husband (Busted musician Matt Willis) has got me into cold plunges, which I can't quite believe because I hate every second but I feel great when I get out!
"And breathing. I've never been able to meditate – I've always rolled my eyes at that – but now at night I'll put on a body scan app and do that, and read and fall asleep, and sleep well. That makes a massive difference. So, all the things I once thought were a bit boring, I do now. And I feel great. It sets me up for the day."
She credits Matt for being a positive influence when it comes to self-care: "Because I see him do it a lot, and I've always not really given that time to myself. But now I realise that it helps a lot."
In Absolute Collagen's survey, more than half of the women aged 35+ polled said spending time with family helps them feel more self-confident, with 52% saying quality family time gave them a sense of strength.
It's something that's especially important for Willis. Her elder female relatives have been an inspiration throughout her life, she says, citing her own mum, nan and great-aunts as role-models when she was little.
"We're a really tight family, and we all lived around the corner from our grandparents and my nan's sisters," she recalls of growing up in Sutton Coldfield, Birmingham. "They were of that generation. They lived through a war. They were phenomenally strong women and they had so much get-up-and-go, they just cracked on and didn't moan.
"They were also incredibly loving and nurturing, and they were fun, really fun. My mum is still like that – 70 going on 17. And she's been incredible…very supportive and encouraging. Luckily, I've had a family of strong women around me."
Describing her parents as a strong couple, they've been an inspiration for Emma and Matt. And quality time together isn't something she's taking for granted.
"It's really important Matt and I spend time together, and we check in with each other, and we talk and have time to ourselves," she says.
"It's also important that my time with my kids is not just when I come in from work, getting them dinner, watching them eat and then putting them to bed. When they say, 'Will you play with me?' I want to say yes, because that's massively important, and that connection.
"I often hear myself going, 'Yeah, in a minute, I've just got to…' – and I stop myself and think, 'I haven't just got to put the dishwasher on, the dishwasher can wait'. My daughter has asked to play with me, and I don't want her to think I was always saying, 'I'll do it in a minute'."
Her children have given her a stronger sense of strength, too.
"I need to show them they can do anything they want to do, as long as they put in the time and effort, and they work hard and treat people well. You've got to believe you can achieve what you want to achieve and have the strength to do it. They are the reason I do everything. And they've made me live in the moment.
"Before kids, I just kind of bopped around – and that was fantastic because I had a great time. But now I try to live every day to the max. They've made me appreciate every day I have with them."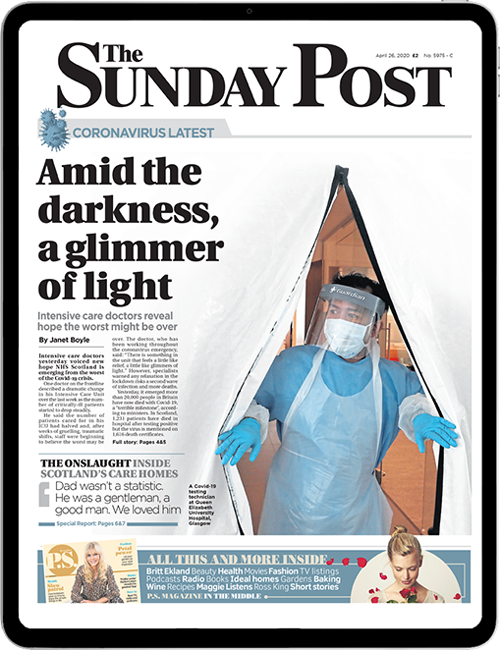 Enjoy the convenience of having The Sunday Post delivered as a digital ePaper straight to your smartphone, tablet or computer.
Subscribe for only £5.49 a month and enjoy all the benefits of the printed paper as a digital replica.
Subscribe