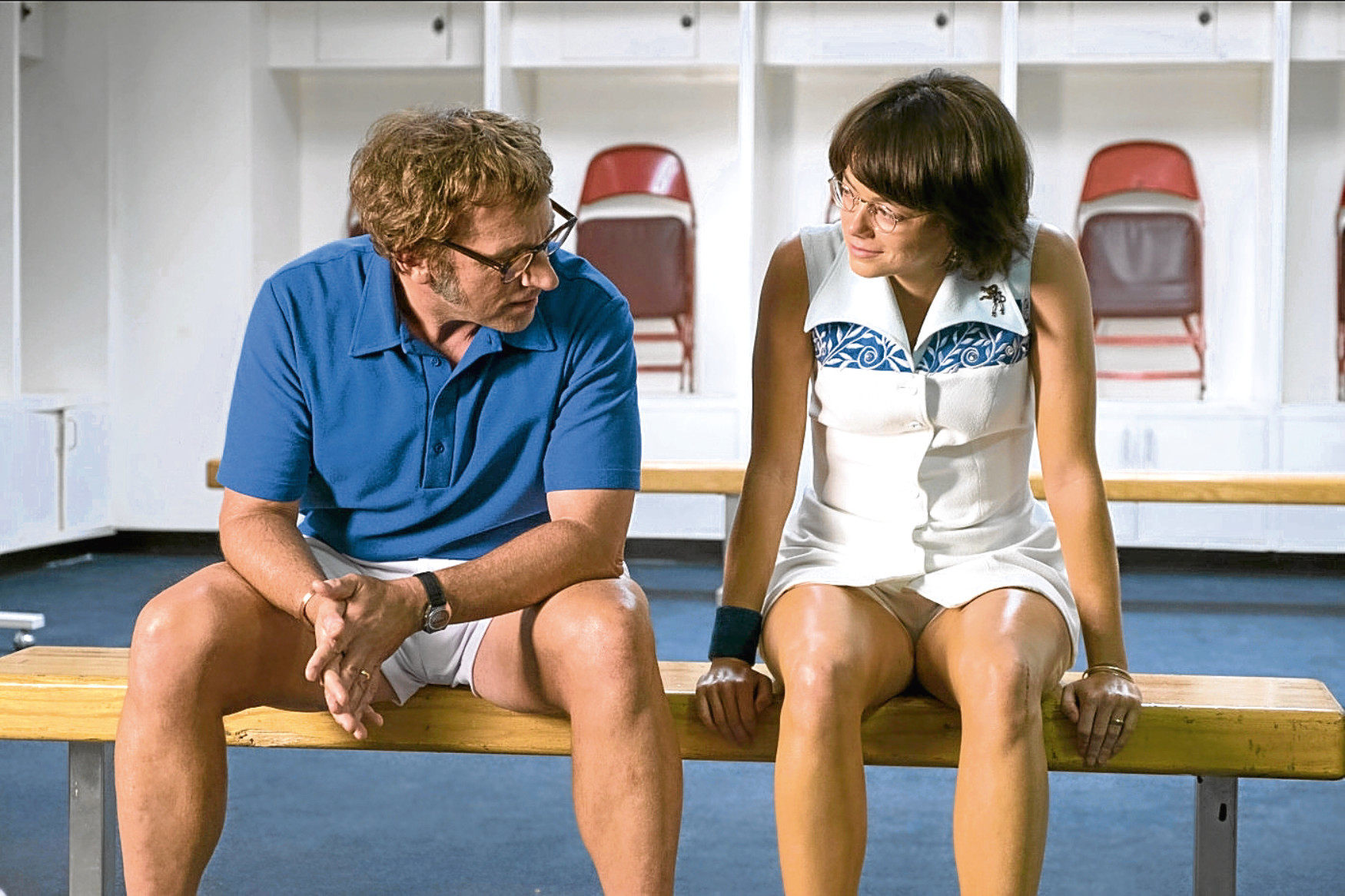 THE female v male tennis match between Billie Jean King and Bobby Riggs wasn't the first of its kind, but it's certainly the best known.
Now, this week, a new film on the historical match, Battle Of The Sexes, is out in cinemas.
Male tennis player Bobby Riggs — played by Steve Carell — known for being chauvinistic in his outlook, had challenged Billie Jean King to a game.
Billie Jean — portrayed in the film by Emma Stone — refused.
At 55, Bobby had seen his best tennis, but still thought that he'd be able to beat Billie Jean, whom he dubbed "the leading libber of women's tennis".
With his challenge to Billie Jean rejected, Bobby then arranged a match between himself and Aussie Margaret Court, who had won 89 of her previous 92 games.
Prior to playing Margaret, Bobby constantly expressed his sexist view's on women's tennis, and belittled female players.
As the match commenced, on Mother's Day, in May, 1973, Margaret was at a disadvantage, with her playing style not great on the slow surface. She lost.
The match would go down in history to be known as the "Mother's Day Massacre".
When Bobby challenged Billie Jean again no sooner than the match had ended, this time she accepted.
The match, which is the focus of the film, took place on September 20 of the same year.
Labelled "the libber vs the lobber" the contest would see the winner walk away with $100,000 in prize money.
Unfortunately for Bobby, he wasn't able to defeat Billie Jean, saying: "She was too good, too fast.
"She returned all my passing shots and made great plays off them.
"I was trying to play my game, but I couldn't."
However, Billie Jean's desire to battle sexism wasn't only aimed at Bobby, but the tournament organisers as well.
In 1970, the Pacific Southwest Tennis Tournament was offering women only 15% of the winnings that any male winner would be entitled to — and all of this despite the fact that just as many tickets were sold for female matches as for male ones.
Billie Jean appealed to Jack Kramer, who was organising the competition, challenging the pay gap.
When he wouldn't raise the prize money for females, Billie Jean staged a walk out.
World Tennis magazine founder Gladys Heldman then organised a tournament, with nine female players including King taking part.
Each player signed a symbolic $1 contact to join the tour.
The world finally sat up and paid attention, and Emma was thrilled to play Billie Jean.
"Many of us know Billie Jean King as an icon and an activist with a strong voice, but we don't really know the whole story of what she and the original nine women went through to form WTA (Women's Tennis Association) for a dollar because they were not being paid equally," she said.
"We stand on her shoulders in the fight for equality.
"She taught me that you don't have to be perfect to be great, and that you can push through your fears and still have a voice.
"That is a great story to share with the world right now."
Battle Of The Sexes is in cinemas from Friday, November 24.