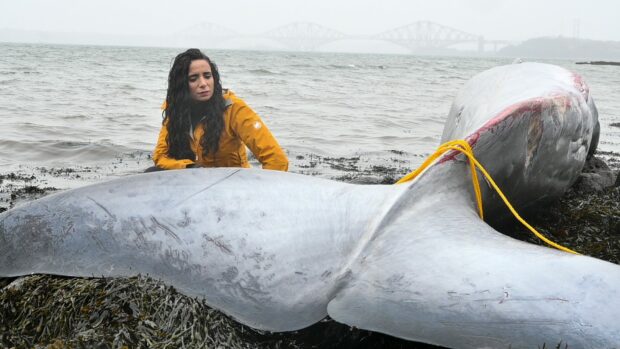 The UK should use its position as one of the world's most prominent island nations to lead the battle to save our oceans, according to biologist Ella Al-Shamahi.
The scientist and filmmaker, who fronts Channel 4 documentary What Killed the Whale?, says recent strandings and deaths of sea mammals are the canaries in the coal mine that show legislation on plastic pollution and chemicals must be strengthened.
Having studied the death of a whale that beached on the shore of the Forth in November, she has joined calls for the UK Government to ensure the standard of post-Brexit environmental laws match the country's world-leading scientific research.
Along with 30 organisations, she has called for the banning of non-essential use of perfluoroalkyl chemicals (PFAs). Often known as "forever chemicals" as they barely degrade, they're found in a wide range of consumer products from food packaging to cosmetics.
"I'm a big believer that personal responsibility is well and good, but we actually need policy change because this stuff shouldn't even be around in the market," she said. "Our government needs to start leading a bit better and also needs to have a better check on corporations.
"Scientists are saying that we're in a really interesting time in the UK because our legislation used to be EU legislation. We have a moment to fix what wasn't good in that and also to not fall behind. The EU look like they're going on the road to banning all forever chemicals for non-essential use. Let's not fall behind that."
Whales have always beached on our shores… but not like this. They are the canary in the coal mine.

What Killed The Whale Sunday at 9pm on @Channel4. Think CSI but for cetaceans… and we don't hold back. Please do spread the word. @STVStudios @strandings @OfficialZSL @BDMLR pic.twitter.com/Csx10onlfN

— Ella Al-Shamahi (@Ella_AlShamahi) June 9, 2022
Al-Shamahi hopes to see action on issues impacting sea life, like harmful chemicals entering the ecosystem through pollution and also bycatch, the marine species caught unintentionally by fishing crews.
"Sometimes we don't always have the best policies, but we have some of the best scientists and environmentalists on the planet and some of the best cutting-edge research," she said.
"There's a big consultation with the Scottish Government, for example, with bycatch right now. Let's make sure the legislation is robust and ready for what lies ahead. If we get that right, it can really improve the lives of whales pretty much immediately."
What Killed The Whale? saw Al-Shamahi join scientists investigating the impact of pollution, fishing and other human activity on deep sea animals.
While attending the Cop26 summit in Glasgow, she got the call that a whale had beached in the Firth of Forth. It was refloated after a rescue effort, but would sadly beach again at Dalgety Bay and die.
With the Forth Bridge in the backdrop, the crew filmed the necropsy of the 12m-long juvenile sei whale, the third largest species in the world, as the scientists tried to solve the mystery behind its death.
The mammals have been dying in record numbers, and around 12,000 whales, dolphins and porpoises have been found dead around the UK since 1990.
"This poor creature beached in front of something so symbolic of industrialisation," she recalled. "People saw the scene and wondered if it was real.
"On the first day, I completely messed up all pieces to camera, because I was upset. It felt really wrong to be talking to camera enthusiastically. It felt really uncomfortable."
Despite warnings to stay away from the area, many locals visited to take a look.
Al-Shamahi said: "We just connect to the majesty of these creatures, I think. Maybe it's  the size of them and the grace of them. I think that's why when you see it on a slab it all just feels really upsetting and wrong and at the same time quite overpowering and overwhelming.
"Curious, too. There were crowds building and coming all day, and people would literally go home and tell their families and tell their neighbours, and they'd come out and they bring their kids with them."
The documentary doesn't shy away from the gruesome reality of the whale's death and the graphic but informative autopsies performed.
On Sonorous Seas: Iona artist Mhairi Killin explores link between military sonar and whale strandings in new exhibition
Coming so close to the creature in its final moments was an emotional experience for Al-Shamahi, who as a paleoanthropologist is more used to dealing with ancient skeletons.
"It's very different from your normal natural history," Al-Shamahi said. "We weren't going to sugarcoat it.
"As soon as you take it out of water, its size crushes its insides to death. I stupidly thought I was just looking at lots and lots of blood until I was told it was emulsified tissue and organs. The sheer weight of this poor animal outside the water is crushing it to death, and it's boiling as well.
"I handle bones all the time, but I'm not used to flesh. I can't do anything to save the owner of a skeleton who died 200,000 years ago, but we were there literally tracking the whale while it was dying. That's a different ballgame and I was struggling a little bit in that first day."
Al-Shamahi praised the volunteers of organisations like the British Divers Marine Life Rescue and Scottish Marine Animal Strandings Scheme who rush to aid or examine the animals.
"We were just covering what these people just do day in, day out," she said. "I'm really glad there's people out there kind of keeping a track of what's going on and trying to help these animals.
"They're happily jumping in to really cold waters and trying to save another life. It's so beautiful."
What Killed the Whale? Is available to watch on All 4
---
Secrets of the tomb
Ella Al-Shamahi's next project sees her delve deep into the legend of the curse of Tutankhamun.
In 1962, Howard Carter made the greatest archaeological find of all time – the tomb of the Egyptian boy king.
As well as the copious amount of treasure found, it would soon become the centre of a media sensation as people who entered the tomb mysteriously began dying.
"We archaeologists moan about a few things that just take all the attention and all the limelight," Al-Shamahi said. "The main one is Tutankhamun. It doesn't matter how much incredible data you assemble, how many incredible finds you have. How are you supposed to compete in the public imagination with a boy king who was the child of incest and probably married his sister, who was literally covered in gold?"
2nd clip drop! 100 yrs ago HOW did Tut's curse capture the imagination the way it did? Was it the press running wild? Was it a fascination with 'the East'? Was there any fire, however small, to the smoke? The Secrets of Tutankhamu's Tomb @channel4 8pm SUNDAY #secretsoftutstomb pic.twitter.com/7ms3rraQsJ

— Ella Al-Shamahi (@Ella_AlShamahi) June 17, 2022
Al-Shamahi recalls her own curiosity as a child surrounding the so-called 'Pharaoh's Curse' and was delighted to get the chance to investigate it.
In the series, which begins tonight, she travels from the tomb in Egypt's Valley of the Kings, to a shrine in Wawel cathedral in Krakow, Poland as the investigation links a series of mysterious deaths in both locations, each attributed to a 'curse'.
"As a grown up child, I was trying to find the real story behind it," she said. "We looked into microbes and funguses and also looked into psychology.
"Personally, I would not enter a tomb with a newly discovered mummy without really good PPE. And that is kind of the way people behave now."
---
Tutankhamun: Secrets of the Tomb, Sunday 19 June, 8pm, Channel 4 and available on All4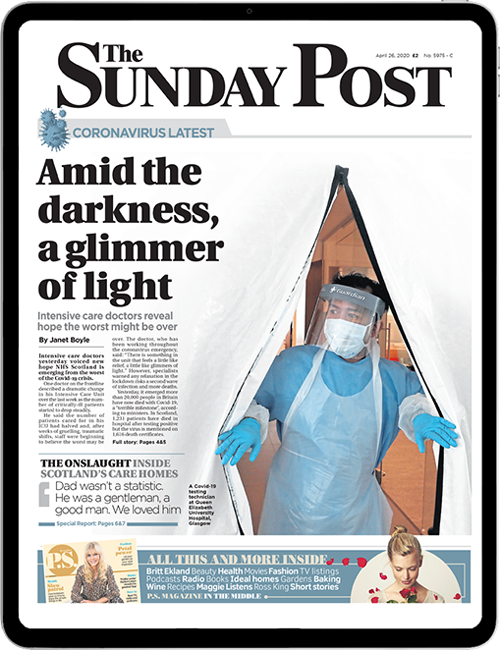 Enjoy the convenience of having The Sunday Post delivered as a digital ePaper straight to your smartphone, tablet or computer.
Subscribe for only £5.49 a month and enjoy all the benefits of the printed paper as a digital replica.
Subscribe