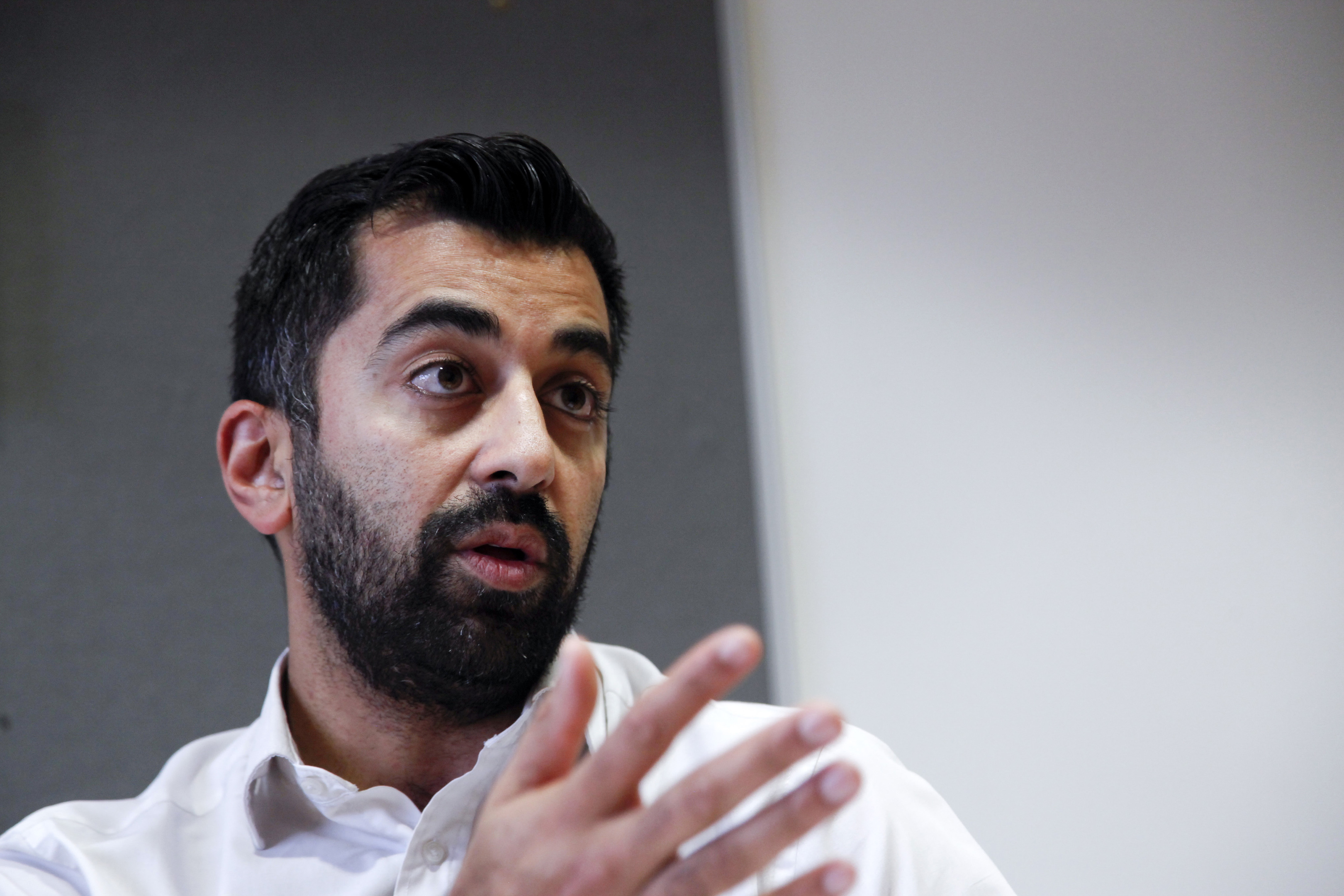 CRIMINALS who target elderly victims because of their age may face harsher sentences, according to the new justice minister.
Humza Yousaf said protecting older people from preying criminals is one of his priorities after seeing a rising number of his own constituents contact him for help.
One option being considered would mean crimes against the elderly becoming an aggravated offence, in the same way race-motivated crimes carry tougher punishments.
Mr Yousaf, who took over the justice brief in a reshuffle earlier this year, spoke of his determination to offer the elderly every possible protection after it was recommended in a hate crime review published by Lord Bracadale.
He said: "Unfortunately, as a constituency MSP, you hear more and more cases of people being scammed, exploited and defrauded because of their age and I am very open to looking at this.
"Obviously, I am a victim, numerous times over, of hate crime and I am trying to bring my own experience to this role.
"As well as distraction theft by unknown callers, this kind of exploitation of potentially vulnerable older people can also involve so-called friends, carers or even a family member abusing their position of trust.
"I have looked at Lord Bracadale's recommendation about age being an aggravator, and taking this kind of action on elderly abuse.
"As far as I know, we could be one of the first jurisdictions in the world to have an aggravation on age, making sure we stand up for the elderly and vulnerable and for the dreadful way they are targeted by some."
According to Government figures, pensioners are rarely victims of crime, with around 1 in 200 pensioners experiencing crime in the last year.
However, data from Police Scotland showed that, between April and September last year, 336 people were defrauded of around £420,000 by doorstep crooks – with 265 of them (80%) being pensioners.
Citizen's Advice Scotland also collected data on telephone and email scams, showing around 41% of elderly people they spoke to had been targeted in the last year.
In a survey of 2010 Scottish pensioners, 824 people confirmed they had been contacted by post or phone by scammers offering services such as computer repairs, tax refunds and personal injury claims.
Trading standards research from 2015 also found older Scots were being plagued with up to 60 nuisance and scam calls every month, making up more than half of all the calls they received.
Charities Age Scotland and Action On Elder Abuse have welcomed Mr Yousaf's commitment to tackling the issue, but argue the aggravator based on age may not go far enough.
Lesley Carcary, of Action On Elder Abuse Scotland, said she would favour an aggravator based on vulnerability to better protect people from fraudsters.
She added: "We're pleased the Scottish Government are considering that age-related hostility should become a hate crime, but this only addresses a minority of crimes against older people.
"After all, it's hard to believe there are many people who are harming older people because of a hatred towards older people.
"By bringing in a statutory aggravation based on vulnerability, Scotland has a real chance to lead the way in tougher prosecutions for those who harm or abuse not only vulnerable older people, but other vulnerable adults.
"We need a much more robust justice system where the punishment fits the crime, and a message is sent to would-be perpetrators that this shameful behaviour will not be tolerated.
"Without an effective deterrent, the scourge of elder abuse will continue."
Brian Sloan, Age Scotland's chief executive, said: "The move to strengthen hate crime laws to better protect older people is good news.
"The Scottish Government are making all of the right noises about the recommendations in the Bracadale Report on this matter which suggested the introduction of a statutory aggravator to make crimes as a result of someone's age more severe.
"Older people often feel police and prosecutors do not take their reports of crime as seriously as they would expect and there is a lack of follow up.
"By enhancing crimes as a result of age, such as scams, older people will feel better empowered, prosecutors will have more tools at their disposal and will act as a deterrent as criminals will know they will be dealt with more severely."
Along with a focus on elderly victims of crime, Mr Yousaf acknowledged more needed to be done to accommodate offenders outside of prison.
He admitted the current community justice network does not currently have enough resources to deal with all the offenders which the Scottish Government hope will not be put behind bars for less than a year.
Last year, Nicola Sturgeon's Programme For Government announced courts should have a presumption against sending people to prison for sentences of less than a year, as opposed to three months which had been the previous recommendation. The same presumption was repeated this week by the First Minster in her most recent Programme For Government statement.
Despite this, there are currently more than 10,000 people in Scotland on sentences of 12 months or less – around 80% of the total prison population – who, Mr Yousaf admitted, cannot be accommodated with the current level of resources available for community justice.
Mr Yousaf said: "There will never be an outright ban on sentences of less than a year but there should be a presumption against it.
"From a political point of view, everything I do in the justice portfolio will be, and is, based on the empirical data.
"There is no shortage of that and every single bit of that data shows if you are on a custodial sentence of less than 12 months you are twice as likely to reoffend than if you were on a community payback order, so it makes sense to have that presumption.
"But we have to be prepared for this. We have the numbers, we know how many people this will effect and we know the infrastructure that is needed, so we will have to resource it.
"The obvious point to make is that it's far more expensive to keep someone in prison than for them to be on a community payback order.
"We will have to resource it properly, and that is something that Community Justice Scotland told me in the first meeting I had with them."
How could they? Criminals preying on the weakest
From violent gangs to cold-calling conmen, criminal predators deliberately target the old and vulnerable.
Here are some recent cases which could carry longer sentences under the proposals revealed today.
The fraudster
Electrician Robert Vize was jailed in June this year after conning an 87-year-old man out of £25,000.
The 31-year-old Port Glasgow man was supposed to be carrying out electrical jobs on the pensioner's home in Rutherglen, but failed to do anything.
Instead, he wrote false receipts for imaginary jobs and took the man to a cash machine to withdraw money to pay him for it. Along with the 87-year-old, Vize targeted an 81-year-old man from Ayr and took several hundred pounds after changing a light switch.
At Glasgow Sheriff Court, Vize was convicted of five fraud charges for taking money for electrical work that he "did not undertake or complete" and sentenced to two years in prison.
The conman
Andrew Beech was sent to prison after subjecting an elderly couple to a terrifying ordeal in their home.
The 25-year-old pretended to be from the water board to get access to their house in Bearsden, appearing at the front door in a hi-vis vest. Beech claimed he needed to test the water, before barging into the home with two accomplices.
The trio assaulted the couple, putting a hand over the 76-year-old woman's mouth and pushing the man, 79, to the ground, before demanding £20,000.
Beech, from Sheffield, was found guilty of assault and robbery and sentenced to three years in prison.
The muggers
Three muggers admitted deliberately going after the elderly in Edinburgh.
Jason McLaren, 31, Michael Kennedy, 22, and Catherine Strachan, 50, targeted several pensioners and people with disabilities.
One of the victims, 81, was approached by Strachan and McLaren as he walked along the street wth his Zimmer frame. The pair started a conversation, then pushed him against a wall, rifled thorugh his clothes and stole £80.
In another incident, Kennedy and McLaren stole a handbag from a woman, 86, after stopping her to ask for the time.
They snatched her bag, which contained her late husband's wedding ring, causing her to fall.
They were ordered to spend four years in jail.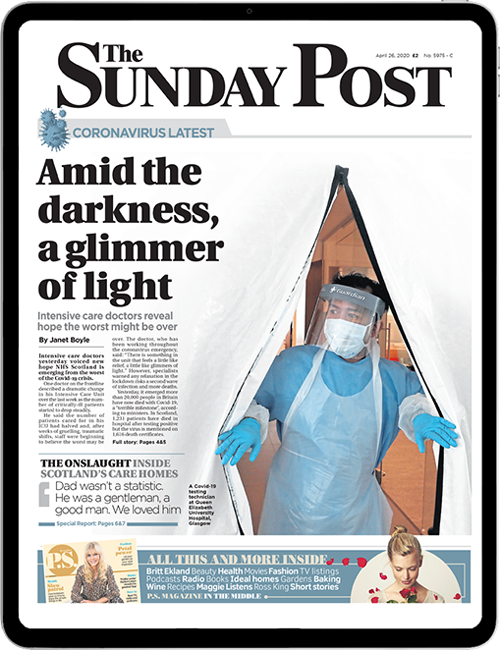 Enjoy the convenience of having The Sunday Post delivered as a digital ePaper straight to your smartphone, tablet or computer.
Subscribe for only £5.49 a month and enjoy all the benefits of the printed paper as a digital replica.
Subscribe