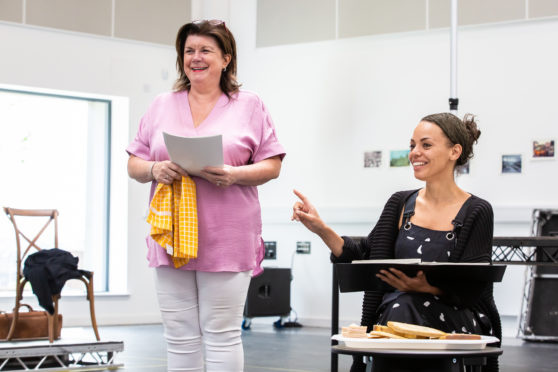 She didn't realise it at the time, but Elaine C Smith started researching her latest role decades ago.
It was while working with Wildcat Theatre, the Glasgow socialist theatre company active in the 1970, 80s and 90s, that she came to know John Kay and his wife Helen.
Both members of the Communist Party, John was on the board of the radical theatre group. Elaine came to know that John and Helen had adopted two children, who would occasionally accompany their parents at rehearsals.
She wasn't to know that one of the kids would go on to write a powerful family memoir that she would help bring to life years in the future.
Red Dust Road, from the National Theatre of Scotland, will tour Scotland after opening at The Beacon in Greenock this weekend and runs at the Edinburgh International Festival from August 14.
It's an adaptation of the memoir of poet and novelist Jackie Kay in which she explores her personal history, having been given up for adoption by her mother who fell pregnant to a man from Nigeria.
The work is a powerful journey of ­personal discovery, spinning from Nairn to Lagos, shining a light on society's changing attitudes to race, sex and sexuality.
But for Elaine, Bafta-winning star of BBC comedy Two Doors Down, it was a career first.
"It's the first time I've played someone I've actually known," said the star during a break from rehearsals.
"When I was in Wildcat, John Kay, her dad, who was in the Communist Party, was on the board at Wildcat. So I knew John and Helen and I knew Jackie as the lovely wee girl who would sometimes come along to things with her parents.
"I was involved in Equity, the actors' union, at that time, and I would see them along at May Day marches, too.
"Jackie is one of the first mixed-race children I'd ever met. And I never put it together until a few years back that Jackie Kay the poet and writer that I love was the same Jackie Kay."
Elaine read Jackie's critically acclaimed 2010 memoir long before there was any notion she would one day assume the role of the author's adoptive mother, Helen.
She said: "I remember I cried all the way through it, not just because I knew her mum and dad and had great admiration for them, but also because of the love and affection and the time that it evoked – they were a family who had parties, folk sitting about having a drink and a sing-song, like mine.
"The book is about the red dust road in Africa which Jackie imagined when she discovered her father had come from Nigeria. It's about her search for her birth parents, and the Scottish mum and dad she regards as her parents, and there's also wonderful stuff about race and being adopted.
"It's a really moving piece, quite joyous in places."
Despite knowing Helen, Elaine was wary of basing her character interpretation on her personal recollections.
"I haven't seen her for a long time, so it's more about the themes of her ­generosity and her humour. I have to make the character a version of Helen, not an impersonation, in much the same way as I didn't do an impersonation of Susan Boyle when we did her story. Because then you're just an impersonator.
"But it's all there in Jackie's writing, and in good writing all you have to do is put the right emotion behind it and it works."
The novel opens in the Nicon Hilton Hotel in Abuja where Jackie meets her birth father, a born-again Christian and "faith healer" who prays over her.
From there, it returns to the Glasgow upbringing she enjoyed, with a brother Maxwell, a young girl with brown skin raised by two white people in Scotland of the 1960s and 70s.
As well as detailing the reality of her childhood and adolescence, it also traces her 20-year quest to find her parents, an Edinburgh nurse and a Nigerian student who'd had a ­relationship in the 1960s at a time when falling pregnant out of wedlock, let alone to someone whose skin was a different colour than your own, carried a huge social taboo.
Elaine said: "There were a lot of women at that time who were forced to give up their babies and who went on to have real difficulties with guilt and shame and all that. It's all part of having to give up their children."
In 2016 Jackie Kay was appointed the country's third Makar, Scotland's national poet, following Edwin Morgan and Liz Lochhead. She has a son and was in a relationship with Britain's former poet laureate Carole-Anne Duffy for many years. Her sexuality is also a key part of the story.
Elaine said: "Jackie having to tell Helen that she's gay is also in there, and it's beautifully done. Even in the liberal Communist Party there was a coming to terms with that, even for Helen and John.
The cast includes Sasha Frost, Stefan Adegbola and Seroca Davis, a line-up that proved an eye-opener for Elaine.
She said: "I think it's really ­important during this Brexit era, when there's all this anti-immigration stuff, to face my own ignorance about how many mixed-race Scots, mixed-race Glaswegians there were in the rehearsal room.
"I realised it was the first time ever in Scotland that I'd been in a room with that many different races of multi­cultural Scots. Talk about white ­privilege? You just take it for granted.
"I was thinking, 'How come I don't see these women and men in drama, or enough of them, reflected back?' When I was growing up we were presented with a white male version of the norm.
"Now you become suddenly aware that it's white women too, and that maybe we're not reflecting how diverse a culture we actually are. At 60, to be still learning that stuff is a wonderful thing to be involved in.
"It really is a beautiful story, a true story of hope and love."
Red Dust Road is at Royal Lyceum in Edinburgh, August 14-18, before touring in Stirling, Inverness and Manchester
---
Elaine fears for the home nations
As a leading figure in the campaign for Scottish independence, Elaine C Smith admits the current political climate in Britain makes her concerned for the other countries in the UK.
She said: "I think a no-deal Brexit will be very bad. Even though I'm a supporter of independence, I've never been a member of any political party, but I care about my fellow citizens in England, Wales and Northern Ireland.
"I fear that many ordinary people who have been angry are being manipulated and sold a pup by the powerful elites. If you're a believer in independence some people think you're not supposed to care about anywhere else.
"Well, I do. I care about the kids, the jobs, the lives of everyday people across the whole of the UK. It'll be bad for the UK and Scotland, but I think it will give Scotland a very stark choice in the longer term – the likes of Boris Johnston and Nigel Farage – or is it time to grow up and run things ourselves."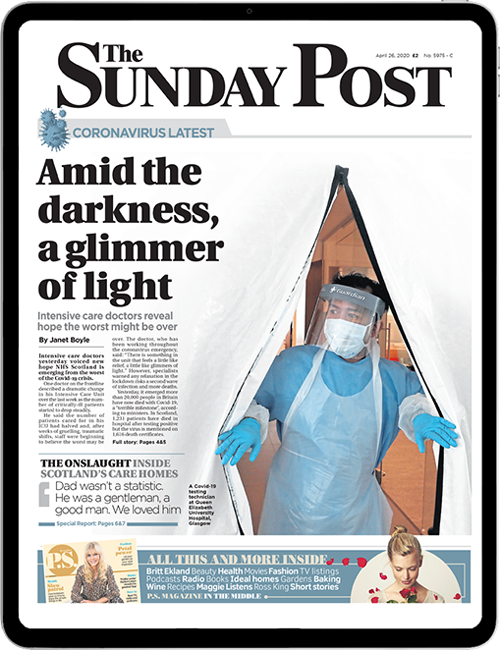 Enjoy the convenience of having The Sunday Post delivered as a digital ePaper straight to your smartphone, tablet or computer.
Subscribe for only £5.49 a month and enjoy all the benefits of the printed paper as a digital replica.
Subscribe