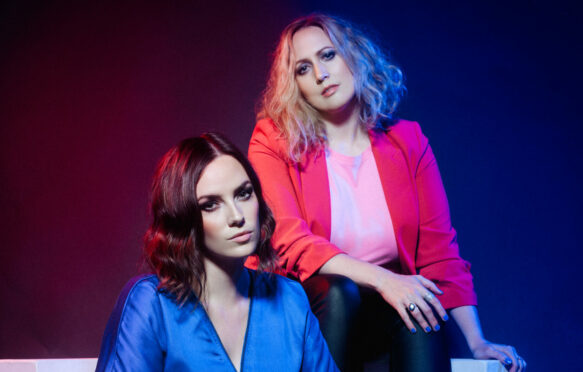 Sometimes a certain song plays on the radio and you're hit with a wave of emotion. For unsigned Edinburgh pop duo The Eves, it was one of their own.
When Ken Bruce hit play one Friday morning and introduced millions of BBC Radio 2 listeners to Brand New Day, it came out of the blue for Caroline Gilmour and Marissa Keltie.
As texts and messages came flooding in from their friends and family, it was a moment to savour after years of hard work to make a breakthrough.
"We spent the whole morning just absolutely in bits. I cried for about two hours non-stop. I just sobbed and sobbed," Gilmour admits.
"Getting on Radio 2 was the big ticket item we always wanted to achieve and to get that this year, when we were just coming out of lockdown, was amazing. We were quite proud that we'd managed to push on."
The duo had pitched the song to the station in the hope of getting in played on air.
It clearly impressed, as it would eventually make the Radio 2 playlist, with spins from Steve Wright, Tony Blackburn, Claudia Winkelman and even Zoe Ball on the flagship breakfast show.
"You dream about that moment all the time," Keltie said. "We've had quite a lot of radio play but this is Radio 2. It's the biggest radio station in the UK. It's massive and to get there as an unsigned act is unbelievable."
On the back of the airplay, the track reached the top twenty in the iTunes download chart and featured on Spotify's New Pop UK playlist.
The success has invigorated the pair, who have been hotly-tipped since first joining forces three years ago.
As well as writing and performing together, Gilmour and Keltie also share a flat, where they've spent most of the last two years during Covid lockdowns.
It's meant they've built up a bank of new material and are chomping at the bit to play it in front of people in person.
"We're desperate to get back to normality, back into studios and back out properly gigging," Gilmour said. "We're still working at home the majority of the time and it does get you down a little bit.
"Marissa has been really good, has come up with a lot of stuff but I've been the opposite. I've lost all my inspiration in terms of writing at the moment.
"When we work together though it seems to be fine. To sit down on my own I really struggle to think of anything I want to say right now. Everything feels a bit jumbled and messy."
Keltie added: "I just think I've been lucky with the ideas that have popped into my head. It's been pretty depressing the past couple of years but we've got no choice but to keep going.
"Try to pivot, find new ways of working and do what we can. That's what everybody's been doing I suppose."
The duo take influence from the likes of First Aid Kit and The Staves, as well as Dua Lipa and Miley Cyrus.
They're also big fans of rising stars Sigrid and Griff, and have moved closer to a more poppy sound in recent months.
Gilmour said: "Before the pandemic, we were gigging and our sound was a little bit more acoustic, band sounding. Throughout the pandemic we were just thinking how long would it take before we can get back in rehearsal rooms and work with other people.
"We decided to try to focus on the two of us for a bit, and I think that shaped the songs and the more pop-based style we went down.
"Trying to take the silver lining out of it, had we not been forced down that route to think about something different, we probably wouldn't've got to that point for quite some time. I think it fast-tracked us into doing something new."
Up next the duo are releasing new single Legal High, which Keltie describes as being about the euphoric buzz of falling in love.
The Eves worked with producer Lewis Gardner, who has worked with the likes of Nick Jonas and Ellie Goulding, to hone the track and have also been involved in co-writing sessions with songwriter Jim Duguid and producer Lewis Gardiner.
They hope to get "gigging our socks off" next year as festivals and music venues hopefully return to normality, building on recent performances at Tiree Music Festival's online offering TMF Transmitting Live and an upcoming slot at Capers in Cannich Festival, as well as an appearance at TRNSMT 2019.
Asked what she missed the most about live shows, Keltie said: "It's the interaction with the crowd. That feeling you get when people connect with your music, especially some of the quieter songs as well, when you feel that total hush.
"Some of the feedback you get later on as well. You never know what people in the audience are going through, sometimes they might really connect with a certain song and they'll say to you afterwards that it was as if the lyrics were written for them.
"Bringing it back to that simple connection, does the music resonate, does it mean anything to people, does it make them want to dance… that's a nice thing. It feels as if we've spent two years on a screen, it's not natural!"
---
Legal High by The Eves is released on September 17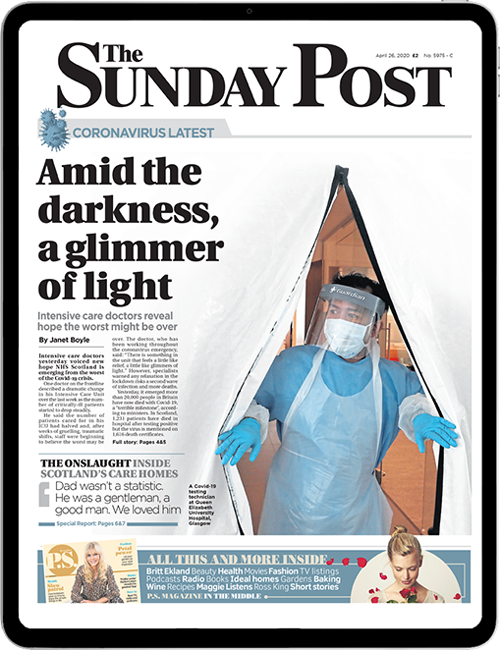 Enjoy the convenience of having The Sunday Post delivered as a digital ePaper straight to your smartphone, tablet or computer.
Subscribe for only £5.49 a month and enjoy all the benefits of the printed paper as a digital replica.
Subscribe