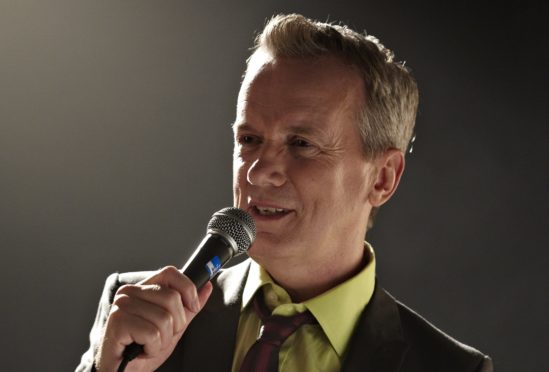 Fittingly for the man behind Three Lions (which we'll just about forgive him for), Frank Skinner's return to the Fringe sees him coming home.
Edinburgh was where he was found comedy to be his calling and where he's had many winning moments – from personal milestones to actual awards.
But he hasn't performed stand-up at the festival for a few years now – indeed he brought a play he'd written up last year.
This year though he's back to treading the boards himself, just one man and a mic, and that simplicity is what makes this show so good.
Unlike many Fringe shows, there is no over-arching theme or gimmick to his show at the Gordon Aikman Lecture Theatre, it's simply Skinner doing what he excels at, standing on stage telling jokes.
Ahead of his upcoming tour Showbiz, a few celebs are in the firing line throughout. From an opening salvo at Sir Bruce Forsyth, there are also mentions for Mariah Carey, Elton John, Bob Dylan and more.
But it's not all glamour, with Frank touching on the aches and pains of growing old, and the routines of home life – complete with literal toilet humour.
It all adds up to a warmly entertaining hour of constant laughs where a master of his craft effortlessly entertains a receptive crowd, and engages well with them throughout.
He works well with his targets in the front rows, making them as much a part of the show as the pre-planned routine.
He pokes fun at an aromatherapist in row A, as well as a man he reckons looks like a coach driver – but is in fact a scientist.
There's even time in the show for Frank to show off his impressive vocal talent – although thankfully not Three Lions.
His Freddie Mercury is not bad, and there's a lovely rendition of Annie Laurie to impress the locals early on.
It's clear that even after many years of doing this, Skinner still loves being on stage and has no plans to give it up any time soon.
VERDICT: ★★★★
Frank Skinner will be performing at London's Garrick Theatre until February 15 2020. Tickets are available here.