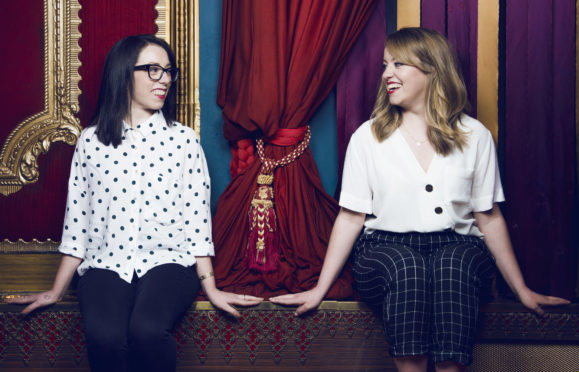 Having impressed in previous Fringe appearances, musical duo Flo & Joan are back for 2019 with their latest show, Before the Screaming Starts.
Inspired by the infamous Bros documentary that aired last Christmas, the real-life sisters aim to avoid the pitfalls and punch-ups of Luke and Matt Goss in their own career.
It's a popular ticket in town, with a sold-out crowd packing into a Greatest Showman-esque tent in the middle of Edinburgh's George Square for a Monday evening show.
Flo & Joan (a.k.a Nicola and Rosie Dempsey) arrive on stage and decide they need a little bit more pomp, leading to a bombastic opener that signals even more oomph to this year's show than in previous years.
There's a drum kit, plus lighting and special effects befitting an arena show, as well as a little disco ball hanging from the tent's roof.
Hilarious from the off, the duo deliver a set packed with beautifully composed and played melodies with clever and punchy lines packed into every verse and chorus.
They're on top form throughout, and while the songs are perfectly polished there's room for improvisation and audience participation.
There's also an exhibition of the most powerful vocals you're likely to hear singing about parcel deliveries from Rosie and the most powerful dividing by three of any number by Nicola.
For this kind of act, the moment the music stops can, like a game of musical chairs, be when things go a bit haywire. But for Flo & Joan it allows moments to let Nicola's dry wit shine and the sibling rivalry to brew.
Indeed, the inventive finale which threatens to fulfil the Bros prophesy (Brosphesy?) of sibling-act combustion is a terrific end to one of the best hours you're likely to see at this year's Fringe.
VERDICT: ★★★★★