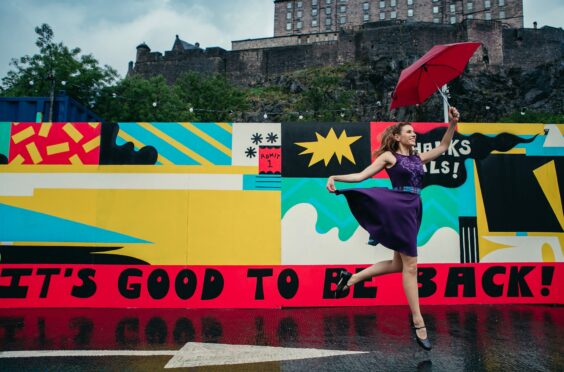 Our bells will finally ring for freedom tomorrow just as our capital city begins to heave with comics, jugglers, pipers and a Doric Elvis. Is it too late to change our minds?
The Edinburgh Festival returned on Friday after being cancelled last year and comes just as Scotland removes all remaining restrictions. Apart, that is, from the ones we're keeping.
As well as sounding like an X-Files episode, "Beyond Level 0" is fairly confusing. Do I still have to wear a mask at B&Q? Can I vertically drink myself horizontal? Can we move beyond Level -1? Can I move beyond being a negative one?
And what does it mean for the world's biggest arts festival, which trades on bustling crowds, cramped gigs in phone boxes and all the jugglers on planet earth descending on the capital to gurn at Texans?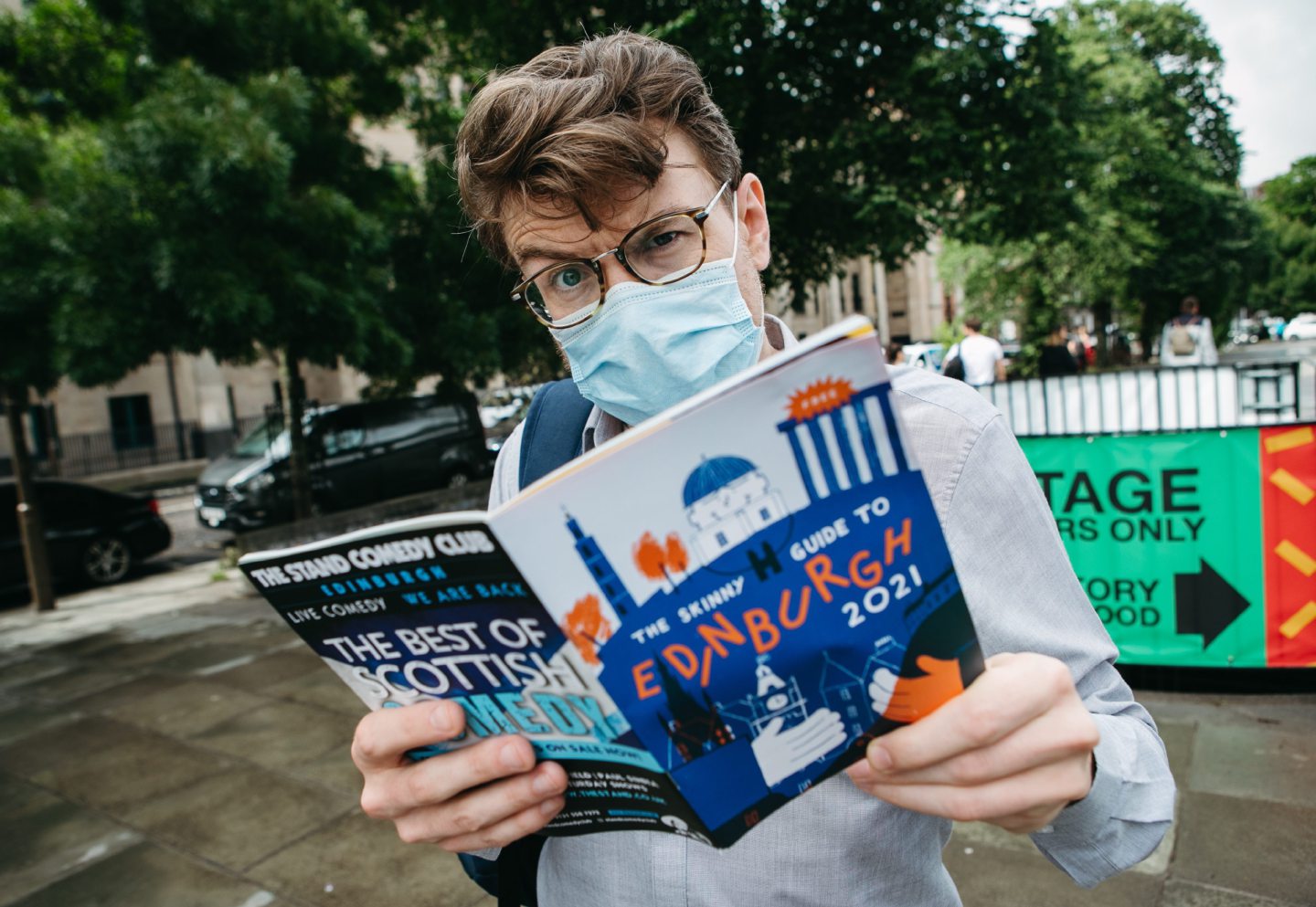 I headed east from Glasgow to Edinburgh on the opening day of the festival in an effort to find out just how free Scotland's festivalgoers were feeling ahead of so-called Freedom Day.
This year the fringe features only 300 shows; usually there are around 10 times as many. Covid has truncated the line-up and trimmed the Fringe into a small tuft.
Edinburgh student Michelle McLean, 22, likened the festival to Scotland throwing an ill-advised house party, or "gaff" as the kids call it these days.
It remains to be seen if it's a gaffe or not. Travelling home on the train after visiting her boyfriend in Glasgow, Michelle said even the idea of Freedom Day tomorrow was a bit, well, cringe.
"It's a Monday so I'll be working," she said. "Is it not raining? I'm not sure a rainy Monday makes me want to celebrate, really.
"The festival is on but it's going to be much smaller which will be nicer. Sometimes it can get a bit annoying with leaflets being shoved in your face. It can get a bit loud and over-the-top."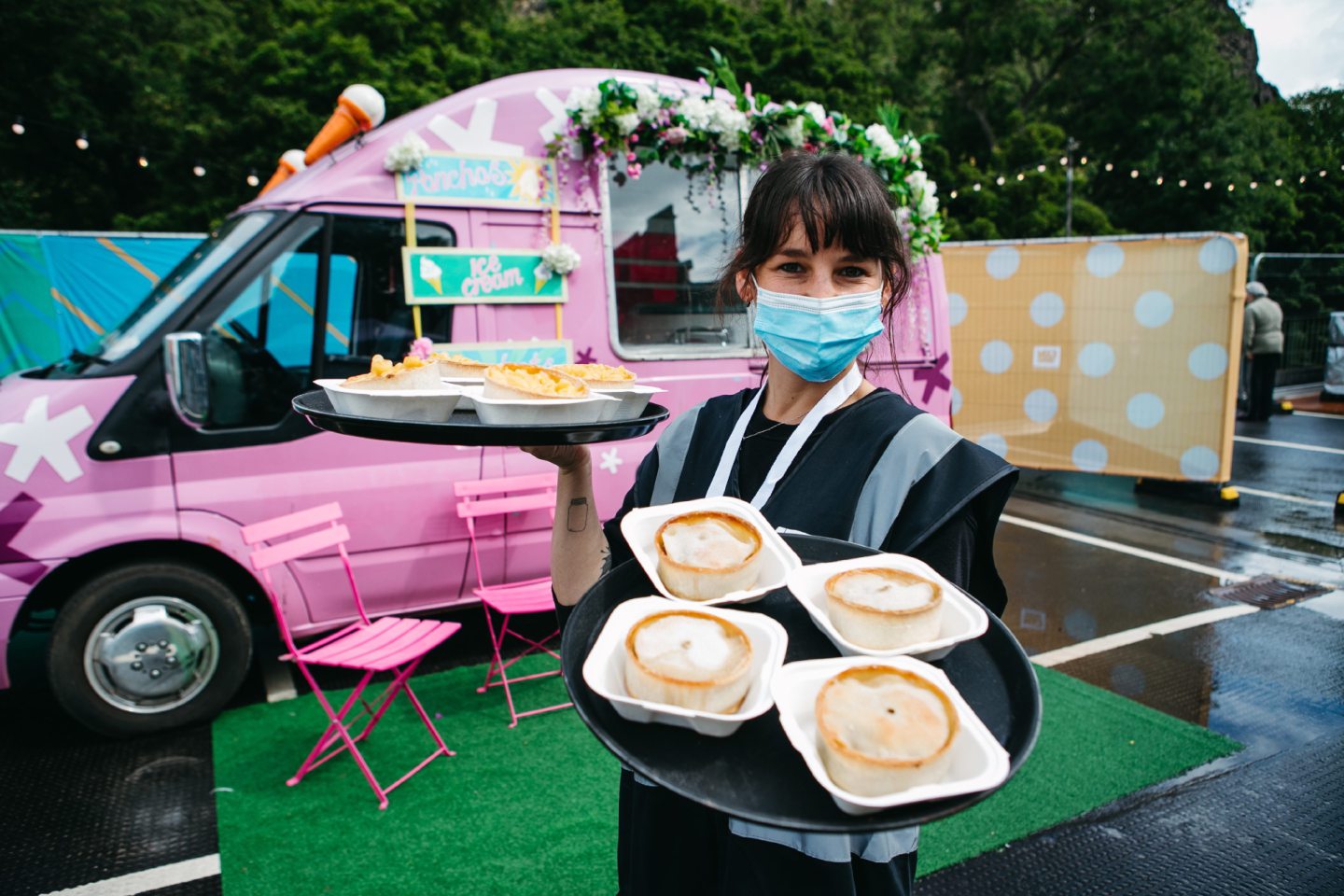 With that, she returned to watching RuPaul's Drag Race on her big pink phone. The train was largely deserted except for a few other passengers, including a piper called Craig who travels from Falkirk every day to busk on the Royal Mile.
"Is this the opening day of the festival?" he asked, eyeing up the tourists, or rather the lack of them.
Usually, the Royal Mile is the festival's central, pulsing artery on day one; to Craig it looked like just another Friday.
He was thrillingly crabbit for a man representing Scotland to visitors from around the world; no amount of mixed currency thrown into his hat can undo several decades listening to your own bagpipes.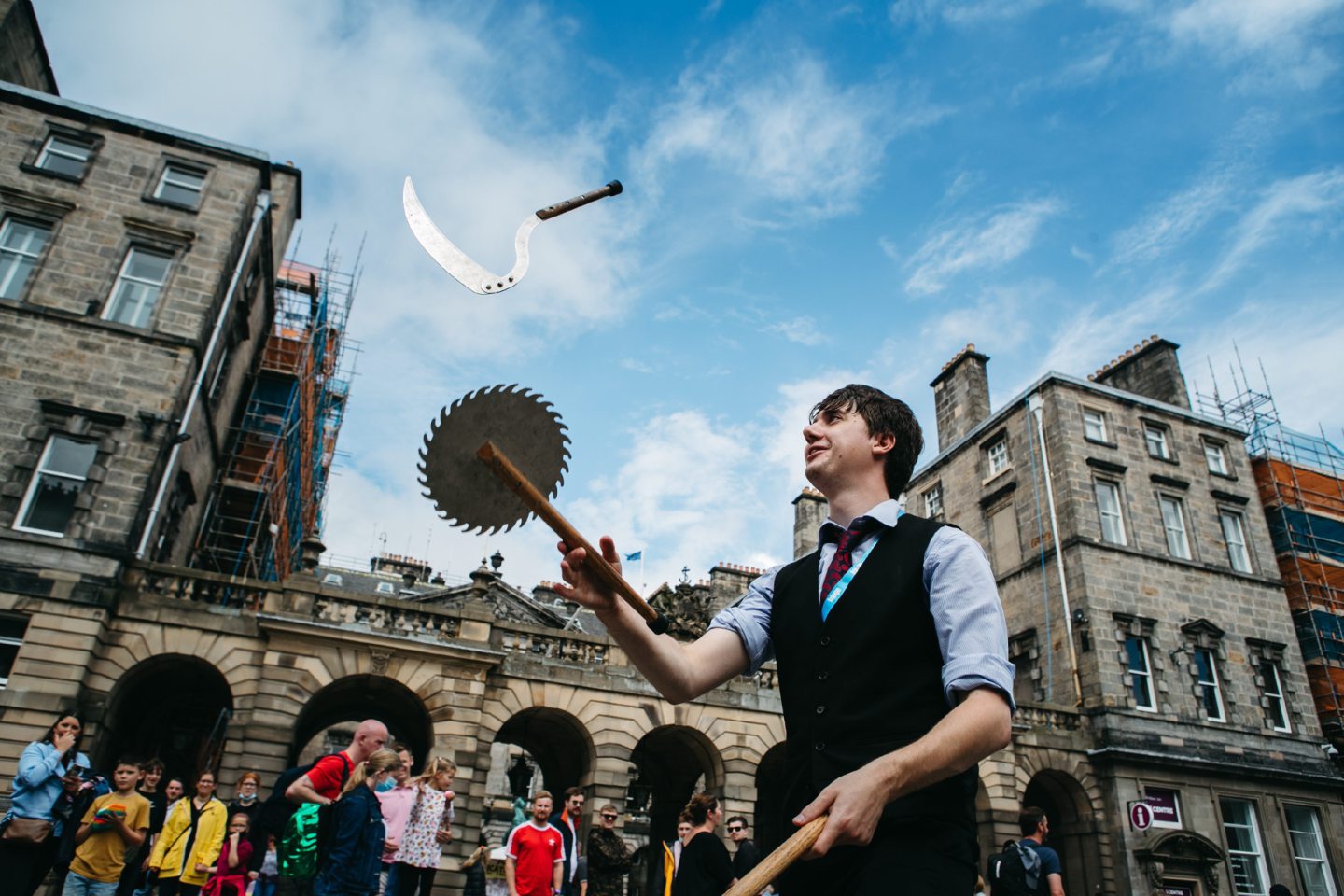 Not that much of the money comes from foreigners. There are plenty of accents in Edinburgh but overwhelmingly they range from Scouse to Cockney to Yorkshire.
"Is it Freedom Day, I thought we had that?" pondered Brummie Ian Robertson while craning his neck at the castle.
He's visiting Edinburgh for five days with his partner, Jackie, and daughter, Laura.
"We've had a lovely time so far and the restrictions don't bother us really," he added. "They don't seem to change much and I don't think it will change much in a few days either."
Others are less cheerfully oblivious. Some buskers pray Freedom Day brings an end to social distancing on the Royal Mile.
Where once it was a free-for-all, fences have been erected to ensure the crowd is spaced out. Spaced-out crowds means smaller crowds; smaller crowds means less money.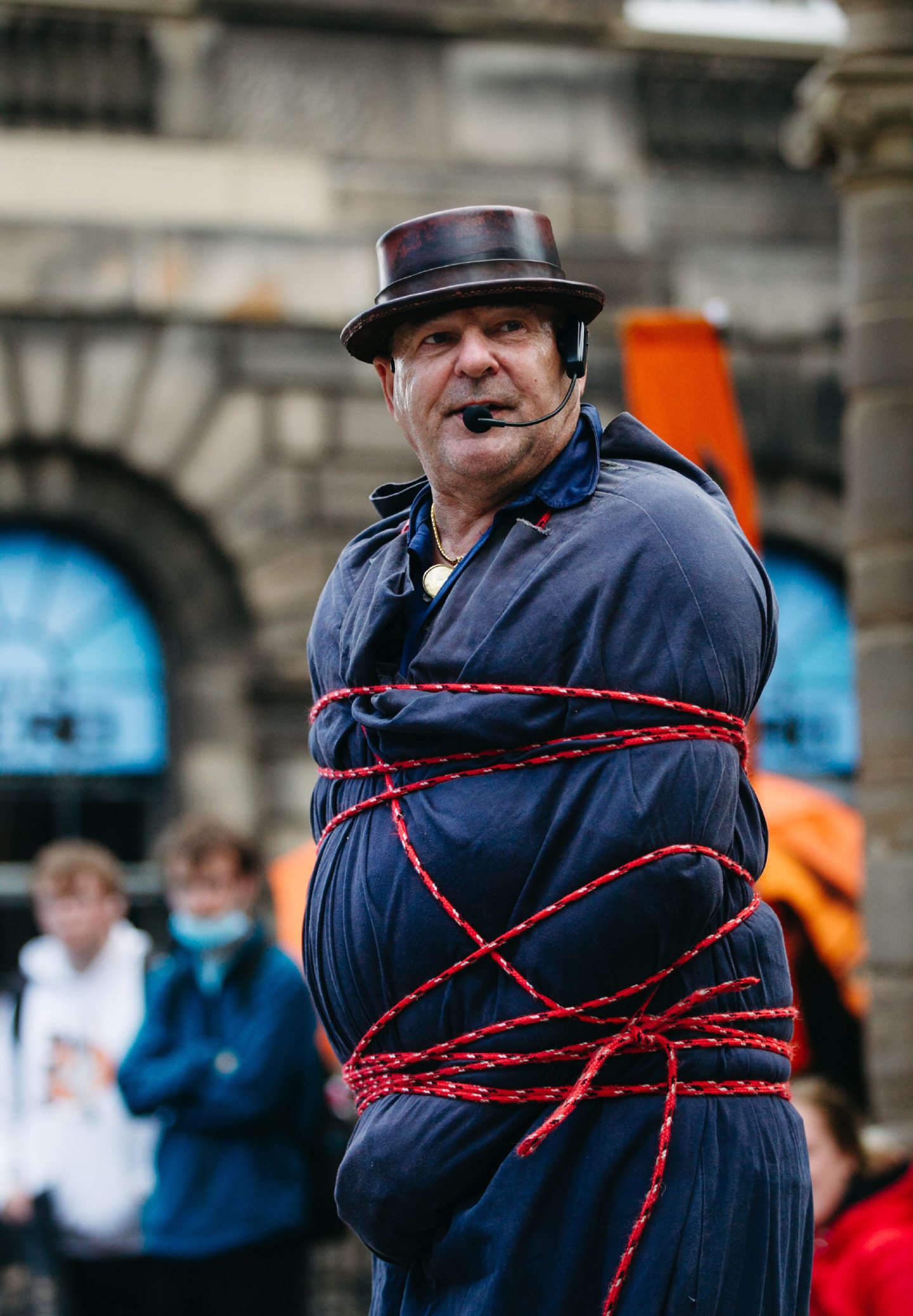 Having somewhat startlingly travelled from Thailand, 26-year festival veteran Paddy McCullagh is unlikely to make a profit on his trip which in total will cost him, aside from travel expenses, several weeks in quarantine.
"It's hard to say if we'll make less," said the optimistic Northern Irishman. "There are fewer buskers now so perhaps we'll make more?
"At the beginning of the day our names go into a hat and we're drawn to perform at a certain time. We could be on first thing or last, it's just the luck of the draw."
Paddy was on at 1.30pm but his end-of-the-pier routine as an escape artist, which involved questioning the parentage of some of the children in the audience, as well as swallowing a 6ft balloon, would perhaps be better suited for later in the day.
In fact at times it would make one of the Bangkok Ladyboys – also playing the festival, incidentally – blush. Maybe Paddy can share a plane back with them.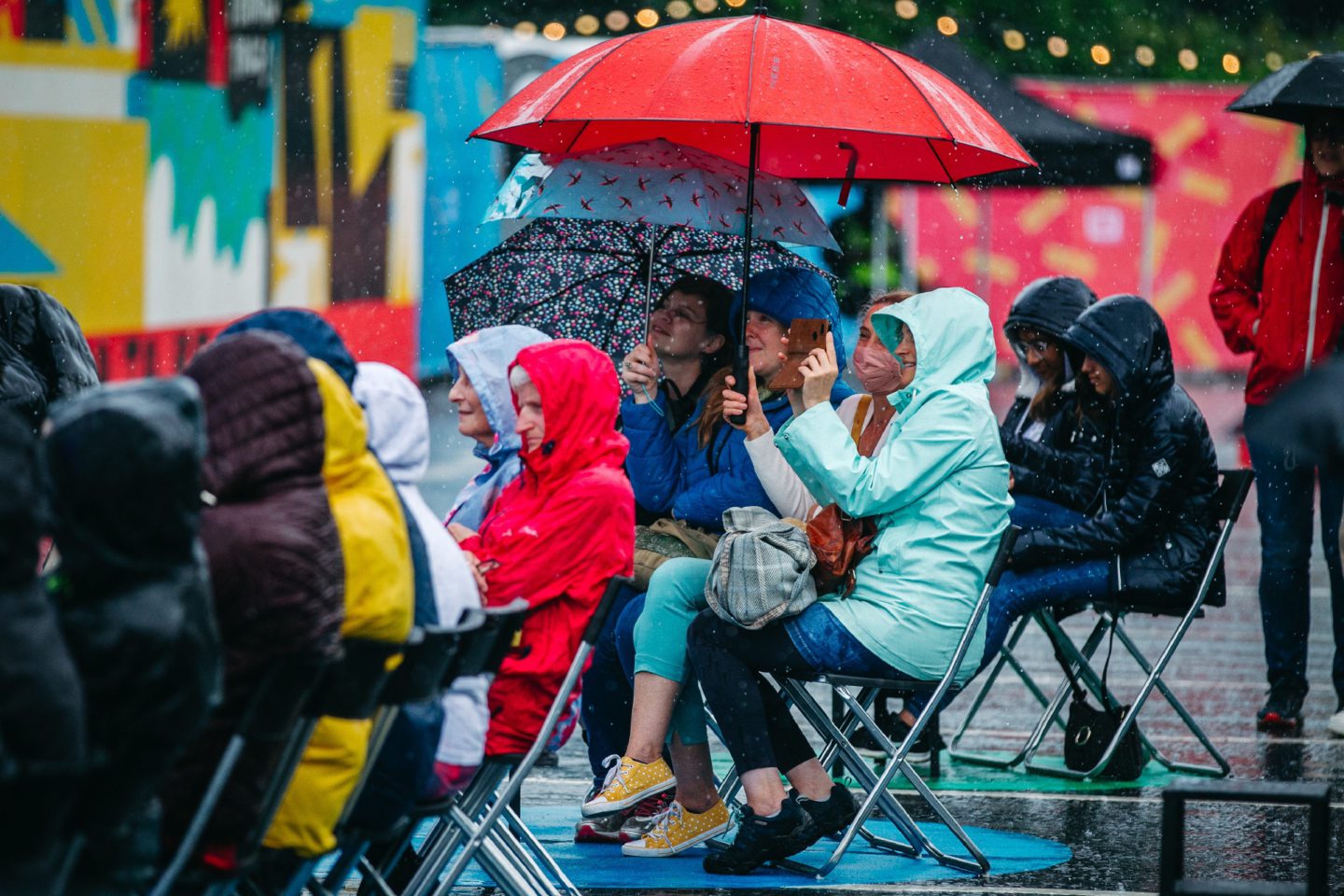 MultiStory, an outdoor venue at a carpark, hosts several shows throughout the day. The first, and I wish I was making this up, was Joyce Falconer, Roisin from River City, as an Elvis impersonator who sings entirely in Doric. Perhaps it's a testament to how starved of culture they've been over the past 18 months that the crowd lapped it up.
This was followed by Shiva's Camino, a Scottish-Indian dance crew doing the flamenco. Tragically the clatter of the castanets was interrupted by the rumble of thunder as the traditional Scottish weather made an appearance and drenched the crowd.
We've got the freedom to do as we please here in Scotland; weather permitting.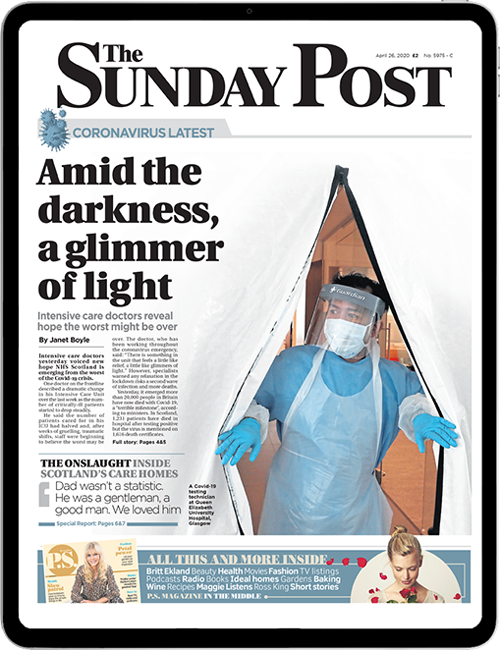 Enjoy the convenience of having The Sunday Post delivered as a digital ePaper straight to your smartphone, tablet or computer.
Subscribe for only £5.49 a month and enjoy all the benefits of the printed paper as a digital replica.
Subscribe