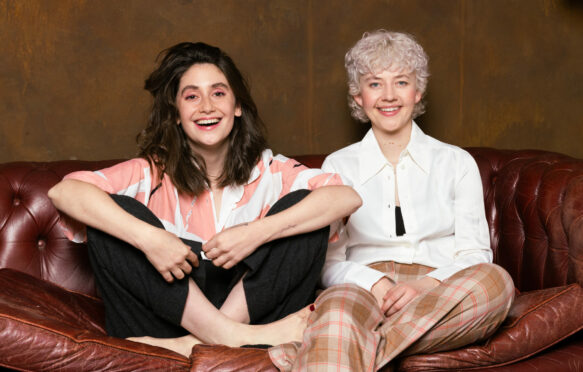 Sketch duo Charly Clive and Ellen Robertson have been performing together since they were at school.
In 2016, Clive was diagnosed with a brain tumour –  which they called Britney to lighten conversations about it – and the name stuck.
Now with the all-clear, Britney return to the Fringe with latest show Friends and Nothing More on the back of filming a pilot with BBC3.
Here, they answer our questions ahead of the festival kicking off next month…
How are you both feeling ahead of the Fringe?
I guess we're feeling emotionally vulnerable and financially precarious and very funny. There's a mad energy about this one because we haven't performed at the Fringe for five years so we can't wait to do what we love to do the most in the world: eat overpriced cheesy chips for twenty nine solid days.
We are also excited to see everything we possibly can, and to do our show which might actually be quite good this year (even one of our producers Al said that! And he doesn't even say things like that very often!)
You've been working together since you were teenagers, what brought you together and what is the Britney dynamic like?
Yeah, we first performed together when we hosted our school's Christmas Talent Show, way back in 2009. It was an auspicious start. Of course, we both wanted to get into comedy for the same reason anyone does: to pick up chicks. (Charly has asked me to clarify that she did it because of a childhood love of Steve Martin, and is working in comedy because she believes it to be a special artform through which she can pick up dudes).
The dynamic genuinely changes quite a lot depending on what else we're doing, but we live together so if we doing something shared the working day tends to begin with a knock at the door and a 'coffee?' and ends with us telling each other how much we love each other on our roof. With about seven-nine hours of bickering in between.
Britney was the name given to Charly's tumour – what made you decide to stick with it as a name for the act?
When we first did the Fringe we had to select a company name and we panicked and called ourselves the Fart Twins. It was hard to relinquish but, though gaseous, we aren't technically family, and people kept saying 'it's the Britney girls' to us as they saw us around Edinburgh eating cheesy chips, so we thought we might as well stick with it.
What is your show all about, and what inspired it?
The show's title 'Friends and Nothing More' is taken from a song that Charly wrote for me (Ellen) to establish the boundaries of our relationship when I came out to her. And that's because Charly is an ally.
If there's a theme, I suppose it's about friendship, and about anxiety about ageing (which weirdly we aren't actually doing and remain dangerously young), and both of us being single and desperately seeking a partner from the audience to marry us.
We are women, after all, and women want to get married! But it's also very much about wearing silly hats. It's just an hour of the funniest gumpf we could muster.
What can audiences expect when coming along to see your show?
The three Ls: laughs, lots (of 'em, and trips down memory) lane.
You recently created a TV pilot for BBC 3, what was that experience like?
Ah man. It was very very wonderful and surreal. We got incredibly lucky with everyone involved in the making of it: Roanna and Jen at Drama Republic, Mike Bartlett who was a kind of guru figure, the crew, the cast, the heavenly director Luke Snellin.
Everyone was so kind and talented and the whole experience felt otherworldly. We couldn't believe it was happening. Like a nightmare but really good. A dream. The word I'm looking for is dream.
What are your favourite memories of the Fringe?
We've had some good times up there: the first sell-out show we ever performed in 2016 was really sick because on our first night we had not a single audience member and our lovely tech guy Ross said 'it's OK girls just treat it like a dress rehearsal' so we were really emotional when people started coming; the time we nearly missed our show because we got so sidetracked playing with big bubbles on the meadows; the time Ellen shook Russell Howard's hand because he was gesturing to take a flyer and she briefly lost her mind.
There's also been some pretty horrendously low moments too. We've spent more than one night in A&E; and one night crying our eyes out on a very public bench and having to smile at anyone we knew passing by; and sharing a dressing room with Sarah Kendall was pretty awful. Just because she's such a cruel person.
If you had to pick one item that's essential for surviving a month at the Fringe, what would that be?
An audience.
What do you think it is about the Edinburgh Fringe that attracts people from all around the world to come to watch and also to perform?
There's just so much on offer – a mad scope and variety of incredibly cool experimental stuff and big names and weird theatre which is the best kind of theatre. But probably people really come for the weather.
If you were in charge of the Fringe, what changes would you make?
WELL. We'd love an app. We'd love to see some sort of regulation on accommodation – the situation for artists this year is even worse than before the pandemic, and it just isn't sustainable.
We've been anxious about how we'll afford it all year and that's not a very fun place to make fun work from. I – Charly – would also love Ellen not to hog the covers when we share a bed, but I guess some things are too big to hope for.
What is your favourite one-liner?
Given we've mentioned him already, we both love the first line of a Steve Martin play where a woman's in that magic trick where she's been sawn in half and so is lying with her torso and her legs in different boxes, and she turns to the audience and says, with a sigh: 'maybe now he'll finally notice me'. Perfection.
---
Britney: Friends and Nothing More is at The Edinburgh Fringe Festival this August at The Pleasance. Tickets here.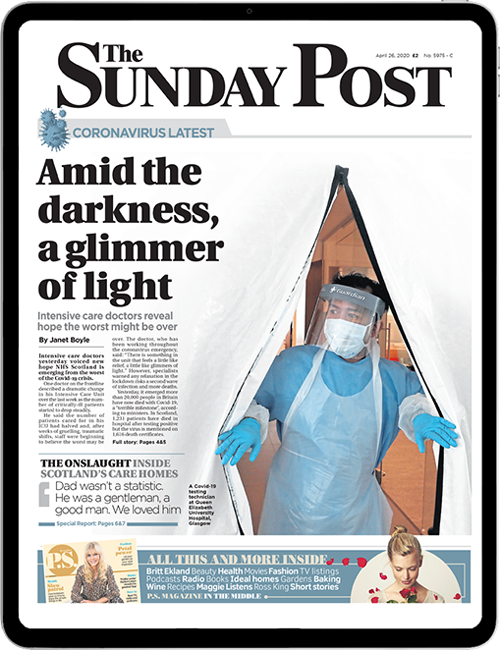 Enjoy the convenience of having The Sunday Post delivered as a digital ePaper straight to your smartphone, tablet or computer.
Subscribe for only £5.49 a month and enjoy all the benefits of the printed paper as a digital replica.
Subscribe