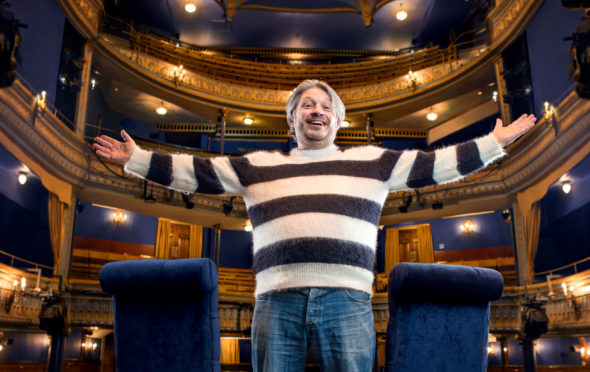 A veteran of the Edinburgh Fringe, Richard Herring relocates his Leicester Square Theatre Podcast (RHLSTP) to the Scottish capital later this month.
With an exciting line-up of talent appearing, he'll also have his own stories to share having recently been crowned Taskmaster champion of champions and released a book on his treatment last year for testicular cancer.
Here, he answers our questions ahead of the festival kicking off…
How are you feeling ahead of the Fringe?
I am looking forward to it. Got great guests for the podcast and only doing 12 shows so it shouldn't be too knackering. The podcast is always a pleasure as there is no way of knowing what's going to happen and every show is different!
Who have you got lined up and how excited are you to have them on RHLSTP?
There's a great line up of established names and international talent plus the odd exciting newcomer. Very much looking forward to meeting Janeane Garofalo who is amazing and Tim Key is always a treat.
Local acts include Janey Godley and Sanjeev Kohli and international acts Vir Das and Conrad Koch.
Also John Robins, Flo & Joan, All Killa No Filla, Ed Gamble and Harriet Dyer (who you may not have heard of yet, but who you don't want to miss) plus a surprise guest or two!
You got into podcasting and blogging early, and now Twitch, how important have you found it to keep ahead of the trends?
I am always looking for new ways to do things especially if it puts me in control. The autonomy was what appealed to me about podcasts so I didn't care that I wasn't getting paid. I didn't realise it would be as huge as it's become.
Being ahead of trends (which is a total accident) means you generally keep in the shadows a bit as someone else comes along when the thing becomes established and is a big hit. But I am happy in the shadows.
This is your 43rd show and your 26th Fringe, what changes have you seen over the years?
It's got a lot bigger and more unwieldy and expensive but the performers still don't see any of the money! At it's heart it is the same.
The Fringe is a place to try out ideas, meet like minded souls and be inspired by other shows. Anything else is just frippery.
If you were in charge of the Fringe – you have been referred to as 'King of Edinburgh' before after all, what changes would you make?
Landlords could only charge two times the regular rent of their property- hotels too. These expenses are turning the Fringe into something that can only be attended by the wealthy. It should be for everyone.
What are your favourite memories from the festival?
If you remember the Fringe you weren't really there.
You're a Taskmaster champion and champion of champions – will you be bringing the golden head trophy with you?
I will not. It's quite bulky and I have to fit stuff for my whole family in the car boot.
If you had to pick one item that's essential for surviving a month at the Fringe, what would that be?
A Tempting Tattie jacket potato
How was the experience of writing your latest book and what do you hope people take from it?
I had testicular cancer last year so it was cathartic if a little triggering to go back through it all. But I saw the funny side from the start, balls are the funniest place to get cancer and the book is very positive and (I think) enjoyable.
Usually writing a book is a struggle, but this one flowed out of me pretty quickly. Hopefully it will also help men address this subject and check their balls!
What is your favourite one-liner?
My four-year-old son (and it has to be him telling it to be funny, mainly because he doesn't understand it himself, it it's also a surprise from the mouth of one so young) Why do squirrels swim on their backs? To keep their nuts dry!
---
Richard Herring brings his acclaimed interview podcast, RHLSTP, to the Assembly Rooms, Ballroom as part of the Edinburgh Festival Fringe from 3rd – 14th August at 1.00pm. More info, guest names and tickets available at richardherring.com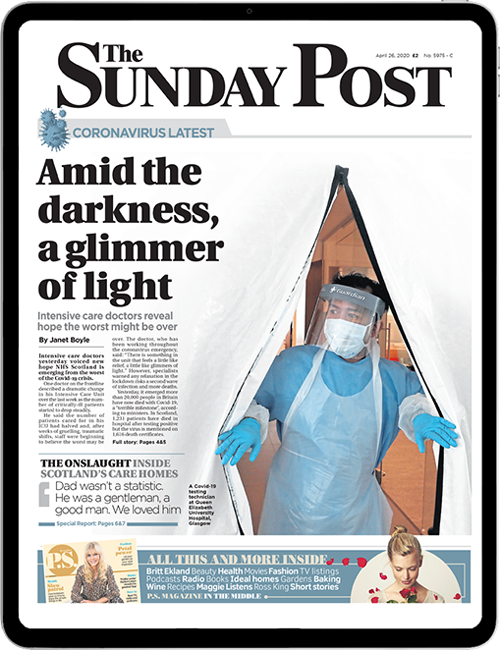 Enjoy the convenience of having The Sunday Post delivered as a digital ePaper straight to your smartphone, tablet or computer.
Subscribe for only £5.49 a month and enjoy all the benefits of the printed paper as a digital replica.
Subscribe