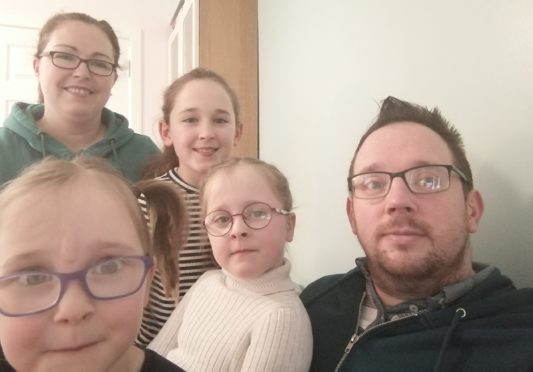 Home-schooling three daughters and enduring another lockdown could be considered enough of a challenge for 2021, but for one Edinburgh man that's just the beginning.
Gary Staerck is on a mission to complete 12 different challenges for charities which hold a special place in his heart across the course of the year.
With the help of his wife, Tricia, nine-year-old Polly and five-year-old twins Scarlet and Amelia, he'll be doing everything from running and gaming to growing a moustache and cutting out alcohol and meat.
"We talked about New Year Resolutions, and one of the things I wanted to do was do more for charity, give something back," he explained. "But you never have enough money to donate, with three kids, especially twins who grow at roughly the same speed and we're constantly buying new clothes.
"I thought I should maybe do something, make a thing of it and try to push myself for the full year. I'm overweight, I never keep myself fit, but if I can do some stuff to try and do that at the same time then it'll push me through to the whole year of trying to change myself a bit."
First, Gary and Tricia are taking part in Dry January, something that always proves a challenge to participants but is extra tough in 2021.
"I didn't expect Dry January to be quite as difficult," Gary admitted. "We're not big drinkers but with the number of things that have happened, the lockdown, home-schooling, and losing a good friend a couple of weeks ago as well, you just think it would be nice to sit down, have a drink, and take the edge off. It's been good at the same time though; realising you don't need to rely on that."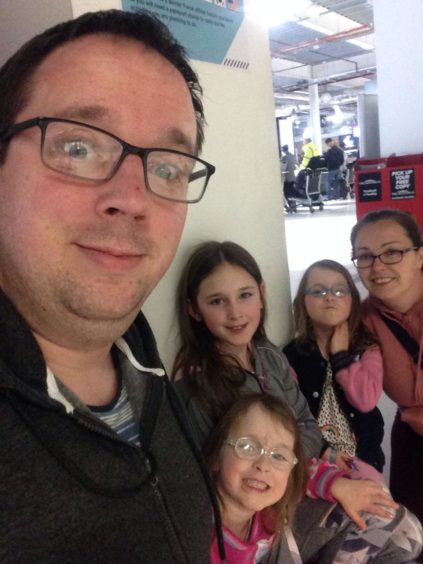 Throughout January and February, Gary and Polly will be going through the Couch to 5K programme. Gary will then be taking part in running events in the spring and summer, either in person or virtually.
Also on the agenda is a family gaming marathon in October, Movember and a silent auction or raffle in December.
The 12in12for5 challenge aims to raise money for five charities; Twins Trust, Edinburgh Children's Hospital Charity, Simpsons Special Care Babies, Scottish Autism and shout 85258.
Each of those chosen mean something to Gary, and his main mission is to give something back the wonderful support they've given to his family.
Twins Trust and Simpsons Special Care Babies both provided vital support to Gary and Tricia after Scarlet and Amelia were born at 33 weeks.
"We were looked after so well by Simpsons. We were in neo-natal for a week but under their care for six weeks. They provided a private room to stay in with the kids, people coming out and looking after you, and also things you don't think about, like the tiny little clothes you need when your kids are born at four pounds and the ones you've bought don't fit.
"The Twins Trust were really good too. They do a twin-specific anti-natal class which made such a big difference. We'd done classes for Polly but these made you think about things you wouldn't otherwise, like the size of your car and what type to get, and thoughts on how to name them so one of them doesn't always get called first."
Also benefitting from the challenge is the Edinburgh Children's Hospital Charity, with the family spending a lot of time in and out of hospital over the years. Gary's half-brother, who died at the age of 14, also spent time at the Sick Kids' unit.
"The kids are in and out the hospital all the time. You go in when one's hurt themselves and you have to all go in," Gary said.
"The fact the charity is there to help with toys and care workers doing arts and crafts, it's so incredibly useful to keep the other two entertained while the other is being seen to. It's stressful enough as it is.
"We're always in and out for various healthcare needs and the support of the charity is amazing. For my half-brother, when he was in there, his mum was able to stay in with him and get support. It's good to be able to give back."
Gary will also be supporting Scottish Autism, who have provided guidance as the twins go through testing, and the mental health service shout 85258.
He said: "With the twins, it was quite overwhelming for me. I had post-natal depression when they were born and I'm still not right, if you like, but I'm not a big 'talk about your problems' kind of person.
"This service, because it's a text service, you feel like you're talking to someone but you don't have someone on the end of a phone necessarily waiting for a response. They'll reply to you if you reply to them.
"There's lots of people out there who don't like speaking to people on the phone and it's just a nice service that's very supportive and non-judgmental. You're able to do it without anyone else noticing, just sitting there on your phone.
"Men especially can feel like they don't want any questions. It's a more private way of doing it, I suppose."
It's not just Gary who'll be taking on the challenges, as his family will be helping him out along the way – whether that's becoming a running buddy, or putting down the wine at the same time.
"It helps me, getting the family involved. With the running, it's nice to have someone else with you, the same with dry January. It's good for moral support. Polly is coming out running while we do the couch to 5k, if I didn't have her out with me I'd be finding it quite difficult to keep going.
Gary added: "It's nice to get out and about. It's funny how much time you spend with people in the house but don't really have a good chat. When we're out on a run, you chat nonsense to each other for half an hour. It's great fun."
---
To donate and for more information visit 12in12for5.wordpress.com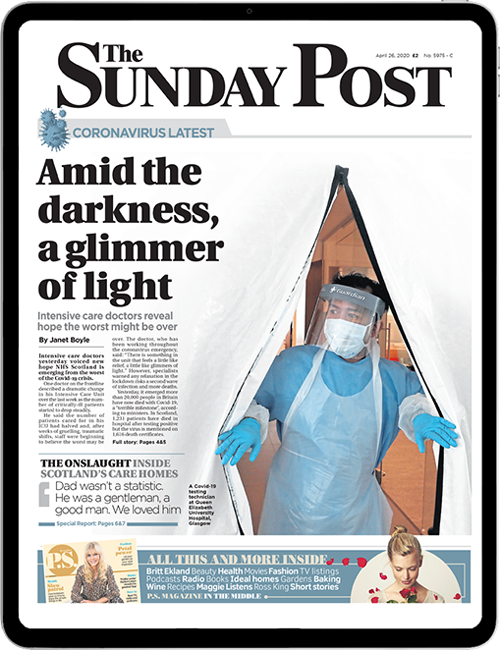 Enjoy the convenience of having The Sunday Post delivered as a digital ePaper straight to your smartphone, tablet or computer.
Subscribe for only £5.49 a month and enjoy all the benefits of the printed paper as a digital replica.
Subscribe