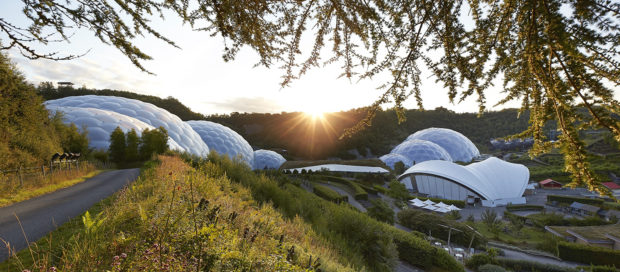 Dundee could become home to a new major tourist attraction by The Eden Project.
As revealed in our sister title The Courier today, the organisation will work alongside Dundee City Council and the University of Dundee on a feasibility study for a new project on Tayside.
We're working with @DundeeCouncil and @dundeeuni to explore the feasibility of an 'Eden Project Scotland' in Dundee. it's part of our portfolio of regenerative international projects with an overarching theme of humanity's connection to the natural world. https://t.co/B5QTZlMZmU pic.twitter.com/cNk1S4Zfkz

— Eden Project (@edenproject) May 27, 2020
Commencing in June, the study will establish a potential site for the project and ideas as to what it will house.
The proposal – provisionally known as Eden Project Scotland – is part of Eden's portfolio of international projects which also includes developments in China, Australia, New Zealand and Costa Rica as well as UK projects including in Morecambe, Derry~Londonderry and Portland.
The original Eden Project in Cornwall opened in March 2001 and has welcomed more than 22 million visitors, generating more than £2 billion for the region's economy.
David Harland, Chief Executive of Eden Project International, said: "We are really excited to be working in Dundee. It is a vibrant city with big ambitions and we hope to be able to create something that encapsulates its unique appeal.
"The opening of the city's V&A in 2018 was a bold statement of intent and we want to be part of the next wave, helping establish Dundee as a truly world-class destination.
"The city was traditionally known for its 'jute, jam and journalism', to which we would hope to add some joy, jubilation and, if not an actual jungle, at least the spirit that enabled us to build one under cover in an abandoned quarry in Cornwall."
LONG READ: 'Transformational' Eden Project tipped to bring millions of visitors to Dundee
John Alexander, Dundee City Council leader, said: "We are delighted to be working with Eden Project International and our local and national partners on such an exciting collaboration.
"There's a clear alignment between what Eden is known for – sustainability, education and a first-class visitor experience – and what we want to deliver here in Dundee.
"Bringing Eden Project Scotland to Dundee would not only mean securing an amazing asset for local people to enjoy, but also adding another world-class attraction to our future visitor offer.
"Tourism was a key pillar of the Dundee economy before the devastating events of the past few months, and it will be again.
"The vision, ambition and determination embodied in projects like such as Eden – and V&A Dundee before it – will be critical to creating jobs and prosperity as we as a city recover and rebuild."