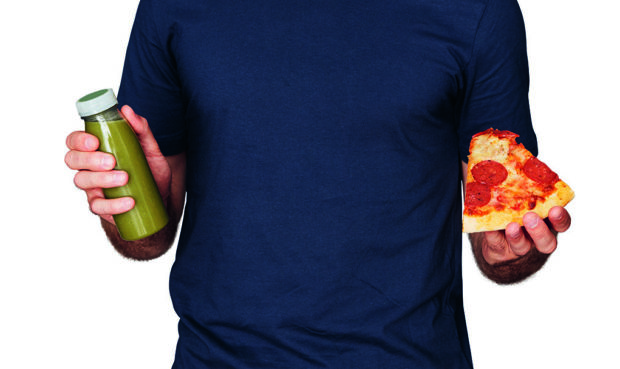 Juice diet, low-carb, keto, clean eating, alkaline diet, fasting, low-fat, baby food… The list of fad diets promising weight loss miracles and quick fixes seems to go on and on.
January is a popular time to overhaul our eating habits, for obvious reasons, but 90% of us will abandon our chosen diet by the end of the month.
Deprivation diets might help us to initially shed a few pounds but they are really setting most of us up to fail, according to Aberdeen-based nutrition coach Graeme Tomlinson.
"Fad diets come in all different forms. What they all have in common is that they require a calorie deficit to work but they have their own extreme ways of doing that which is more marketable," he says.
"The ultimate reason people fail at dieting is that their diet wasn't sustainable or they lacked motivation.
"Rigid diet schedules are as likely to lead to anxiety, guilt and discouragement as they are to weight loss."
Graeme, also known as The Fitness Chef, first set out to debunk dieting myths on Instagram where his no nonsense approach to food has won him half a million followers.
Now in a new book, Eat What You Like and Lose Weight for Life, he aims to cut through the marketing maze of diet culture to lay out in simple terms what we need to do to shed the pounds.
"It's about understanding what you're eating as opposed to listening to all the dieting myths out there," he adds. "This is empowering people with the basic facts so they can have as flexible a diet as possible, which means they are more likely to enjoy it and succeed. "There is no good reason why you need to rip up your current eating plan and adopt a completely different new one. It's about making informed choices and smart changes."
Despite the multi-billion-pound dieting industry, Graeme stresses that the key to losing weight is simple: achieving and maintaining a calorie deficit. "Losing weight doesn't need to be unenjoyable. You can still eat all your favourite foods as long as you achieve your calorie deficit by consuming fewer calories than you expend," he explains.
"It's important to include every, single food that you enjoy at some point because, when we ban things, we tend to crave them more and that will eventually lead to excess.
"Carbs, fats and sugar are allowed but it's about understanding what it means when you eat them and doing so in moderation.
"I want people to have a more laid-back perspective on weight loss and understand the basics, because calories in vs calories out is really all you need to know."
Calculating Your Calorie Deficit
There are many online calorie deficit calculators including my own at fitnesschef.uk which will help you quickly work out your daily and weekly calorie and protein requirements for weight loss.
Simply type in your age, gender, weight, height and how active you are and it works out the calorie requirement to maintain your current weight, then a percentage is deducted to create a calorie deficit ie how many calories you have to cut in order to lose weight. I recommend following a 15-20% deficit from maintenance calories.
For example, if your total daily energy expenditure is 3,500 calories, to achieve a 15% deficit, your new daily calorie target to achieve fat loss would be 2,975 calories. The easiest way to sustain a calorie deficit is by gradually reducing it over time. It's important to think about the long-term and be patient rather than going for a quick fix. And as you lose weight, remember to keep recalculating your daily calorie intake to continue losing fat. The leaner you become, the harder it is to lose fat at the same rate.
Remember: once you've reached your weight goal you can eat more calories as part of your maintenance plan.
Track Your Calories Weekly
There are multiple calorie-tracking apps available to help you log your consumed calories. Tracking your calories across the week rather than a day means you can be more flexible.
If your calorie target for fat loss is 2,000 calories per day, change this to a target of 14,000 per week. If you go over your daily calorie target, you haven't failed because you can have less on the other days.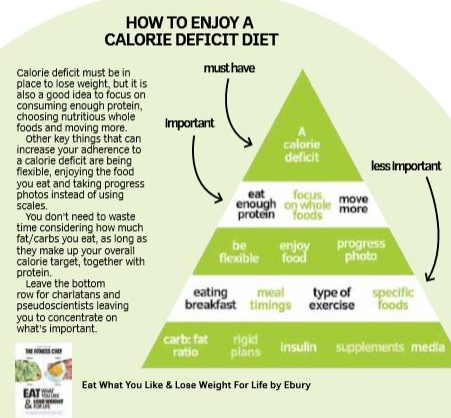 Food fibs
Myth: Carbs Make You Fat
Over the past 30 years or so the consumption of carbs has been vilified by those who believe that carbs impact on body fat more than any other macronutrient. But overall calorie balance will define fat loss, not carbs. A 2018 review of rates of fat loss in low-carb vs low-fat diets found they were virtually the same when calories and protein were equated.
Myth: Sugar Makes You Fat
Despite what you've heard, sugar is not bad. We just like to blame an easy target for our problems. Sugar is a simple carbohydrate found in many natural foods, such as fruit, and in processed foods, such as cake. Eating high volumes of sugar-rich foods lacking in protein and fibre may contribute to becoming overweight but only because you are likely to eat more of them as your body will digest them faster and burn fewer calories while doing so. And remember protein burns more calories during digestion.
Myth: Intermittent Fasting is Best for Fat Loss
Intermittent fasting is a popular fat-loss strategy. Research suggests that intermittent fasting results in fat loss, but this is because the fasters ultimately simply reduced their calorie intake. Intermittent fasting helps some people eat within their calorie deficit, while others find it too difficult. Do what works for you.
Myth: Eating Fast Food Makes You Fat
A large handful of fruit-and-nut mix with a health-branded smoothie serves as a nutritious snack, which many think will benefit their weight. Yes, a portion of McNuggets and a large Coca-Cola is viewed as a terrible choice that will make you fat. But this 'fast food' option has significantly fewer calories and more proteins. You can eat 'fast food' and lose weight as long as you consume it within your daily targets and understand that you should still focus on whole foods most of the time.
Top Tip
Small changes can reap big rewards. For example, using 15ml of olive oil a day for cooking equates to 135 calories. Over a year, that's 49,275 calories and approximately 6.3kg/1 stone in body weight. Using a cooking spray or, even better, a non-stick pan instead will help you reduce your calories with minimal sacrifice.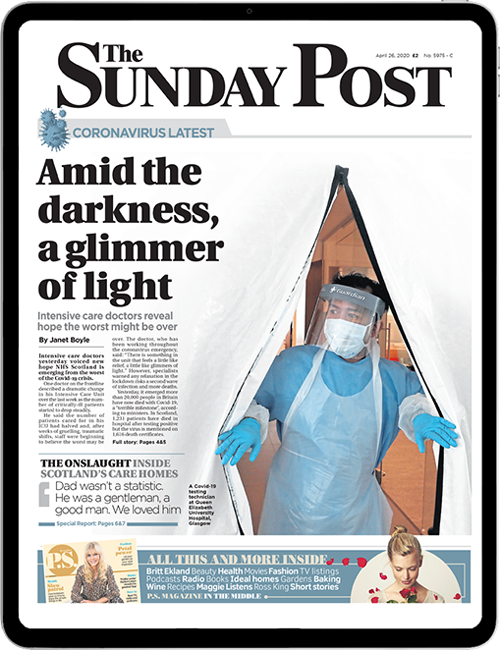 Enjoy the convenience of having The Sunday Post delivered as a digital ePaper straight to your smartphone, tablet or computer.
Subscribe for only £5.49 a month and enjoy all the benefits of the printed paper as a digital replica.
Subscribe