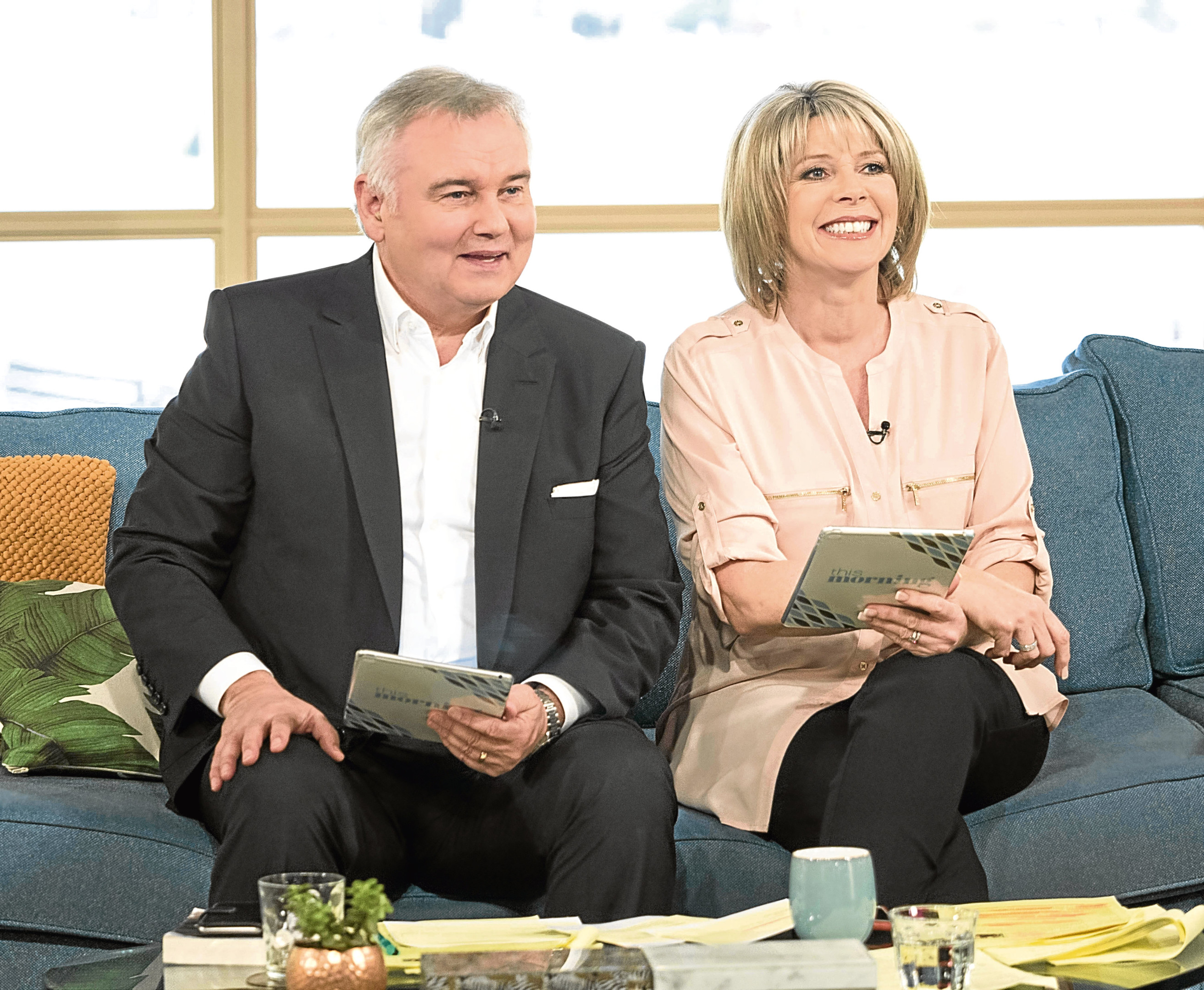 SHE could have danced all night! Well, that was Ruth Langsford, who clearly enjoyed her stint on Strictly, but has been dancing on air ever since, as she and husband Eamonn Holmes go from one success to another.
Ruth is best known, of course, for her many TV appearances, presenting ITV's This Morning and saying her piece on Loose Women, but she was almost jumping with joy last year when it was announced she would talk with her feet in front of millions of viewers on the ever-popular Strictly Come Dancing.
"When I heard, I thought: 'Wow! What a fantastic challenge!'" she recalls.
"There was talk of me going on the show the previous year, but it didn't work out, so when I finally made it, I was very, very excited. I also knew that I had let myself in for a lot of hard work — and plenty of quips from Eamonn!
"The first thing he said was that I was not very competitive and that he was worried about the show clashing with the start of the football season.
"Well, I can be competitive when I want to be and I hope that my dancing is better than watching footballers dance.
"Eamonn was there to cheer me on. He jokes a lot, but he is very supportive. He knows I always give everything my best shot and he is always 100% behind me. He is football mad, though."
That almost goes without saying and it was a big deal when he was offered the chance to take part in the commentary on this year's World Cup in Russia.
Eamonn reveals: "I was offered more than I have been offered to do anything. The real bonus, though, was to be involved in the biggest football competition there is.
"I had to take a big decision and I decided to turn it down. I don't think it would have been a wise career move because it could impact too much on what else I do and comes at a bad time for Ruth.
"We work together on and off screen, and she is really on a high with her career at the moment, with a huge following. We need to support each other during the good days as well as the not so good. Also, I'm not sure I would have liked learning Russian!"
Ruth Langsford is no ordinary television presenter, far from it. She is multi-talented and much travelled, starting in Singapore.
"Yes, it's true, I was born in Singapore," she smiles. "We were an Army family and like many others in the forces, we lived where we were sent. By the time I was 10, I had lived in five different countries and did some of my growing up on three different continents — Asia, Africa and Europe. It's not surprising I enjoy travelling so much.
"Some of my growing up was in Cornwall, where I went to Saltash School. It was a lovely place to live. My first television job was with TSW, where I started newsreading and continuity announcing.
"I loved it and I felt so at home with TV. I knew that was what I wanted to do.
"The station was taken over at the end of 1992 and several of us left, but I still wanted to be a broadcaster. I had already started presenting with the Travel Shop, so I was not going to stray from TV."
Ruth has many other talents, which have led to varied television shows. As a writer, she has had her own columns in several magazines, but it is television that has made her so popular with millions of viewers.
"I am interested in many different things and I have been lucky enough to be able to enjoy some of my interests by presenting The Great British Garden Show, as well as appearing on Ready Steady Cook, Marco's Kitchen Burnout and lots of other cookery shows," she says.
"Those were not just TV work to me. I really enjoy gardening and cooking. I'm a pretty keen DIY girl as well. I even have my own toolbox. It doesn't stop there, though.
"I also enjoy crafts, as well as quick sewing repair jobs. I'm not often without a sewing kit and will happily spend a fair bit of time on my sewing machine at home."
It seems Ruth is really an all-action lady, but she is probably at her happiest chatting alongside her husband on This Morning.
"I love meeting people, and having the chance to interview so many famous and really interesting guests is just a delight," she confirms.
"Working alongside Eamonn makes it even better because it is like having guests call at home. We work well together and really enjoyed making How The Other Half Live. That was fascinating."
Ruth admits that finding time to relax can be a problem, but she does like spending time at home in Weybridge, where she can just be a wife, as well as a mum to Jack.
"I enjoy working, but really, I'm quite a home bird," she says. "Because I work so much, I'm not at home as much as I would like to be, so I really enjoy it when I am. I like to shut the door and just potter about.
"I enjoy cooking for the family, but I don't stop doing things, tidying up and that kind of thing. I'm not really a sit around and read person. I like to be on the go all the time.
"Even if I am waiting for something, I don't stop. To be honest, I like to put on my music and dance around from job to job, making sure there is nobody about, of course! Perhaps I'd been practising for Strictly without even realising it!"
Although their work means Ruth and Eamonn are constantly in the spotlight and spending time with A-list stars and fellow celebrities, Ruth revealed that they are both really just homely people.
"I know this might not sound like the jet-setting life people kind of expect of people involved with television, but at home, we are very ordinary and love ordinary things," she explains.
"We enjoy our family life, having friends round and going for walks with the dog, that kind of thing. The truth is that Eamonn and I aren't really very showbizzy, and while I love my work and being invited to glamorous things, it is not really what I or we are about.
"I like time with my really close girlfriends, just having a few drinks and a lot of laughs.
"My friends are very, very important to me and we've shared a lot together over the years. If there was a choice between going to some event where there will be lots of celebrities or having an evening at home or out with my friends, I know what I'd choose."
Ruth and Eamonn were in a relationship for a number of years before they married in June, 2010.
"Yes, it's true that Eamonn sent me a text suggesting that we ought to get married," she smiles.
"I laughed and agreed, and that was that. He is a lot more romantic than that really.
"We have fun and that's really important in a marriage. I'm a very independent woman, and he knew that. I've never been one of those ladies who need a man for security. I don't think that's what marriage is about. It's about two people whose minds and hearts draw them together.
"Eamonn and I laugh a lot, and we do bicker, of course. Who doesn't? But we are there for each other all the time, too.
"Eamonn irritates me sometimes and I know I also irritate him, but we never have full-scale rows. People also see a love of love between us, because you can't banter like we do when there's not a lot of affection. Some of the things he says about me make me roar with laughter.
"I'm always surprised when people say they think he's horrible to me. I like it and it's very Irish to be like that, which I find very attractive and very funny."
Eamonn will go to Buckingham Palace in a few months to receive his OBE, but he has not quite come to terms with the award yet.
"I'm still in a bit of shock about that," he admits. "It is not something you really think about when you are doing your job.
"I don't think there are many people who think about getting some kind of honour for doing what they love best."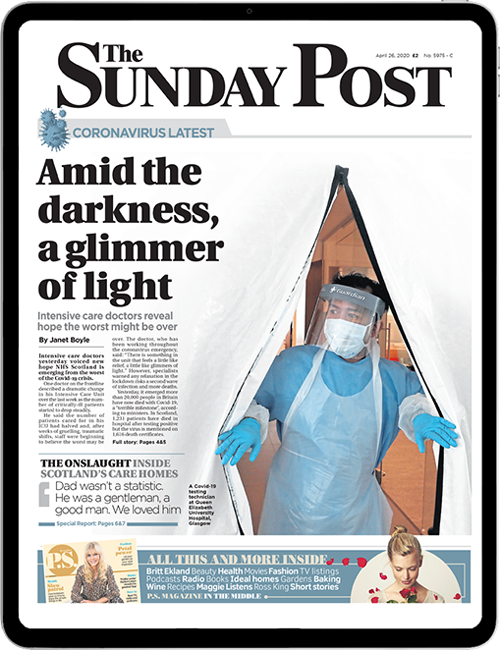 Enjoy the convenience of having The Sunday Post delivered as a digital ePaper straight to your smartphone, tablet or computer.
Subscribe for only £5.49 a month and enjoy all the benefits of the printed paper as a digital replica.
Subscribe