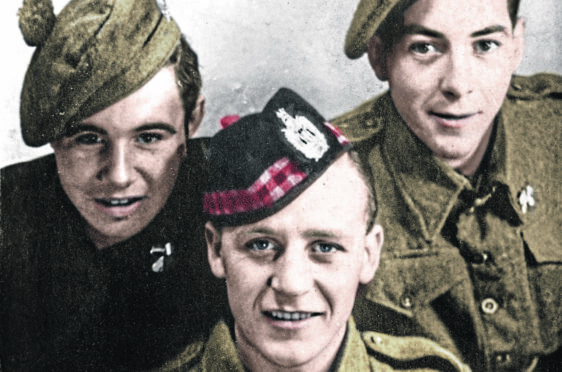 In a Dutch town near the German border a young nurse dusts down a grave and places fresh flowers by the headstone.
The silence of the hot summer day in the cemetery is broken only by the faint hum of bees as they move among the plants. On a nearby tree, a swallow chirps.
Lieke Vervoort is remembering a fallen Scots soldier who gave his life to free her country from Nazi invaders in December 1944.
She takes time out from her job and caring for her baby daughter Norea to pay weekly respects at the resting place of Private Tommy Connolly, who lies in the Commonwealth grave in her city of Venray.
The young soldier from the Gorbals was killed, aged 21, by enemy fire as German soldiers fought against advancing Allied soldiers as they moved eastwards through the Netherlands.
Lieke pauses for a while and remembers what her grandad Frans lived through at 15, as he was forced to march 62 miles in a bitter winter with his four-year-old brother when the Wehrmacht invaded her country in 1940.
Her devotion is one adopted around her native country by young and old who care for the graves of fallen war heroes.
Back home in Glasgow, Tommy's niece, Eileen Hanlon, pens a letter of thanks to Lieke and her family for their unstinting devotion to the uncle she never met.
Lieke, 29, said: "I am not doing anything exceptional but just showing our family's immense gratitude to a young Scottish soldier who made the ultimate sacrifice for my country.
"Their hearts would have been broken by the loss of their young son in his prime. Many of us around here have adopted graves of soldiers and other war dead, and happily replace the wilted flowers and dust down the gravestones.
"Thomas Connolly gave his life for our freedom and it is our duty to care for his resting place.
"Valuing freedom is as important today as it was back in 1944."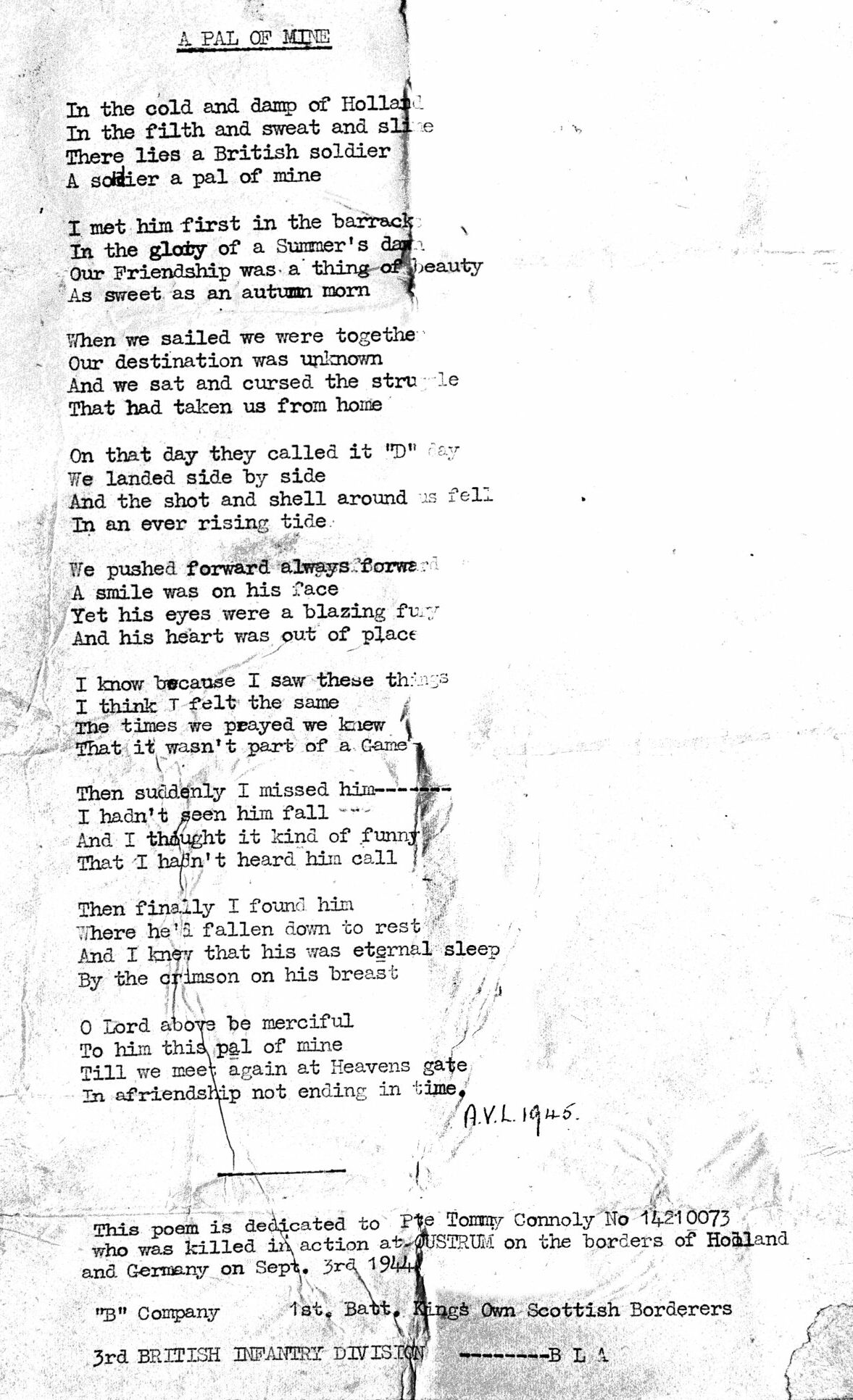 In the three years of caring for Tommy's final resting place, she often wondered who his family were in the UK.
His regiment, the King's Own Scottish Borderers, is clearly marked on the tombstone and her father, Theo, searched Scottish ancestry pages on social media to appeal for his family.
The post was seen by Eileen, 65, who recognised her uncle Tommy's name and responded, telling the Dutch family his life story.
"I had grown up hearing how he had been killed in action and was buried in the Netherlands but I had always wondered what his cemetery was like," said Eileen.
"While he was long gone, he had never been forgotten by my family. Discovering that a Dutch family were tending his grave decades later was so touching.
"They never knew Tommy or indeed much about him but spent time caring for his resting place."
A collection of Tommy's letters and photographs were duly emailed to the Vervoort family telling them so much more about the young soldier's life.
He had left school at 14 and, like many of his family, had gone into an asphalting business run by his grandad.
Pictures of young Tommy as an apprentice working on roofs and roads revealed the promose of his young life before it was cruelly ended by war.
He had been the second eldest of six siblings, with an older brother Frank, who also served in the Army and survived the Second World War.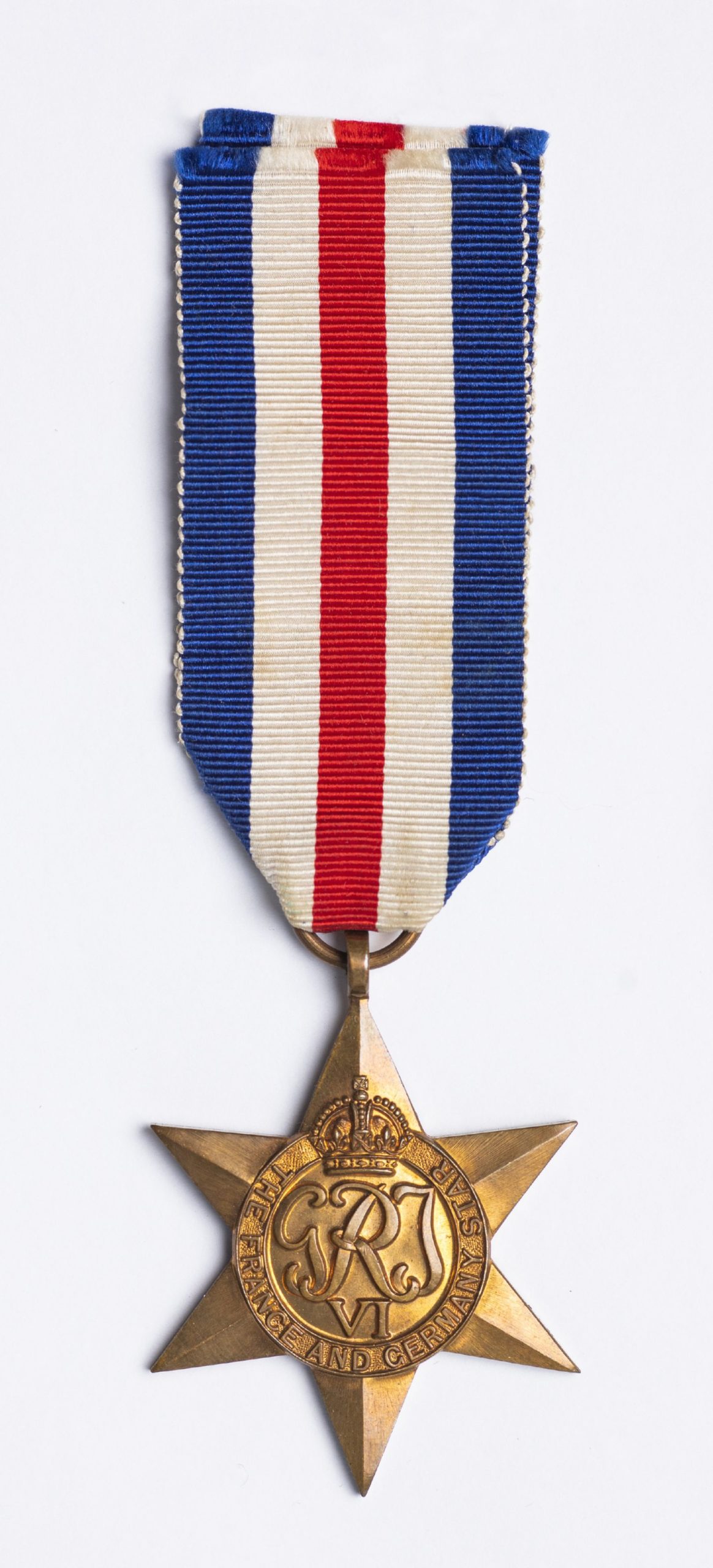 Touching letters sent home described Tommy's days, mentioning the glorious summer weather of 1944 and focusing on everyday chat rather than the horrors of conflict.
Tommy fell at Oostrum by Venray, less than an hour's drive from the German border.
A war poem, titled simply A Pal Of Mine and dedicated to his memory reveals the acute loss felt by a close friend, known only by the initials AVL, who had served with him.
The verses described Tommy's cheery smile and the pain of discovering he had been mortally wounded: "Then suddenly I missed him, I hadn't seen him fall, And I thought it kind of funny, That I hadn't heard him call.
"Then finally I found him, Where he'd fallen down to rest, And I knew that his was eternal sleep, By the crimson on his breast."
The poem was discovered six years ago among Isabella's belongings, after she'd passed away.
"It was only then that I learned so much more about my Uncle Tommy's war and death," said Eileen.
"I never discovered who AVL was but can only imagine that it was a good friendship struck up in time of war.
"Families who endured the Second World War spoke little of their loss, preferring instead to adopt a stoicism of the time.
"So many lost young people that it was something to be bravely and quietly endured.
"Testament to that was our family's decision to continue with my parents' wedding on Hogmanay, two weeks after Tommy was killed in action.
"I guess that was a hallmark of the times that life had to go on and lost loved-ones were never forgotten."
The Vervoort family said they were happy to have learned more about Tommy. Lieke's husband Mikey looks after the grave of another fallen British Second World War soldier. She has persuaded Theo, a retired HR manager, to adopt three graves.
By the time the Netherlands was liberated in May 1945, more than 20,000 Dutch people had died of starvation.
The RAF dropped vital food supplies during Operation Manna in 1945. "People were so hungry they ate tulip bulbs," said Theo.
Plans have been made for the two families to meet after Covid-19 restrictions are lifted.
As the family historian, Eileen is keen to complete her history of Uncle Tommy by visiting his graveside.
"My father Frans lived under Nazi occupation and you can imagine what many Dutch families had to endure, so caring for the graves of young men who gave their lives to free us is more of an honour, than duty," said Lieke.
"We all look forward to meeting Eileen and her family if possible in safer times.
"Some British families come over and visit the graves but many have not been able to during Covid, so Dutch people look have stepped into to look after them.
"It's nothing special on our part, but more a way of saying thank you.
"The Commonwealth War Graves Commission does a great job of caring for the cemeteries but we place flowers and clear away the old ones, letting families know their loved ones are not forgotten decades later."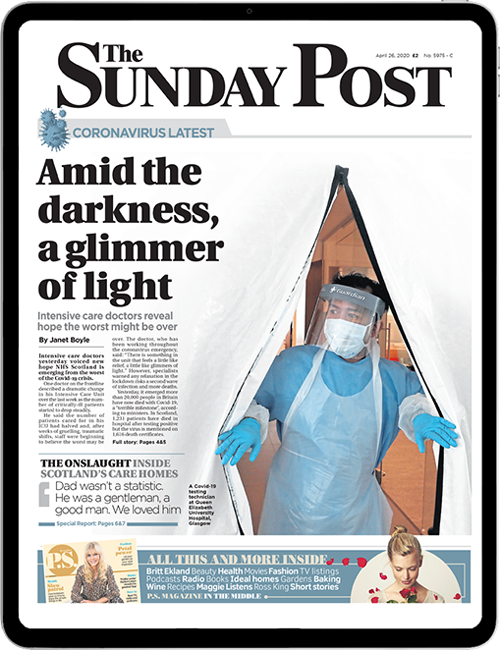 Enjoy the convenience of having The Sunday Post delivered as a digital ePaper straight to your smartphone, tablet or computer.
Subscribe for only £5.49 a month and enjoy all the benefits of the printed paper as a digital replica.
Subscribe