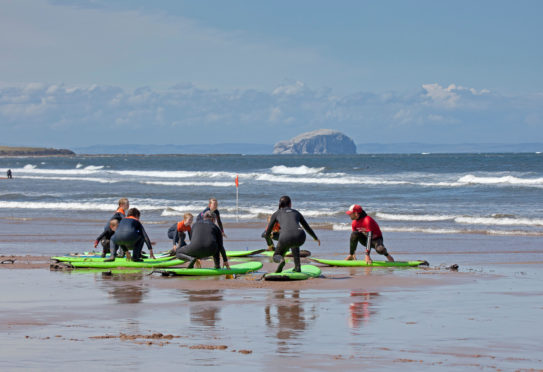 We're running from the beach into the warm, crystal blue water, jumping over waves, everyone laughing and splashing each other.
"Look for the wave and try to catch it," shouts an enthusiastic 20-something instructor.
On this order, my four children turn and jump on their respective boards and start to paddle furiously towards the beach, leaving me in their wake, swallowing sea water as I go.
Even my eight-year-old daughter is getting the hang of it and attempting to balance, stand up and ride the wave, instructors by her side; giving her a high five once she's jumped off.
She waves excitedly at me, a huge grin on her face and, with that, it's my turn to have a go.
With a slight push of the board, I jump on, push myself up and realise I'm doing it.
I'm surfing! Albeit on my knees, but I'm up, and hurtling towards the shoreline like I'm on a water sledge, the bubbles of surf as my snow before falling off and heading face-first into the sand, much to the hilarity of my children.
We're surfing with friends on a beach in Dunbar on Scotland's east coast and it's a glorious 27 degrees.
My chicks – all under 15 – have taken to surfing like ducks to water and are controlling their boards as if they were raised on Bondi Beach.
Once you've in the wetsuit – the tightest and most unflattering piece of clothing known to woman – the instructors from surf school Coast To Coast give initial instruction on the beach.
They then lead you enthusiastically into the water, getting you looking for waves and keeping an eye on the wee ones and the old ones, but letting the in-betweeners get on with it.
It's a lot harder than it looks at first, it actually tests your upper body strength as you have to lift your body out of the water and up on to the board, then push up from there.
Once you can do that, you just need to sort out your balance as you stand.
But, of course, you need to make sure you've got a good enough wave to sweep you into shore – who knew surfing took timing, precision and concentration?
It's almost impossible to believe we're in Scotland, the water is warm and it's so hot, the sand is too sizzling to stand on – but our Mediterranean summer, where the UK sweltered to degrees Barcelona would have been proud of is a dream come true for us as beginner surfers.
After almost three hours it's time to come ashore and put our boards away for the day.
You don't feel tired when you're surfing, it's so exhilarating, but once you stop, you realise you've had a bit of work out. With the whole afternoon ahead of us, we jump in our cars and head down the coast to Alnwick Castle. Featured in Harry Potter, you can actually book broomstick training…who knew? And then get pictures of you flying in the air with your family and friends.
It's hideously busy, though, not what we expected, but lively and you can't blame them for milking the blockbuster connection.
After lunch in one of the little cafes in the square, we head for the peace and quiet of Barter Books – one of the largest secondhand book shops in Britain.
It's simply stunning, a model railway links the different sections, there are books in all genres and a complete delight if you're in any way a bookworm.
We spend the rest of the afternoon on Bamburgh beach, which stretches for miles and sits in the shadow of Bamburgh Castle, and have a little barbecue as the warm sun sets.
It's been a wonderful couple of days surfing in Dunbar and exploring Northumberland.
Dunbar is a brilliant place to go for water activities in Scotland, plus it has brilliant campsites and amenities – and Northumberland with its magical castles, book shops and beaches is just within an hour's drive.
They say the path to happiness is to find your bliss, and I've realised I've just found mine in the most unexpected of places.
One of the UK's fastest-growing sports, as many as 500,000 thrill-seekers now surf. The board-riding season typically lasts from early autumn until the spring.
---
Factfile:
One of the UK's fastest-growing sports, as many as 500,000 thrill-seekers now surf. The board-riding season typically lasts from early autumn until
the spring.
Coast to Coast Surf school: lessons for five and two hours of surfing for £160; includes wetsuits, boards and shoes. c2csurfschool.com
Dunbar Camping and Caravaning club site: £7.60 per person per night.