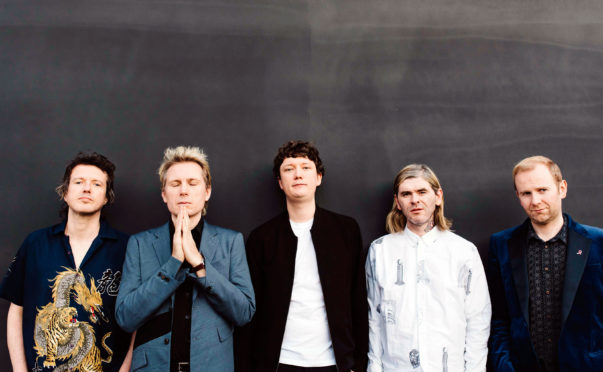 Fifteen years have passed since Franz Ferdinand released their debut album and scored a worldwide hit with Take Me Out.
A crazy few years followed, as the in-demand Glasgow band played sold out tours, festivals and released follow-up records.
They thought in the beginning they would be a DIY project and never expected to be feted by a number of labels.
Drummer Paul Thomson believes the music scene in Scotland is even stronger now than it was when the band started and thinks being a distance from the influence of London can be a positive.
"We weren't in a position to put out albums until we were signed by a record company but now, with a lot of younger artists, it's an entirely DIY thing going on.
"Artists can put out singles or go down the Bandcamp route.
"I don't think there's much interest up here from English labels, so people just do it themselves.
"When we started out, what helped us find our sound is the fact we were so distant from London. I think that's what gives music up here its unique sound, because we're untainted by outside influence.
"In Glasgow, people have always done the DIY thing. That was always our plan, although we didn't know how to do it.
"Then people started paying attention to us down south and we got a manager."
Speaking to promote the eighth Scottish Album of the Year awards, which considers albums released by signed and unsigned acts alike, Paul continued: "I think the awards are a great thing.
"To have albums that have been self-released and heard by a hundred people alongside a release from a major label band is really positive.
"We weren't expecting to be nominated last year but we were really happy about it, as it's good to get recognition from contemporaries.
"There's been a lot of good stuff in the past year."
It could be easy to forget the struggles on the way up, but thanks to diaries kept by Paul from the time, they can look back and recall every moment.
"I found a diary from 2003 recently and there are lots of little details in it," he said. "We were being courted by labels but we didn't know it was all going to take off.
"Between label meetings were entries like 'signing on again' or reminders to get myself a job as I had no money or somewhere to live.
"There's an entry about a massive gig the day after the UEFA Cup Final between Celtic and Porto and I was watching the game while we were rehearsing, but the rest of the band weren't remotely interested."
Franz Ferdinand are no longer working to the same hectic schedule as in their early years, but they do have a number of international festival appearances over the summer and are still writing.
"We have an understanding label who let us put out records whenever we want," Paul added. "I have kids who are getting older now, so we try to balance the work and personal life.
"We're always writing and trying to record something new but people keep asking us to play places we really want to go – Casablanca, Bosnia, Finland, Georgia – which is what we're doing over the summer.
"It's crazy to think it's been 15 years. It feels like I've not been doing it for long, but also like it's been my whole life."
---
Scottish Album Of The Year Awards, Assembly Rooms, Edinburgh, September 6
Entries close May 31, For more, see sayaward.com