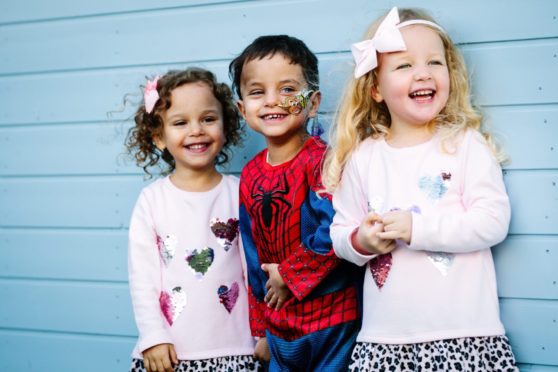 A four-year-old triplet is gearing up for the Halloween doctors feared he wouldn't live to see.
And little Spider-Man fan Caleb Stirrat, who was once too sick to raise a smile, is bouncing with excitement as he counts down to the big day.
Caleb, who has the rare brain cancer atypical teratoid rhabdoid tumour (ATRT), was given only weeks to live in June after his tumour doubled in size.
His parents Karen and Andrew from Clydebank claimed they were told nothing more could be done for him. But the devoted mum and dad refused to give up on their son and, after seeking a second opinion, the tumour was surgically removed to pave the way for a drug trial aimed at preventing its return.
The trial's start depended on a scan on September 29 to check his brain was tumour-free. And, once the trial of the drug Tazemetostat began, there was no guarantee his body would cope with it.
But overjoyed Karen revealed the scan results were good and the trial started two days later. And Caleb is doing so well he can't wait for Halloween to wear his outfit.
As the pint-sized superhero whizzed around the family home firing his web at imaginary villains, Karen said: "Halloween is Caleb's favourite time of year. But we didn't think he would live to see it. Look at us now. Now we can go out and get him his superhero pumpkin."
Caleb was born prematurely at just 27 weeks in January 2016, along with sisters Poppy and Alyssia, after parents Karen and Andy underwent IVF to realise their dream of becoming parents. Everything was fine until a few weeks after his third birthday when he became violently ill after a light bump to his head at a soft play centre.
At first his vomiting and severe headaches were thought to be viral. But he was eventually seen by a neurologist who arranged a scan.
Karen said: "In the space of half an hour I was told he had a large mass on his brain that had started to haemorrhage. It was touch and go."
Caleb was rushed to the operating theatre where he underwent eight hours of brain surgery before being taken to the intensive care unit. Within a week he was walking and talking again. But biopsy results confirmed he had ATRT.
Karen said: "They think the bump on the head triggered events. If it had not happened we might not have known about the tumour."
Caleb was given chemotherapy and even went to the US to have specialist proton therapy to beat his cancer. The family managed to celebrate Christmas and were buoyed up by two subsequent clear scans. But the Covid-19 crisis meant Caleb's scans were delayed. On June 1, doctors gave Karen and Andrew the devastating news the tumour had doubled in size and their little boy had months left to live.
Refusing to give up hope, they searched for treatment and, within days, found an oncologist in Manchester who agreed to put Caleb on a clinical trial – after the growth was removed.
Glasgow Royal Hospital For Children agreed to carry out the surgery. It went ahead on June 16 and was a success. The operation was followed by 30 gruelling sessions of radiotherapy. Karen said: "We knew Caleb could have died in the operating theatre or come out impaired but we had to take the chance. Without it, he wouldn't have any chance. I thank God I got a second opinion.
"Caleb has been given Tazemetostat on compassionate grounds and can only take it for two years. It does have risks but there is no point looking at them because this is his only chance. For now he is doing well. He has no pain, he is eating and playing.
"We have asked what the prognosis is, but they simply can't say because even they don't know. We just need to hope. But he can look forward to Halloween now and even Christmas."
The Stirrats want to raise awareness of ATRT in the hope of finding a longer-term solution for Caleb and other children like him.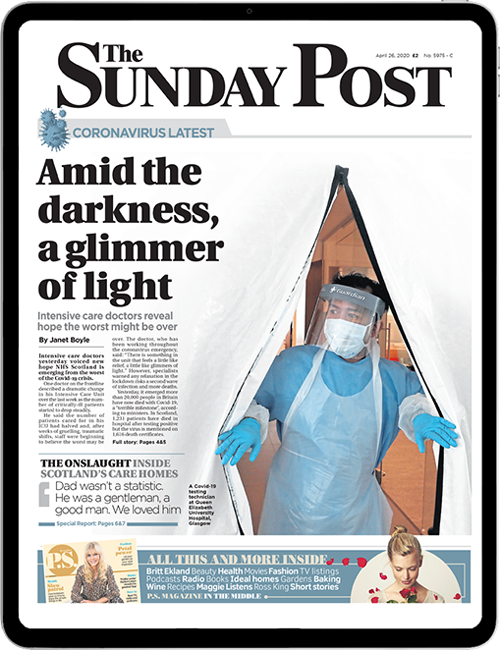 Enjoy the convenience of having The Sunday Post delivered as a digital ePaper straight to your smartphone, tablet or computer.
Subscribe for only £5.49 a month and enjoy all the benefits of the printed paper as a digital replica.
Subscribe