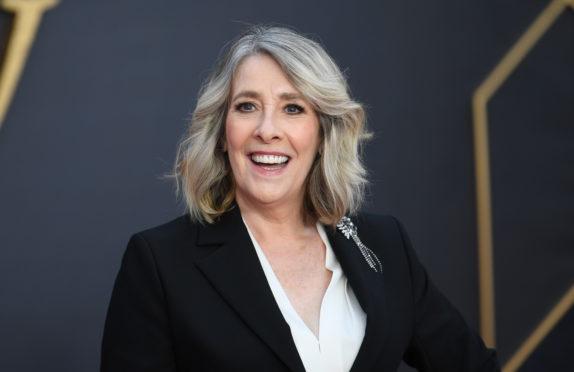 Like most in-demand actors, Phyllis Logan's diary has been unusually bare these past few months. When the coronavirus lockdown was introduced, it immediately closed down film and theatre productions across the world.
But the Downton Abbey star says no matter how busy her future schedule might be, if a sequel is announced to the period drama's movie spin-off, she would clear the decks to be part of it.
The actor, originally from Johnstone in Renfrewshire, has been in the primetime series since it started 10 years ago, playing housekeeper Mrs Hughes.
She said: "The will is certainly there with everybody – the cast, producers and writer Julian Fellowes – but no one knows what will happen, especially with this lockdown.
"We're ever hopeful, so fingers crossed. When it could happen, I don't know – we could all be in our graves by then if this goes on much longer! But if people are given enough warning then I think most of us would make it a priority, no matter what is in the diaries. I think we would be happy to clear our diaries."
Phyllis has grown used to fans approaching her to talk about Downton, which saw her character wed Mr Carson, played by Jim Carter, in the final series.
"I enjoy it when people come up and say they enjoy the show, or they like the characters together," she continued. "It's wonderful to think so many people have been touched by it in some way. It's given a lot of pleasure to people and I wish it would continue.
"Although, I do like to think I don't look like Mrs Hughes off-screen, I'm not quite as fuddy-duddy as her. A lot of people say it's not me, but my voice they recognise.
"Perhaps that's why I was given the job in Highland Vet – because of my voice."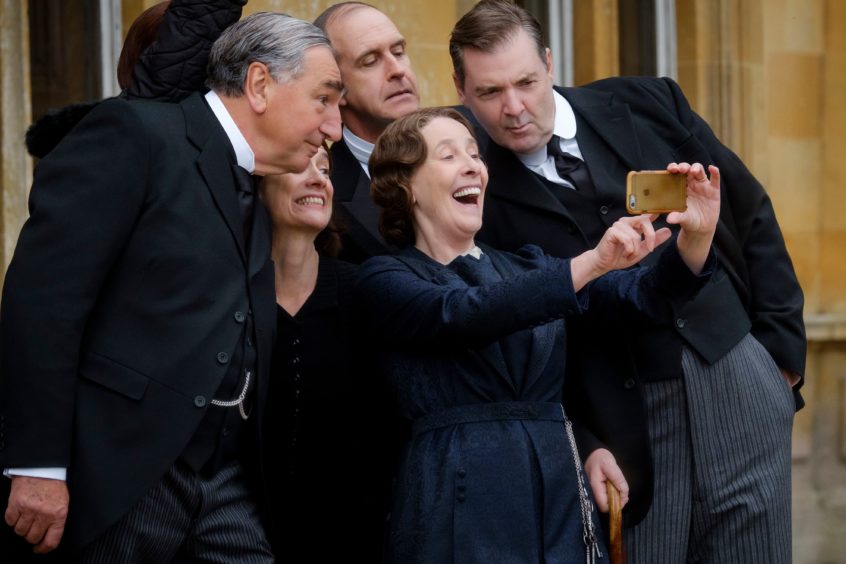 Highland Vet is a new documentary series on 5Select, following the team at the most northern mainland vet practice in Britain. D.S. McGregor and Partners cover Thurso, Wick and Caithness, dealing with farm animals, equine, domestic pets and wildlife.
For animal lover Phyllis, who has had a long association with the SSPCA, being asked to provide the voice-over narration for the series was a perfect job. And, as it turns out, it has kept her occupied during lockdown.
"I didn't have to think about it for very long when I was approached to do it, because it's right up my street, and it being filmed in the north of Scotland was the icing on the cake," she admitted.
"You can tell the vets have great heart in dealing with the different animals and their passion and dedication is lovely to watch. It's heartwarming, exciting and also sad at times, but you look at it and think how lovely it would be to know a vet like that.
"I recorded the first episode in the studio and then work on the next episode came on the day of lockdown. When I went into Covent Garden it was like a ghost town, a bit spooky. It was just me and the engineer in this vast studio, and from then on I was told they would send equipment to my house for me to record the voice-over from there.
"Thankfully, my husband is good with that sort of thing – he's been very useful, I have to say. It's been a blessing to have been able to do this – apart from anything else it's kept us from going mad and a bit stir crazy. It also means I'm still doing some work and being paid for it into the bargain, which is a real blessing."
Phyllis lovingly recalled Carlos, the rescue lurcher from Battersea that she and her husband, Pirates Of The Caribbean actor Kevin McNally, rehomed.
"He was a lovely fella, so chilled out and laid-back," she said. "I used to take him walks to Chiswick House, which had beautiful grounds and a big dog walking park. He would run around with all the other dogs and when he went into fifth gear it was a sight to behold. It would make your heart soar to watch it.
"I was lucky to get to do that for the 10 years we had with him. He was quite irreplaceable. We went a bit mad when he passed four or five years ago, and had a small bronze statue made of him. It looks like he's flying through the air. It's very tactile."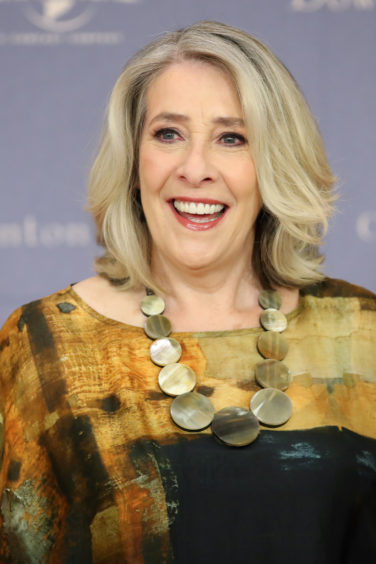 Phyllis has been sharing lockdown with Kevin and their son, 24-year-old David, who is a musician.
Just days before the country shut down due to Covid-19, the 64-year-old celebrated the release of her latest film, Misbehaviour, which became a victim of cinema closures.
The film, also starring Keira Knightley, Jessie Buckley, Gugu Mbatha-Raw, and Greg Kinnear, is based on the true story of the 1970 Miss World competition, which saw protestors disrupt the contest that was eventually won by a black woman for the first time.
"We had a small premiere in a Covent Garden hotel which we all went along to, and it was in the cinema for five minutes before lockdown started, so not a lot of people saw it there, which is a shame because it's a good film," Phyllis said.
"I remember watching the real thing back in the day. I would have been 13 or 14, and I used to love watching Miss World. I remember vividly Bob Hope being pelted on stage. It was quite a shocker but now I think I'd be right up there with the rest of them, throwing bags of flour – although if you were trying to throw bags of flour now you're liable to be mugged, it's in such short supply!" she added. "It became a much bigger movement but that incident put it on people's radar.
"I'm looking at what is happening now and I think it's brilliant everyone is out protesting, even during lockdown. If I wasn't such a stick in the mud about keeping to my own area then I'd be up there myself."
Phyllis – who has another film, The Last Bus, awaiting release – is also an accomplished stage actor and fears for the future of theatres.
"They struggle to survive at the best of times and if they can't open at full capacity you do wonder how they can keep going," she said. "It's not feasible unless there is proper government investment to see them through the worst of it."
While the long-term future of theatres remains in limbo, in the short-term, TV and film production will return, and Phyllis says she'll be watching on closely.
"It's going to be a bit daunting for the first ones out the trap, they'll provide the litmus test for how it's going to go, and everyone's eyes will be on it," she said.
"I'm sure companies will be all over the health and safety aspect. I don't have any worries – I'd be happy to dive straight back in.
"I'm champing at the bit to return and it's good that Highland Vet is made, because it gives something new for people to watch rather than the endless repeats of whatever's on.
"Except for re-runs of Downton Abbey, of course, people can watch that as much as they like because hopefully I'll still get some residuals from it, which will keep me going while I'm not working!"
---
The joys of coming back home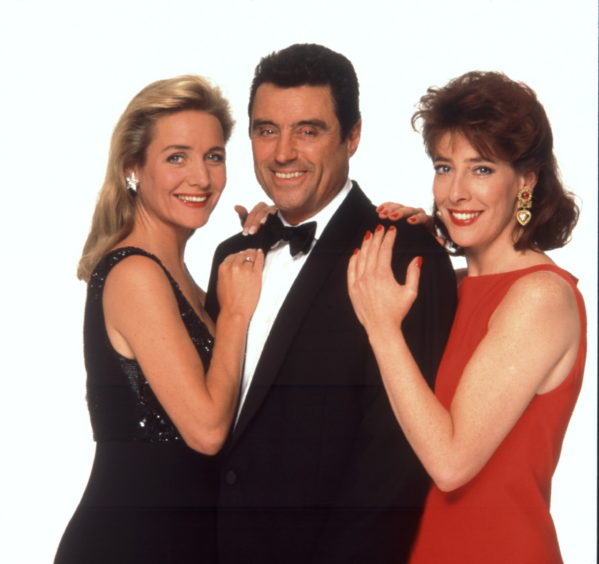 Phyllis left Scotland in her mid-20s to successfully crack London, having quickly made a name for herself after graduating from the RSAMD in Glasgow.
Having worked on stage in Dundee and Edinburgh, she won a BAFTA for Most Outstanding Newcomer To Film for her role as Janie in her first film, Another Time, Another Place, in 1984.
Other film roles include the Mike Leigh movie, Secrets & Lies. Prior to Downton Abbey, she was best known for playing Lady Jane Feisham in Lovejoy, opposite Ian McShane.
And while it's been many years since she last worked in Scotland, she does return as often as possible.
"It's impossible just now, but I try to come back regularly," she said. "My sister is in Prestwick, my nephew is in Broughty Ferry and I have relatives in Johnstone. I'm looking forward to when I can come back.
"As far as working on a Scottish production, I'm always open to offers. I've been speaking to people working in the production side who had moved to London from Scotland for work, and they're now heading back to make their lives there because enough is happening in Scotland to make it viable.
"That's encouraging that there's work to be had, and hopefully that will continue once we're over this."
---
Highland Vet, 5Select, Mon, 9pm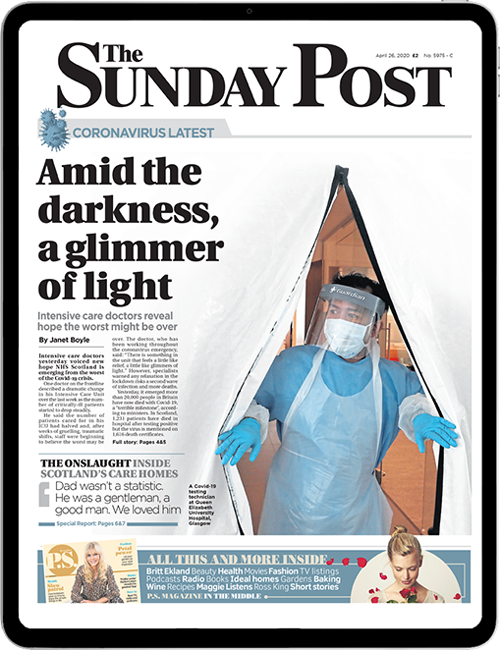 Enjoy the convenience of having The Sunday Post delivered as a digital ePaper straight to your smartphone, tablet or computer.
Subscribe for only £5.49 a month and enjoy all the benefits of the printed paper as a digital replica.
Subscribe