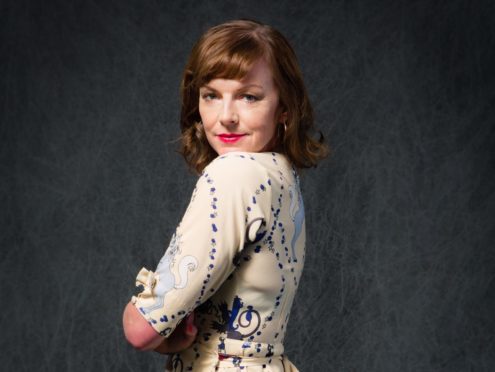 We have all had to find ways to keep our spirits up during 2020.
For Two Doors Down star Doon Mackichan, a hobby she started when she was growing up in Fife became her lockdown saviour.
Every day, no matter the weather, she has gone cold water swimming in the sea near her home in Hastings, describing it as "a mental health game-changer".
Doon, who plays obnoxious Cathy in the hit BBC comedy, said: "I started a cold water swimming group, we call ourselves the WOW group – Without Wetsuits – and the numbers are growing and growing.
"We had 27 in the water the other day. People get the bug for it once they try it, and it's not only good for the immune system but it banishes all anxieties – whether that's fears for our health, our parents, our jobs, our homes or ourselves. It's incredible.
"It's really caught on during the pandemic and it's a wonderful thing to be sharing. Apart from keeping my youngest daughter going when she was learning online, this is the thing I feel most proud of during lockdown.
"Scotland is to thank for me catching the cold water bug. When we lived there, I started swimming in Largo Bay when I was 12, mostly with my dad and during the summers. Later I did a relay swim across the Channel and that got me used to cold-water training, and then I went off to the Arctic to swim there. But none of the people here in Hastings had done a winter swim, they usually stop between September and April, and they couldn't believe how great it made them feel."
Mum-of-three Doon wasn't supposed to be in Hastings for lockdown, but circumstances led her back there and to her setting up the swimming group.
"I was in London for the first four months, just me and my 16-year-old daughter in a rented little house – that was tough. And then I moved back to Hastings, because my tenants moved out as they were afraid of coronavirus and I couldn't pay the rent, so it was a bit of a mess. I moved down here and put it on the market, and then my mum broke her wrist, so she came to stay."
Smack The Pony star Doon was seen in Katherine Ryan's Netflix sitcom, The Duchess, earlier this year. But the reality is Doon has had very little work in 2020 due to the pandemic, so she was delighted when the call came from Two Doors Down to confirm a Christmas special was being made.
"I haven't had any work for nine months apart from two voiceovers, and no acting jobs until Two Doors Down. I've been on universal credit like a lot of the country, so it was fantastic to go back to work, although it was stressful to get going. I hadn't been on any public transport, so I opted for the sleeper train as I felt that was the safest option. We all had coronavirus tests when we arrived for work and then we went into a bubble – the cast and two cameramen. We all stayed at a hotel to maintain the bubble.
"It was strange being in a bubble with people we weren't used to seeing, but it was the most wonderful feeling to be back doing what we do, and we were all so grateful to be working. We all felt a bit spongy and not quite match-fit at first, like a runner who's not been training. But after the first couple of scenes we quickly got back in the swing of it and it was all done in five days."
The Christmas special sees the laughs take place away from the usual location of Latimer Crescent, as Cathy and husband Colin have hired a plush Highland lodge for the festivities and invite Christine, Beth, Eric, Ian and Gordon to stay with them for a few days between Christmas and New Year. But tensions in the group quickly escalate.
Unlike many returning TV shows, the writers of Two Doors Down – which also stars Alex Norton, Arabella Weir, Elaine C Smith and Jonathan Watson – decided to acknowledge the pandemic.
"All credit to them, because what an impossible show to write – how do you bring a bit of happiness around this dreadful disease?" Doon continued. "It's mentioned without dwelling on it and it doesn't weigh the show down, because we were just trying to create a half-hour of escapism."
The special will prove a welcome arrival for the show's fans – who have multiplied during lockdown – as the filming of the long-awaited fifth series has been delayed due to the pandemic. "So many people – millions, apparently – have discovered it on iPlayer during lockdown, which is great," Doon said. "The fifth series won't begin filming until March next year, after it was cancelled this past March."
Speaking before the latest restrictions were announced, Doon's Christmas was due to be spent with family in Hastings, although she was missing her two eldest children.
"My daughter is in Thailand, where she is teaching, and my son lives in Manchester. I've missed having them here. We went to my brother's house to have a nice day of singing, eating, charades and all the rest. We like to have a sing-song round the piano."
It was a much different Christmas to last year, when Doon was in Glasgow for her first major pantomime, starring alongside Gary Tank Commander's Greg McHugh at the SEC Armadillo.
"Panto was quite an experience – I'd never done song and dance routines before, so I had to learn very quickly. As The Wicked Queen I had a lot of scenes, so much so I needed a running order backstage. It was great fun and was with a lovely bunch of people, but in the last couple of days of the run my kids came up and one of them brought the norovirus, so I had to take two shows off. A dancer had to step in.
"For my last two performances I had buckets placed on each side of the stage because I was being sick, so it wasn't a great ending."
Doon is also a prolific theatre actor and is concerned about the industry's future. "It's been catastrophic. You couldn't create something that could kill an industry in one foul swoop like the pandemic has. There should be a hell of a lot more help available. People are having to retrain and wondering if their job will ever come back.
"I think we've all realised how much we need the arts and everyone is desperate for new content."
She added: "I hope The Wicked Queen takes her spell off the world soon, but it's lovely to know Two Doors Down is coming back and I hope it cheers people up."
---
Two Doors Down, BBC iPlayer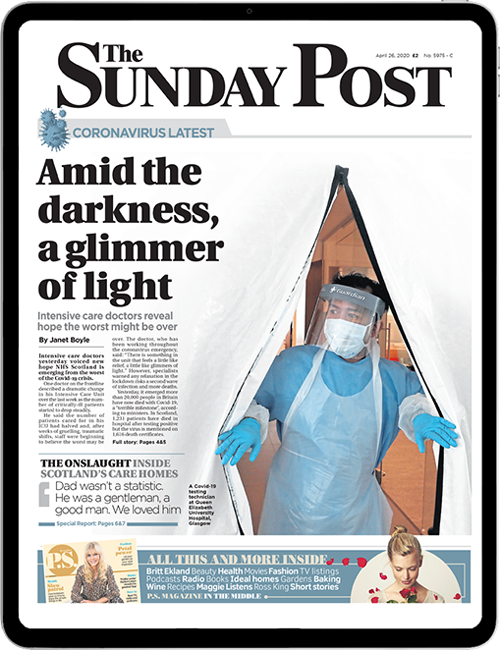 Enjoy the convenience of having The Sunday Post delivered as a digital ePaper straight to your smartphone, tablet or computer.
Subscribe for only £5.49 a month and enjoy all the benefits of the printed paper as a digital replica.
Subscribe