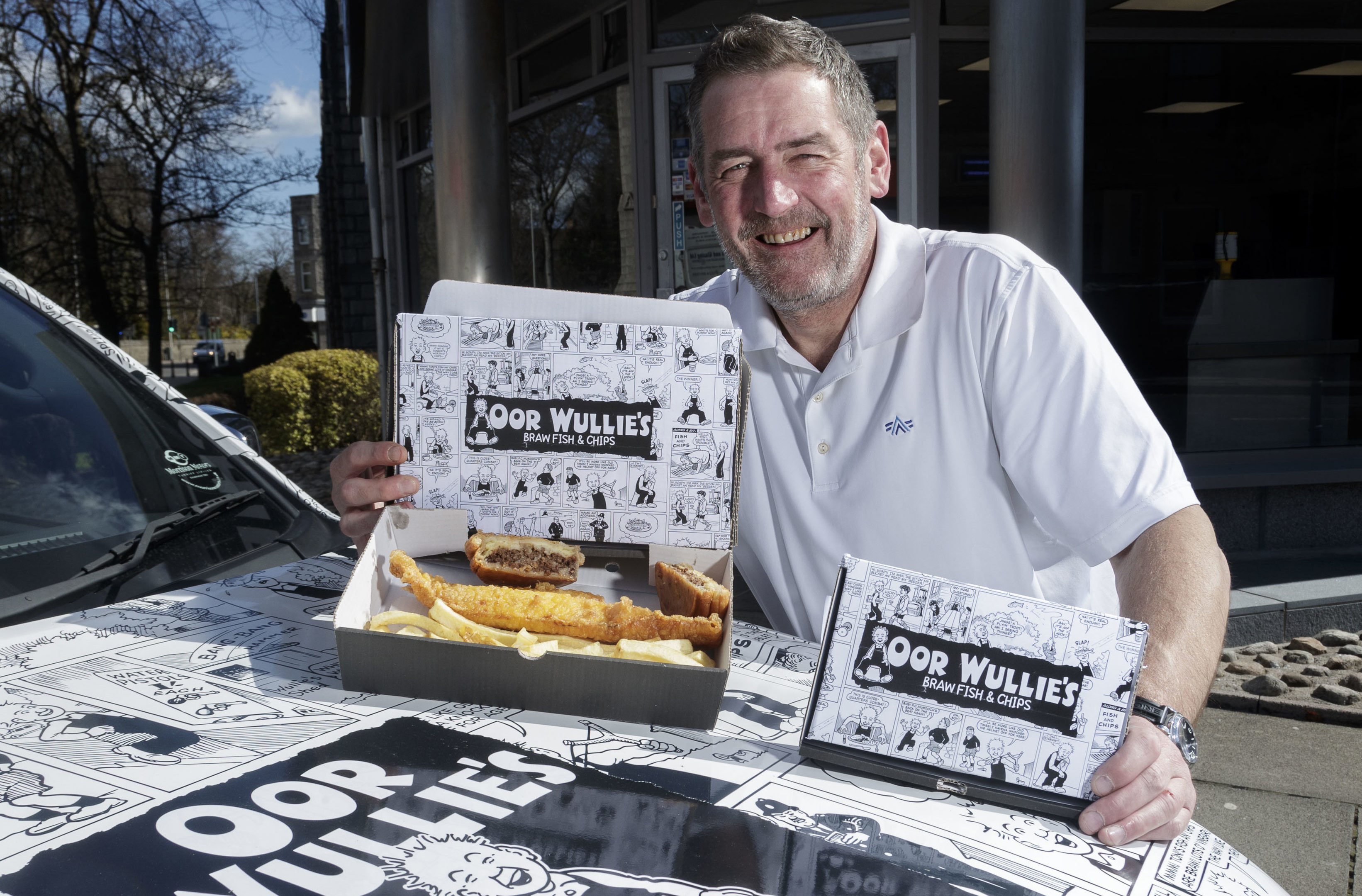 THE world's first Oor Wullie-themed chip shop is to open in Scotland this summer.
Oor Wullie's Braw Fish & Chips will start serving customers in Aberdeen in June.
Hungry punters will munch into meals named after The Sunday Post's loveable mischief maker.
Long-standing chipper Mr Chips, in the city's Great Western Road, will be transformed into Wullie's chippie.
The food will come in specially-made boxes and tubs emblazoned with scenes from the famous cartoon strip.
Customers will also be served by a small army of staff decked out in Oor Wullie aprons, T-shirts and caps.
For owner, businessman Craig Thomson, 49, it will be the realisation of a childhood dream.
"Like many people, when I was a youngster the Wullie and The Broons annuals were the first thing on my Christmas list," he said.
"To bring Wullie to life in my chip shop is very exciting."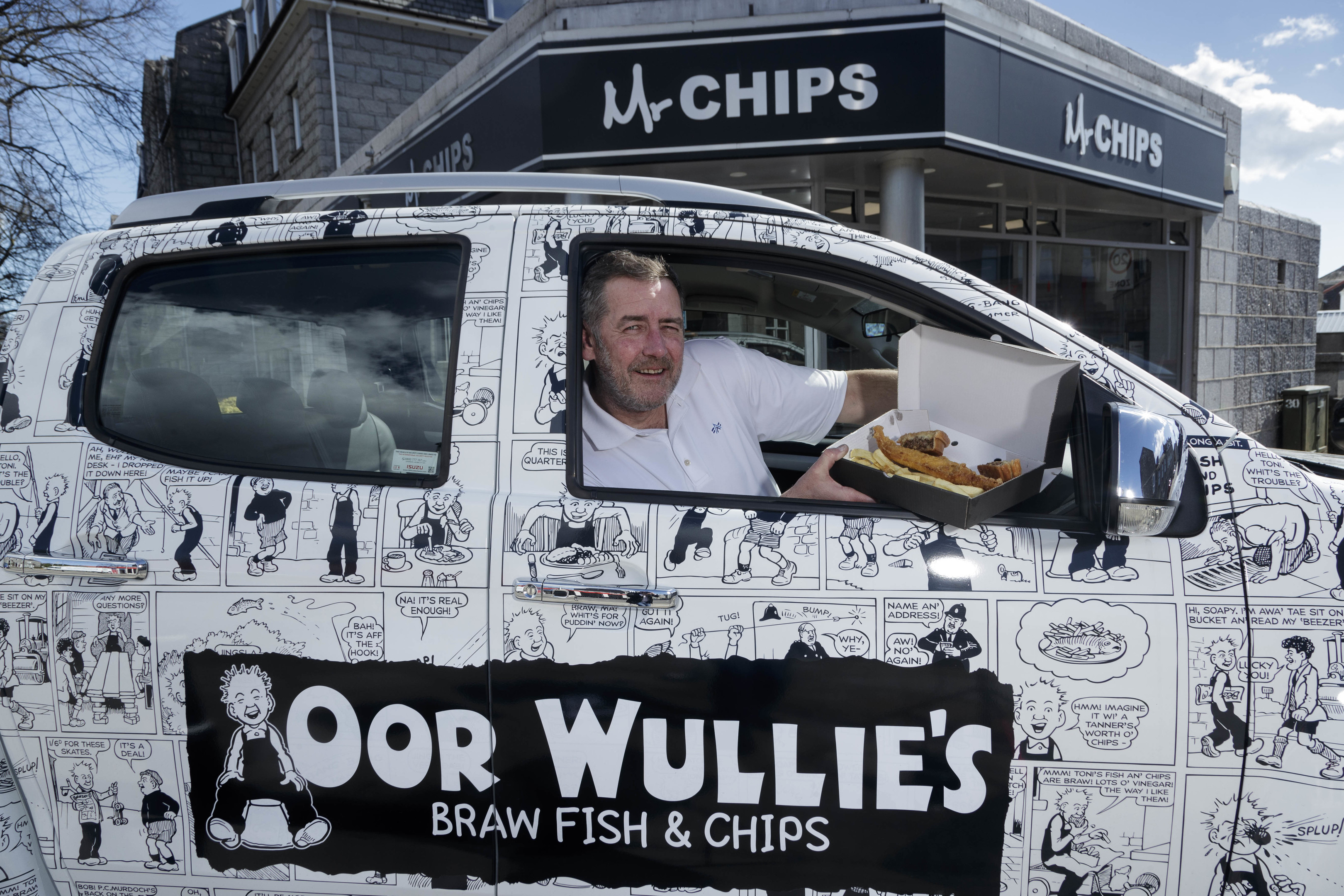 Customers will be able to choose from an Oor Braw Menu that will include Wee Eck's kids meals.
And to spice things up, there will be tubs of special Wullie's curry and chilli sauces.
Incorporated into the eye-catching chipper – which already attracts about 50,000 customers a year – will also be an Oor Wullie's sweetie shop.
"Everyone from tots to grandparents know who Wullie is so we are expecting it to be very popular right across generations," said Craig.
"We will also be running competitions for kids. They will be able to colour in the cartoon strips on the boxes and tubs and win prizes."
Craig, who has been granted a special licence by DC Thomson to use the iconic character, used to be a professional golfer but he gave up playing the game full-time in the 1980s to work in the family businesses.
"I wanted to be a golf pro and gave it my best but eventually I decided I wasn't good enough," he said.
"However, I certainly knew how to sell chips and looking back, I think I made the right decision."
He came up with the idea of opening an Oor Wullie outlet 18 months ago. And now he can't wait to see his dream finally realised.
"I knew there was already a range of Maw Broon's Kitchen food and drink on the go and it just came to me that maybe I could do something similar with Oor Wullie," he said.
Craig is already turning heads in the city with his branded Oor Wullie pick-up truck.
"People ask me all about the car and they can't wait to get photos of it, or with themselves standing beside it," he said.
Craig owns three chip shops in Aberdeen – but hopes to open more Wullie shops around the country.
"Once you are an Oor Wullie fan it stays with you for life," he said. Craig added that the Queen and other members of the Royal family are often driven past his shop on their way to and from Balmoral – and he joked that he hoped they might now even stop for a bag of Oor Wullie chips.
Martin Lindsay, licensing manager for consumer products at DC Thomson, said the launch of an Oor Wullie's Braw Fish & Chip Shop in Aberdeen was an exciting development for the Oor Wullie licensing programme.
"This is a vision of bringing to life a treasured brand that is built on tradition and old fashioned values," he said.
"We see Aberdeen as being the first step on an Oor Wullie Braw Fish & Chips Shops roll-out across Scotland within the next five years.''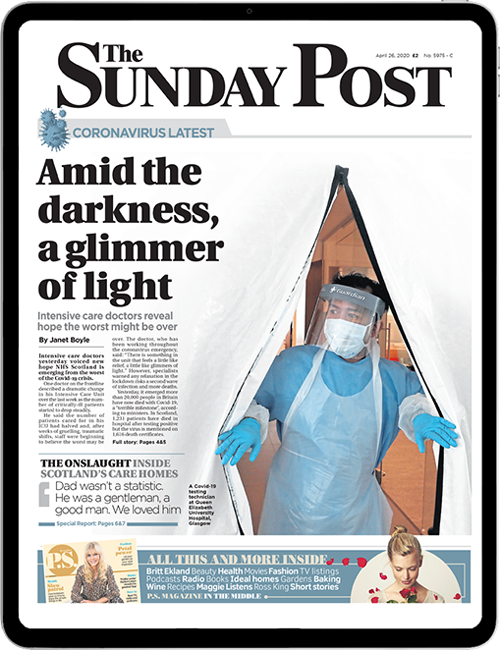 Enjoy the convenience of having The Sunday Post delivered as a digital ePaper straight to your smartphone, tablet or computer.
Subscribe for only £5.49 a month and enjoy all the benefits of the printed paper as a digital replica.
Subscribe