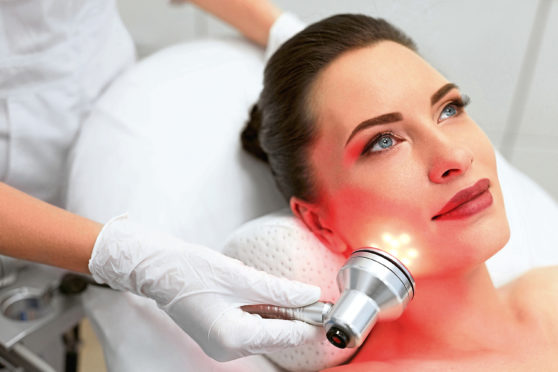 With long, dark nights and short, sunless days, winter can leave us all feeling a little low – but boosting your mood could be as simple as LED.
Here, Fiona Fowley, owner of Zen Lifestyle, shares everything you need to know about light therapy facials, the hottest winter beauty treatment.
---
How does a light facial work?
Unlike harmful UVA and UVB sunrays, an LED light facial – or phototherapy – harnesses the power of low levels of light in the visible or near infrared part of the spectrum, helping to energise and boost skin cells.
Fiona explained: "The red light in an LED facial mask is from a very different end of the wavelength spectrum, helping to promote collagen and the production of elastin within the skin.
"It also helps to increase bloodflow, eliminate toxins, and hydrate the skin, too."
What are the benefits?
At her Edinburgh-based salons, Fiona provides Lightfusion non-invasive photofacials, which get to work in just a few minutes.
"As well as helping the skin to achieve a nice luminosity and glow, a photofacial can make your face look tighter, smoother and visibly plumper," said Fiona.
"And outside of the skin benefits, the treatment can also help to improve your mood. It's a really relaxing process, which can help to make you feel a bit brighter if you suffer with Seasonal Affective Disorder."
How long does it take to work?
Fiona said: "Clients often notice a difference in their skin after just one treatment, commenting on having a taut, healthy, and glowing complexion.
"If you're feeling a bit tired and rundown, it will immediately give you a brightening and tightening effect – which is great after a night out, for example.
"However, I would always recommend at least between three and six treatments to see maximum benefits."
When should I get the treatment?
Adding a light facial to the end of other skin treatments can work wonders for improving your skin tone, said Fiona: "The Lightfusion mask is worn for about 10 minutes, providing a great little pick-me-up, and it's great as a standalone therapy or added to a beauty treatment.
"Clients do still love phototherapy during the summer, but it's particularly popular in winter when people want a real mood lift.
"It's a real feel-good treatment, which even people like Victoria Beckham have been praising."
Visit zen-lifestyle.com