AS she prepares to release her 30th novel this week, there's little doubt that Val McDermid is one of Scotland's most prolific writers.
Throw in non-fiction releases, a kids' book, short story collections, some plays and radio dramas – all in less than 30 years – and you would be right in thinking the ideas run thick and fast.
But there was one time in her career when Val suffered writers' block – and the experience left her so frazzled she made sure it would never happen again.
"About 12 years ago I changed my novel-writing process quite dramatically," explained Val, from Kirkcaldy.
"I used to plan everything out, with file cards for each character.
"But on this occasion I found myself sitting over the edge of a cliff, with my deadline drawing nearer and I wasn't any closer to finishing. I became quite panicked.
"I went away to a place with no phone, no television and no internet and wrote from dawn to dusk.
"I wrote 65,000 words in 10 days, which is crazy, and I never want to do it again.
"That was The Torment Of Others and when I handed it in they said it was the best first draft I'd ever done!
"But the experience pushed me into a new way of working.
"It takes me three months these days to write a book, but it's in the making a long time before that.
"It can be as much as 12 years by the time I get the idea to actually come together and write it down.
"You could say I write a book a year but at any one time there are three of four books in my head.
"Touch wood, the next one is always ready to go."
Dubbed 'Queen of psychological thrillers', the 61-year-old has now sold more than 11 million books and is translated into 30 languages.
She was recently honoured with the Outstanding Contribution Award at the Theakston's Crime Writing Festival and is one of the leading figures in the Tartan Noir crime writing pack.
Val's best known for her Wire In The Blood series featuring clinical psychologist Tony Hill and DCI Carol Jordan, which was adapted for television starring Robson Green.
Her latest book, Out Of Bounds, is a standalone tale that brings together grief, murder, terrorism, justice and forensics to create a chilling novel packed full of suspense, which she'll talk about at the Edinburgh Book Festival tomorrow evening.
Gripping it may be, but Val says she's never gone out of her way to shock.
"I just tell stories, but because of my background in journalism and my relationship with forensic science, I know what is out there and often just touching on that is shocking enough and gives me material without trying to shock.
"My primary job is to entertain and if I don't engage with the reader, anything else I say falls by the wayside."
The novel focuses on cold cases, which Val has a real interest in.
"Advances of forensic science have made cold cases much more relevant," she continued.
"People from 20 years or more ago are finally getting closure and understanding what happened to the people they love.
"It's a really important part of policing, where they might say we don't have the information now but we are still investigating.
"Cold cases have an impact on the present as well. The past isn't dead, the past isn't even in the past."
Val, who sponsors her beloved Raith Rovers and has a stand at the club's ground named after her dad, a former scout, is never confident when a new book comes out.
"Self-doubt is healthy," she said. "These doubts keep you striving and trying to be better.
"I want every book to be better or at least different from the others."
With the world being in such turmoil just now, Val said it can be hard to plan ahead.
"We're dying of too much news – every time you turn on the radio you just think, 'Jings!'.
"By the time I sit down for the next book in January, hopefully things will have calmed down.
"If I was trying to write something for next year, it would be impossible to have an idea of the contemporary situation, because it's so fluid.
"I could write something today and it'll be out of date by tomorrow.
"But one thing's for sure, people need entertainment now more than ever."
Edinburgh Book Festival, Mon, 8.15pm
---
READ MORE
Our top 10 favourite Scottish crime fiction novels
Tartan Noir 10 top crime writers, and the novels that scared and inspired them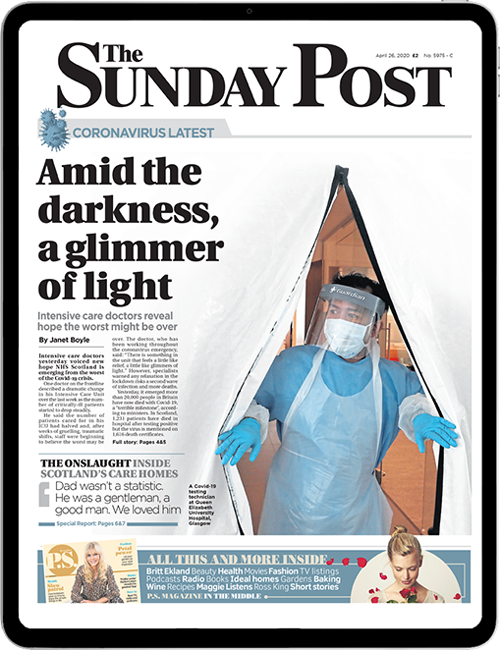 Enjoy the convenience of having The Sunday Post delivered as a digital ePaper straight to your smartphone, tablet or computer.
Subscribe for only £5.49 a month and enjoy all the benefits of the printed paper as a digital replica.
Subscribe