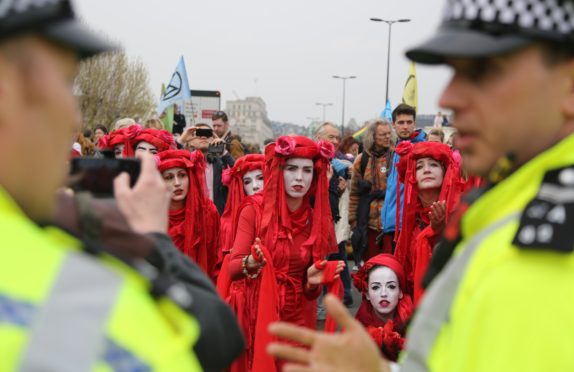 It must be the full moon, or the sudden Easter heatwave that is frying brains. Perhaps a combination of both?
Because no sooner has one chaos-causing, arrogant, self-centred bunch bolted from Westminster for a less than well-earned Easter Brexit break than another arrives.
Meet the mollycoddled middle-class militants of Extinction Rebellion.
They pitched up in London, and other towns and cities including Edinburgh, where they blocked North Bridge, and in Glasgow, where they hung diddy wee banners from the Finnieston Crane and inside the City Chambers.
A rabble of well-educated, well-organised and, I suppose, well-meaning eco-warriors determined to disrupt our cities and lives until they get what they want.
Meanwhile, the police were swapping riot gear for kid gloves.
Initially, more than 550 protesters were arrested, but they were lifted in such a polite and friendly manner, and they were all back out the next day blocking the streets, glueing themselves to trains, padlocking themselves to lorries and railings.
Even more incredibly, some were dancing down the road with the same arresting officers in hot pursuit – on skateboards.
In Scotland, 30 people were arrested, yet all were let off.
Can you imagine if a large group of football fans decided to pull a similar stunt and peacefully bring a city centre to a standstill?
It would be riot shields, batons, tear gas and water cannons at the ready, along with a few mounted police charges to boot.
If the jails were full, old army boot camps would be quickly readied and, once they were locked up, the key would be thrown away. Blatantly spray paint a magistrates court sign, like one of these pompous, arrogant and wealthy toffs, and you wouldn't be politely asked to wipe it off and then, almost as an afterthought, be gently fined by the courts.
Glue yourself to a train in France, or any number of other sensible western countries, and it would most probably be driven off with you stuck to the outside, screaming in terror.
If there was anything left of you when it stopped, the remains would be scraped up and then arrested.
As for illegally climbing a 175ft crane to drape a banner, you would most likely be told to jump or be left up there.
There is definitely one rule for the rich and another for those lower down the pecking order
And that is not on.
Especially not when their acts of civil disobedience, peaceful or otherwise, are so damaging.
The law has to be seen to be firm but, most importantly, fair.
And in Extreme Rebellion's case it is not, and won't be until stuck-up politicians such as London Mayor Sadiq Khan start condoning their actions, instead of supporting them for political expediency, or to be seen as "right-on" in the eyes of the young.
As for the laudable, planet-saving aims of the eco-activists?
Well I, like most reasonable people, don't want our oceans choked to death with plastics.
I deplore the fact that the lungs of the planet, the tropical rainforests, are being logged into oblivion, replaced by either climate-changing farmland or palm oil trees.
I agree that something has to done to reduce toxic emissions in our atmosphere and that global warming may well be a massive problem for future generations unless mankind changes its rapacious ways.
However, I don't think protests such as Extreme Rebellion's do anything except polarise debate and divide opinion.
I will certainly not be preached to by wealthy, middle-class prigs who don't even practise what they preach.
Those who drove or took the polluting train to get to the protests.
Those who fly away on holiday or to some eco-global conference. Who then waste no time at all switching on their coal, electric or gas-powered heaters when it gets a wee bit chilly, or who light their homes every time they want to read.
Or who film the actions of the police on their expensive, glowing mobile phones, devices drawing on some of the planet's rarest and hardest-to-dig-out minerals.
Or finally those whose stupid protests probably caused more air pollution over London in a single day than would be made in a week, when they forced the traffic to grind to a halt.
No, I won't be having that, and neither should you.
I have had enough of my fill listening to the ravings of Britain's Brextremists on all sides and I don't want my Easter holidays spoiled by the green ravings of eco-hypocrites, thank you very much!