IT'S happy days indeed for stationery retailers.
Given the amount of placard-waving street protests there have been of late, demand for cardboard sheets, Sellotape, coloured pens and paint must be at all-time high.
A well-deserved jackpot for some lucky store owners?
Well, at least it's an exciting day out for all those sharing a common cause to exercise their democratic right to vent their fury – and show the world their time spent larking about in their school's art and craft classes wasn't wasted.
But for millions of others who don't subscribe to their causes, these protests can be an invasive abuse of the democratic process.
The great majority who don't have the time to go on a march, let alone fiddle with a Pritt stick, suspect it is the taxpayer who has to stump up for their disruptive events.
These never-ending cycle of marches, protests and shows of displeasure have become nothing more than a cacophony of noise, bile and hate.
And those stationers must be rubbing their hands with glee at the prospect of the blond eagle landing in the UK shortly.
Yes, the leader of the free world, President Donald J. Trump, has been invited to these shores, so expect an awful lot of protesters when he arrives.
For them, The Donald is the gift that keeps on giving, an endless source of fuel for their bitter ire.
If that's what they think, fair enough, that's up to them.
But I do have a problem with all those who use their own blinkered views to judge and condemn those who don't agree with their stand on this man.
They brand them as fascists or bigots for even mentioning Trump in a favourable light.
And I have major problem, when some of our politicians, still smarting over Brexit, try to take the moral high ground but are low in morality, and attempt to have Trump banned from entering this country.
Especially when this demand comes from the supposedly neutral Speaker of the House, John Bercow, a smug, self-righteous waste of space if ever there was one.
Order! Order! Ordure, more like! He reeks of it! Suffering from wee man-itis, he overstepped the mark when he called Trump "racist" and demanded he be banned from speaking in Parliament.
It was an insult to the millions of Americans who democratically voted for Trump.
It was an unforgivable slap in the face to a country who defended these shores with horrendous loss of life through two world wars.
It would appear Bercow prefers the company of human rights-abusing heads of state, to that of a democratically-elected US President, a man who has never killed or tortured anyone, but has created thousands of jobs around the globe by investing billions of his money in hotels and golf courses. Two here in Scotland!
Placard-waving, marching and protesting about Trump's policies is one thing. Having the Speaker of the House brand him a racist for introducing a temporary travel ban – which President Obama had previously approved and is a ban supported by the majority of Americans – and seeking to have him banned from the UK was an insulting step too far.
It was an embarrassment of the highest level. And one that should see wee Bercow stripped of his title and thrown out of office.
I'd happily spend a few quid in my local stationery store to make a few placards – and join a march demanding that!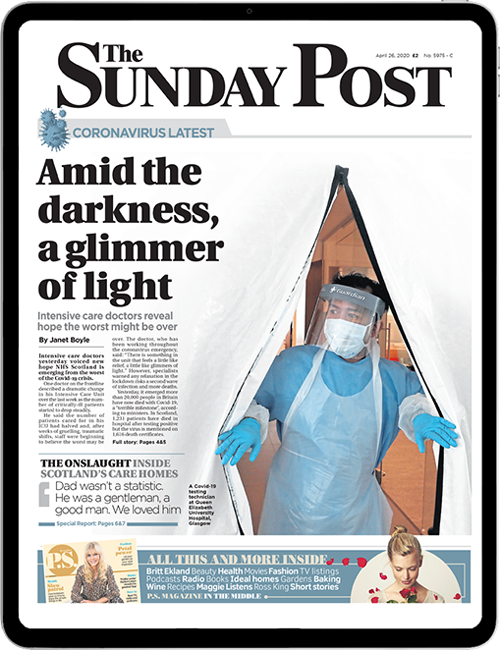 Enjoy the convenience of having The Sunday Post delivered as a digital ePaper straight to your smartphone, tablet or computer.
Subscribe for only £5.49 a month and enjoy all the benefits of the printed paper as a digital replica.
Subscribe