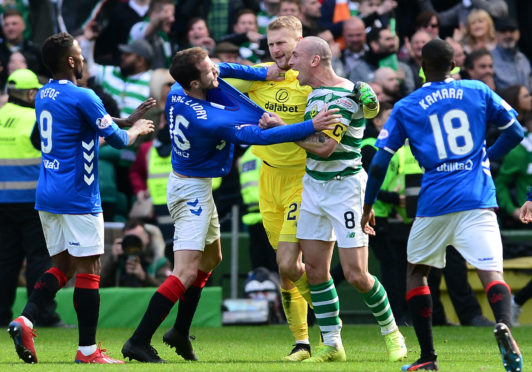 Stabbings, mass street brawls, random assaults (some serious), sectarian chanting, multiple arrests and innocent passengers ordered off a train to accommodate steamed-up football fans.
Welcome to the centre of Scotland's biggest city on Mothering Sunday!
It was also, of course, the Old Firm game.
If you had forgotten the game was on and decided to visit the Merchant City, you would have been forgiven for thinking a new zombie blockbuster was being filmed.
Sadly, the blood being spilled here was real.
A Mother's Day ruined for horrified families visiting the Merchant City's many restaurants and those innocent people wandering around the shops.
The match itself will be remembered, but not for the football or indeed Celtic's win, but for the flares being flung, the sectarian singing and chants, fans spilling on to the ground, common assaults on players by players – one a shocking left hook from Rangers player Ryan Kent that could have laid out Celtic captain Scott Brown – and mass melee involving players at the end.
Roll forward to Paisley on a wet Tuesday night. At the St Mirren v Celtic match a pyrotechnic is launched on to the park by yet another moron.
Such was the explosive force of this device it almost burst the eardrums of St Mirren's very shaken goalkeeper.
Yet another incident to add to the catalogue of shame that is slowly dragging our beautiful game into the gutter.
Enough is enough. Lives are being put at risk. And the collateral damage to business and visitor numbers is huge.
David Hamilton, vice-chairman of the Scottish Police Federation, last week warned of a resurgence in organised and militant football hooliganism, which is now at a worrying level not seen since the 1980s.
He said players' bad behaviour influenced fans and, if nightclubs were run this way, they would be shut down.
I agree, as does the Scottish Licensed Trade Association.
Over the years the licensed trade has been forced to clean up its act. We are legally responsible for the safe sale of alcohol on our premises and the safety, security and behaviour of staff and customers. We accept a high level of social responsibility.
That is something all football clubs, not just in Scotland, but right across the UK and Europe, do not do.
Dave Scott, director of Scotland's leading anti-sectarianism charity Nil by Mouth, goes further: "Pubs and clubs in Scotland have to comply with tough guidelines and a licensee can be called to account for what happens on their premises by councils.
"In stark contrast, football enjoys the invisible touch of self-regulation, creating a zero-liability culture without scrutiny by elected members on licensing boards."
That's not on. But I don't think a zero-tolerance form of strict liability to combat a football club's apparent zero liability will solve the problem. It has had a negligible effect in Europe, where it has been introduced.
The SFA and clubs have to acknowledge there is a problem before any effective action can be taken. And, sadly, they have all been too weak and slow off the blocks.
Tannoy announcements during a game warning fans that anyone singing sectarian songs, caught throwing coins or pyrotechnics, or taking part in crowd disorder will be hit with a lifetime banning order – and following up on these warnings – would be a start. If it continues then massive fines and stand closures should follow.
As for the players, a two-game ban for smashing another player in the face is farcical. What sort of punishment is that?
Finally the authorities, police, clubs, TV companies, stakeholders and other affected parties including business leaders must sit down and come up with an agreeable, workable solution for all.
Let's try moving high-profile fixtures to midweek and see if that reduces the violence on our streets. It's worth a try.