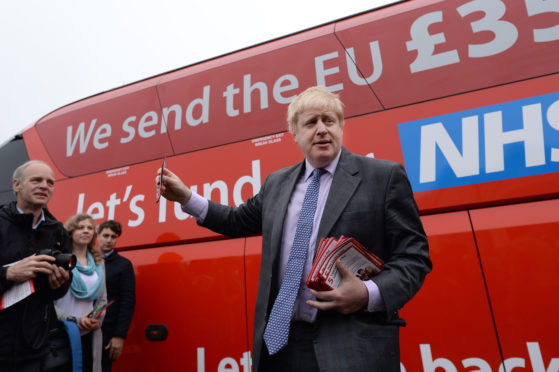 Now that a judge has given the green light to haul Boris Johnson up before a court for allegedly lying during the Brexit referendum campaign, we will need more courtrooms, and a lot of new jails will have to be built.
Our creaking judicial system will not be able to cope with the deluge of dishonest politicians, from all parties, who should follow BoJo, whose claim that Brexit would deliver £350 million a week to the NHS will be tested in court, into the dock to answer for their crimes against the electorate.
And, given that the offence of misconduct in a public office carries a potential life sentence, I'm sure many are now quaking in their boots.
In all seriousness, if there is one thing that proves how bitterly divided we've become since the EU referendum, it's allowing Marcus Ball – an anti-Brexiteer who seemingly can't accept that his side lost – his day in court to try to prove that he was lied to by a politician.
How long will it be before other embittered members of the public are dragging other elected officials through the courts?
Yes, we might finally see former Labour leader Tony Blair and his right-hand henchman Alastair Campbell answer for the lies they drummed up to force the UK into a bloody war against Saddam Hussein's Iraq.
Should we also not be hauling ex-PM Gordon Brown and his chancellor Alistair Darling up for being partly responsible for wreaking the economy, saving the banks but not their customers?
Here in Scotland we were promised by smiley Tories David Mundell and Ruth Davidson that the UK would never leave the EU and yet here we are looking at the very real prospect of a no-deal scenario come Halloween.
Should that well publicised piece of electioneering, which we now know to have been a big, fat fib, not see them charged for deliberately misleading the country?
No, it shouldn't.
Once you open this can of worms, you'd never get it shut.
Everything ever said or promised by a political parties' candidates would become ammunition for possible legal challenges and personal actions in the future.
Same for manifesto promises. They would become pieces of evidence for any prosecutor.
Cross-party TV and radio debates would be avoided like the plague by all politicians as would their current obsession with social media.
Democracy and the electorate wouldn't be served because our parliamentarians would be afraid of being hauled up before the beaks to face time-consuming, very expensive court cases.
That's why, no matter who you support, or what your views are on Brexit, this case against Bojo should be seen for what it is and dropped into the gutter where it belongs.
All politicians lie, it's just the way things are.
Many don't mean to or even know they are doing it. It doesn't make them criminals.
Fiddling their expenses, or lying to the nation to make us go to war, though, are very different matters that should be for the courts.
Everything else should be decided at the ballot box, where the electorate should be left to choose their preferred option or candidate, deciding if they have been served or denied by the previous administration.
That is what real democracy is all about and the only way political change can ever be achieved.
It's where those who are guilty of abusing their position and denying the wishes of their constituents should be brought to account and dumped – not in the courts.
And hopefully in the coming year we will all get the chance in a General Election to drain Westminster's fetid swamp and be rid of the current plague of rats who are nibbling away its once revered beating heart.