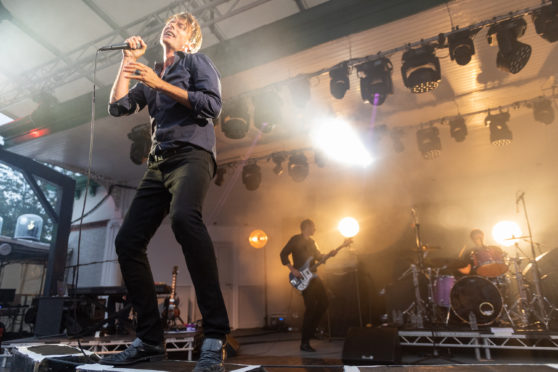 As the dark nights of autumn beckon, it's worth celebrating an absolute belter of a summer for lovers of live music.
In Glasgow, a UNESCO City of Music, all the right notes, musically and in pounds sterling, were hit over three nights at the TRNSMT music festival on Glasgow Green.
It was a fantastic financial boon and addition to the city's musical events calendar, which this year had more than 150,000 excited music fans slavering over headline acts such as Stormzy, George Ezra, Gerry Cinnamon and, of course, our delightful homegrown superstar, Lewis Capaldi.
And don't forget around 80 other acts hotly-tipped for success such as Tom Grennan and Stephanie Cheape.
In Invernessshire the Belladrum Tartan Heart Festival, continued to prove itself one of the coolest and most popular festivals in the UK, again selling out with a veritable feast of live acts on offer, from Chvrches to Jess Glynne, Lewis Capaldi to Tom Odell and many others beside.
Scone Place, Perth, again had its immensely popular and fun retro Rewind festival, with Bryan Ferry, The Stranglers, Lisa Stansfield and Midge Ure all on the bill.
Back in Glasgow, we have just had another fantastic 12 sold-out Summer Nights at the wonderful Kelvingrove Bandstand with legendary artists Suede, The Human League, Patti Smith, Echo & The Bunnymen and Burt Bacharach.
And this week in Edinburgh's Princes Street Gardens and at Glasgow's Bellahouston Park there are the Summer Sessions with global superstars The Cure, The Foo Fighters and The 1975 headlining Glasgow and Florence + The Machine, Lewis Capaldi (he likes to gig) and Primal Scream all topping the bill over in the gardens.
Finally, this weekend sees another very successful, albeit a bit wet, Party At The Palace taking place in Linlithgow Palace featuring the Charlatans, Wet Wet Wet, and Fun Lovin' Criminals among many others.
There have been many other music festivals and events I haven't, because of limited space, been able to mention and, it's true, that not all of them have been successful.
But overall, it has been a brilliant summer of music, for all ears and all tastes and long may that continue.
But there's a problem.
With a no-deal Brexit on October 31 seemingly almost a certainty, no one from the UK Government can tell us what the potential effects a post-Brexit world will have on the UK live music industry.
It's an industry that currently generates more than £1.5 billion for the UK economy, so what impact will our leaving the EU have on musicians, either British going to the continent or Europeans coming to our shores? Will they have the ability to freely travel and tour?
Will the added bureaucracy that will be introduced at our borders, filling out expensive equipment declarations called "carneys", a nightmare for any large touring band or orchestra, as well as the extra and thorough security checks, make it not viable for many artists to embark on a tour?
Will it put the development of these artistes at risk and in turn reduce the pool of talent that promoters currently have to choose from?
I'm sure it will and, unless some sort of "touring passport" that acts as a waiver and visa, is quickly drawn up and agreed upon by the UK Government and Brussels – something Michael Dugher CEO of UK Music has strongly argued for – then not only the summer festivals, but all live music venues and the fans, could suffer.
The drop in the pound against the dollar and the euro has already made many a promoter think twice about booking an oversees act.
As Europe and UK Government continue to square up to each other across the channel, the lack of urgency, detail, assurances and guarantees that this great industry urgently requires is all too predictably lacking.
It is not alone, of course.
Turning a deaf ear to a problem is never the answer, listening and then sorting it out is.
That would be music to our ears.
Sadly, I fear our leaders have became tone deaf.