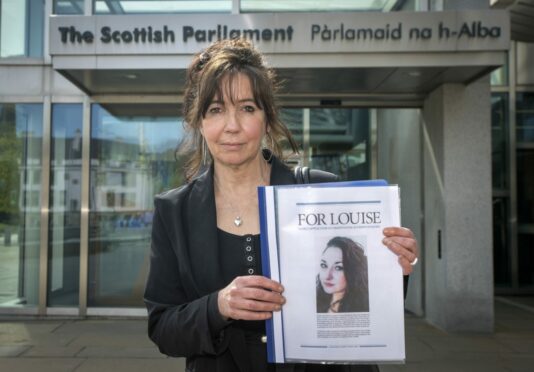 The mother of a woman murdered by her ex after being repeatedly failed by police has welcomed the introduction of a review system for homicides linked to domestic abuse.
Caroline Lyon, who went to the Scottish Parliament to urge MSPs to take action, said the official response before and after the death of her daughter, Louise Aitchison, should be the first to be examined.
Louise was murdered by repeat domestic abuser Darryl Paterson in April 2020 but, we would reveal, Police Scotland admitted to 18 failures, some of which would have saved her life.
Now a multi-agency taskforce has been announced to create a system examining homicides where domestic abuse is suspected to ensure lessons are learned. Cosla, Police Scotland, social work, Scottish Women's Aid, health boards and victims' representatives will work together to create Scotland's first domestic homicide review system.
The move was urged by domestic abuse expert Jane Monckton Smith in a book which The Post arranged to be sent to every MSP at Holyrood, and Louise's mother welcomed the announcement of the homicide reviews last week.
She said: "I sincerely hope that the first case they examine is what happened to Louise. My daughter should still be here with us today if only the people who were supposed to protect her and keep her safe had done their job.
"I do not know of any other case where there is such stark evidence of failure, and we must be assured for all the others living with the nightmare of domestic abuse, that there is never any repeat of what happened to Louise."
The dental nurse, 27, from East Kilbride, had no idea that the man she met while walking her pet dog during lockdown had a history of violence against women. Administrative mistakes and a lack of awareness, meant Police Scotland repeatedly failed to warn her that she was in danger, even on the night she died despite being called to her flat to remove Paterson, 37.
Despite the failures, no sanctions were taken against any officer, even against those who left Paterson free to return and murder Louise soon after officers left. They then failed to check on her and she lay dead in her flat for three days while officers put calling cards through her letterbox. Paterson repeatedly tried to give himself up, then called an ambulance to take him to hospital where he was then released back into the community.
His victim's mother said: "There was a shameful catalogue of failures surrounding Louise's death, and I sincerely hope the new system will ensure proper lessons have been learned and the system has been changed to ensure the protection of victims is front and foremost.
"Scotland also needs to create a domestic abuse register so perpetrators cannot move around under the radar as they do at the moment, and the system must be proactive to properly protect those at risk in future."
'Thank you for listening, Holyrood. Now, please, Lord Advocate, for Louise, for every woman still at risk, call the inquiry': FM discusses FAI with Crown as bereft mother visits Holyrood
MSP Monica Lennon, who has backed Ms Lyon's calls, said: "This campaign has been critical to highlighting the urgent changes Scotland needs to adopt, and I'm delighted that at last the Scottish Government is responding.
"Caroline's quiet dignity and strength despite her own heartbreak has been inspirational. If we are to make a real difference in the lives of those who face domestic violence, experiences like hers are vital to identify the changes needed to the system.
"I am happy to support Caroline to ensure the taskforce get her first-hand experience to help shape what is needed for Scotland."
The Scottish Government last week announced the new taskforce will examine approaches elsewhere in the UK and internationally, to help develop a system which learns from the circumstances around domestic abuse-related homicides.
Justice Secretary Keith Brown said: "Domestic homicide reviews are not about finger- pointing or apportioning blame among agencies. This is fundamentally about learning lessons, identifying areas for change and improvement within and across agencies, preventing further domestic homicides and giving a voice to the relatives and victims.
"This new taskforce will meet in the coming weeks to begin developing a review model, in line with evidence and best practice, with a view to proposals going to consultation next year."
Dr Marsha Scott, chief executive of Scottish Women's Aid, said: "We have long called for a domestic abuse killings review model in Scotland that makes the deaths and murders of women and children visible, and we welcome the Scottish Government moving in this direction today."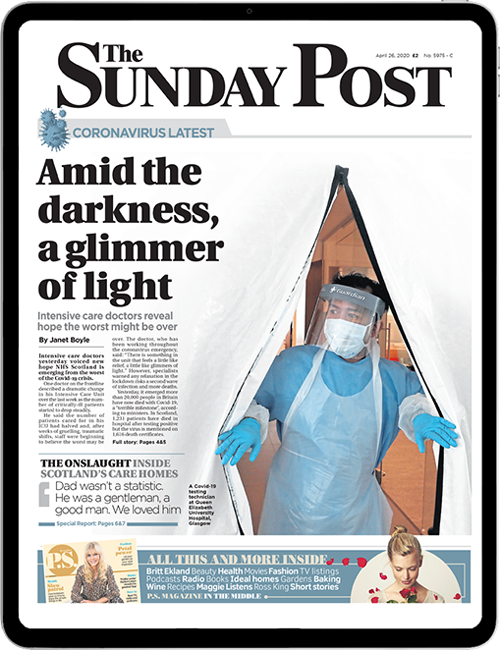 Enjoy the convenience of having The Sunday Post delivered as a digital ePaper straight to your smartphone, tablet or computer.
Subscribe for only £5.49 a month and enjoy all the benefits of the printed paper as a digital replica.
Subscribe