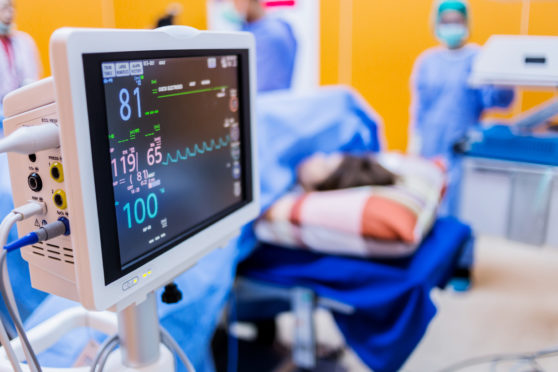 As our Covid patients recover to move on or sadly pass away, their beds are filled with more usual suspects.
They are the patients recovering after major abdominal surgery, serious liver disease and the more obscure illnesses which challenge our diagnostic talents.
The one thing we no longer see is Covid. There are now only 26 patients in ICU in Scotland as I write and almost all of them are into the third week of their stay. We continue to work on emergency rotas, with resident shifts over weekends and bank holidays to support our 100% expansion of empty beds. Everyone is looking at each other wondering if – or when – we will see a second wave.
Any Covid patients we have encountered in the last three weeks seem to be different. We no longer see the low-oxygen patient who presented in extremis before being rapidly escalated to intubation and ventilation, lying on their fronts to give their lungs every chance to work.
We see more patients suffering an insidious onset, a longer illness, hospital stay and slower deterioration.
I can't help but wonder if the virus has mutated. It is common for viruses like this to mutate and become less virulent or deadly.
A virus needs its host to survive. If it is too deadly and kills its host too quickly, it won't have time to be passed on and will itself die out. It becomes a victim of its own success.
So there is a suspicion, a hope, among the team that there won't be a second wave.
Covid lethargy has kicked in. After 10 hard weeks of people working different rotas and in different departments, fulfilling new roles, there is now a yearning to return to a more normal pattern of work.
This lethargy doesn't end at work as we all battle with the mental rigours and the isolation at home alone or with our family.
There are new casualties of Covid. I treat another patient for whom the pressure of lockdown was just too much. He was not able to reach out to his normal support network of family and friends.
Overwhelmed mental health services were unable to help and he was left feeling suicide was his only escape.
Having spent weeks trying to save lives, I can't shake the deep sadness that lingers when I think about this patient and the thousands of others left struggling, unsupported through this nightmare.
Despite Covid disappearing from our ICUs, hospitals and communities, its dark legacy seems inescapable.
Every paper, news feed or social media account is littered with scary facts or figures, growing death tolls or tales of despair. The sun may be shining outside but pause and have a thought for those who are struggling.
Check in on friends and family. Be kind to strangers or those in need.
It's going to take a team effort to overcome the mountain of mental health issues that Covid will leave in its trail.
A doctor in a Scots intensive care unit writes weekly dispatches charting war on Covid-19.