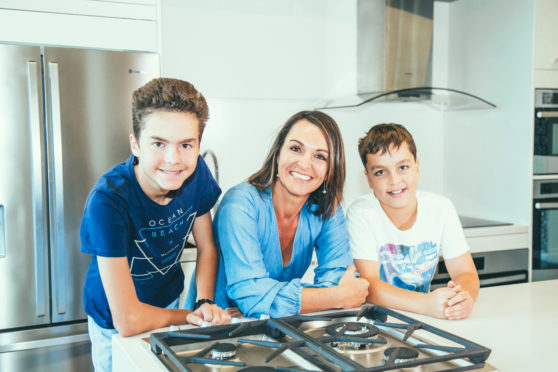 She is the best-known dietitian in Australia, hosting TV programmes about healthy eating and writing bestselling books.
In demand for her practical advice on health and wellbeing, Dr Joanna McMillan credits her Scottish upbringing for her food passion – and now hopes to replicate the success she's enjoyed in Australia back in her homeland.
Joanna moved Down Under 21 years ago and in that time has become a household name, appearing regularly on The Today Show, Australia's equivalent of BBC Breakfast, and hosting her own shows like Gut Revolution and Beating Diabetes.
"So much of what I talk about comes from my Scottish roots," said mum-of-two Joanna, originally from Strathaven in Lanarkshire. "I grew up in the countryside and we had a veggie patch where my mum would pick potatoes for the evening meal – don't tell a Scottish woman she can't have potatoes as part of her diet!
"One rule at home was we all had to be round the table for dinner. Whatever my mum cooked is what we would sit there to eat.
"I feel we've lost that. I want to encourage children to eat the meal put on the table, rather than each member of the family eating something different.
"I want to bring back the idea of meal times being pleasurable. Too many people see cooking as a chore, so I hope my new book encourages the feelgood and fun part of cooking.
"Meal times are pushed down the priority list. Home delivery and supermarket frozen meals remove not just nutrition, but pleasure and enjoyment. My mum is a great cook and we barely did take-outs. There were no McDonald's back then and I can remember the first Wimpy opening in East Kilbride. The only thing we would occasionally have was fish and chips."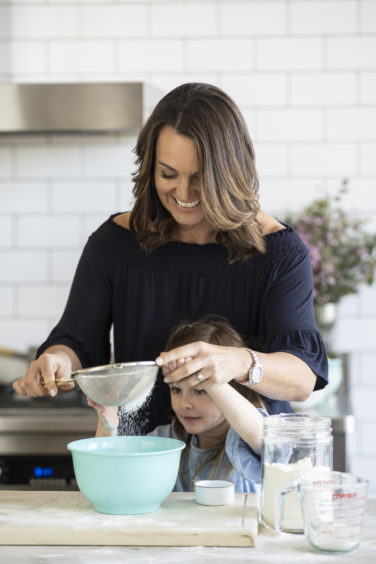 During lockdown in Australia, Joanna encouraged the public to turn to home cooking and hopes it is something people carry on doing, even post-pandemic.
"More people were working from home, watching their spending and being conscious about their health. It was an opportune time for me to talk about feeding your family on a budget, to encourage people to learn new skills and new meals.
"The vast majority of the recipes in my new book are fast. Once you've done them a couple of times, they become even easier. Hopefully parents will have put priority on planning the family meals, so that when life begins to return to normal, they can take those new skills with them and hopefully that bodes well in terms of better eating."
Having developed an interest in cooking, coupled with an interest and qualifications in science, Joanna attended Glasgow University and then Robert Gordon University in Aberdeen, with a stint as a fitness instructor sandwiched in-between. It was in the north-east she studied nutrition, gaining a bachelor of science degree.
Along with a partner who was in the oil industry, Joanna applied for a residency visa in Australia. When the relationship ended, Joanna decided to move anyway, as she wanted to do a PhD and saw there was interesting research happening in Sydney.
"I moved out here with nothing more to my name than a credit card bill and plonked myself at the office in Sydney University and said I wanted to do a PhD," she said.
"I got lucky and met the head of department, and I ended up getting a scholarship. By the time I'd finished my PhD, I had my first son, Oliver, who is now 15.
"While at university, I'd started doing some work on a radio station nearby, and then I was asked to write articles for a health and fitness magazine, and from there I was picked up by TV."
Today, Joanna lives in Bondi, Sydney, with Oliver and 13-year-old Lewis, who plays the bagpipes. Prior to lockdown, she made sure to come home regularly to visit her parents, who live in Banchory.
She wrote The Feel-good Family Food Plan with her friend, caterer Melissa Clark, and hopes it makes people look at meal times differently.
"I feel when people become interested in nutrition, the science of it or the fad diets distract people and it becomes something else to be distressed and confused about," Joanna added. "But food should be lovely and hopefully we can bring back the idea of meal times being pleasurable."
The Feel-good Family Food Plan is out now from Murdoch Books
---
Potato and green bean salad with olive caper dressing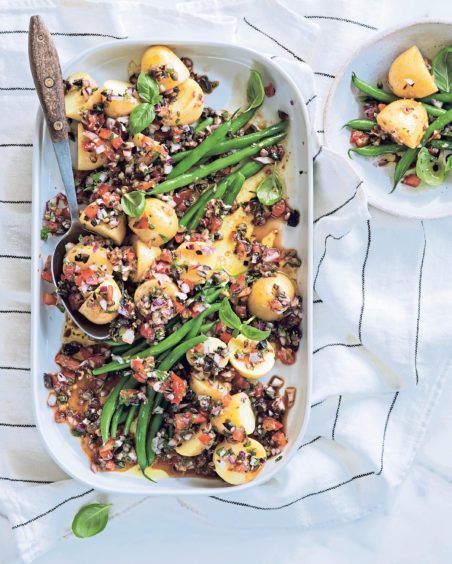 Cooking time: 10 mins Serves: 4
You'll need
500g chat potatoes, skin on
140g green beans, trimmed
1 tablespoon small basil leaves
For the olive caper dressing:
1 large tomato, seeded and finely diced
¹⁄₂ red onion, finely diced
2 tbsp pitted black olives, finely chopped
1 garlic clove, crushed
1 tbsp salted capers, rinsed and chopped
2 tbsp flat-leaf parsley leaves, finely chopped
¹⁄₄ cup (60ml) extra virgin olive oil
1 tbsp white wine vinegar
1 teaspoon balsamic vinegar
Method
To make the dressing, combine the tomato, onion, olives, garlic, capers and parsley in a bowl.
Whisk together the oil and vinegars and season with freshly ground black pepper. Stir the dressing through the tomato mixture and set aside.
Put the potatoes in a large saucepan, cover with water and bring to the boil over high heat. Reduce the heat and simmer for seven-eight minutes or until the potatoes are cooked but not breaking apart. Drain and cut in half.
Steam the green beans for two minutes.
Combine the potatoes and beans, and toss with the dressing. Serve warm or cold, topped with the basil leaves.
TIP: You can also microwave the potatoes and beans.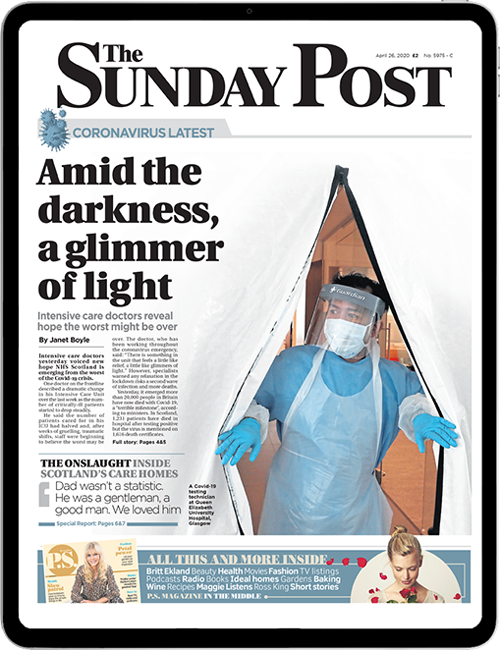 Enjoy the convenience of having The Sunday Post delivered as a digital ePaper straight to your smartphone, tablet or computer.
Subscribe for only £5.49 a month and enjoy all the benefits of the printed paper as a digital replica.
Subscribe