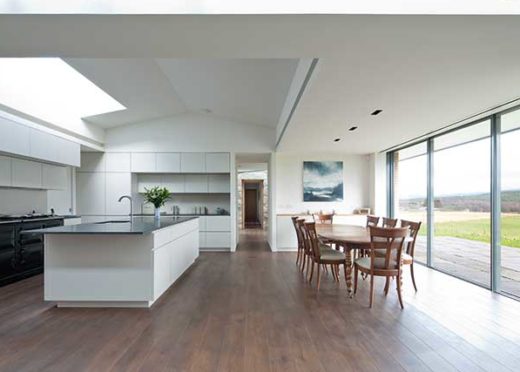 A little girl somewhere once said there's no place like home.
And for the increasing numbers of people now choosing to design and build their own houses in Scotland, there certainly will be no home quite the same as theirs.
The Scottish Homebuilding & Renovating Show arrives in Glasgow this weekend, set to advise and inspire the growing number of budding self-builders across the country.
Self-builds now equate 15% of all new housing north of the border, with the hashtag #selfbuildscotland and #selfbuildhomes racking up thousands of results between them online.
Research by housing company Insulation Express also revealed that around seven million people across the UK are actively researching building their own homes, with one million of those due to start in the next year.
Experts say the increase in Scotland's self-build culture has been fuelled by lower construction costs than the rest of the UK, as well as a growing sense of individualism and care for the planet, with self-builds becoming more and more environmentally friendly.
For Thelma Archer and her Cairngorms self-build, individuality was certainly one of the key factors in her creation. So much so that her beautiful design was featured on Scotland's Home of the Year on BBC Scotland.
From the positioning of plug sockets, to the window size and quantity to the shape of the roof, the retired air hostess relished the creativity self-building could bring as opposed to what she could find on the property market.
Designed by her architect son Stuart Archer of Archer + Braun, the 66-year-old found there wasn't a currently existing house in the area that fitted her needs, or that offered the uniqueness or sustainability of what she could create herself.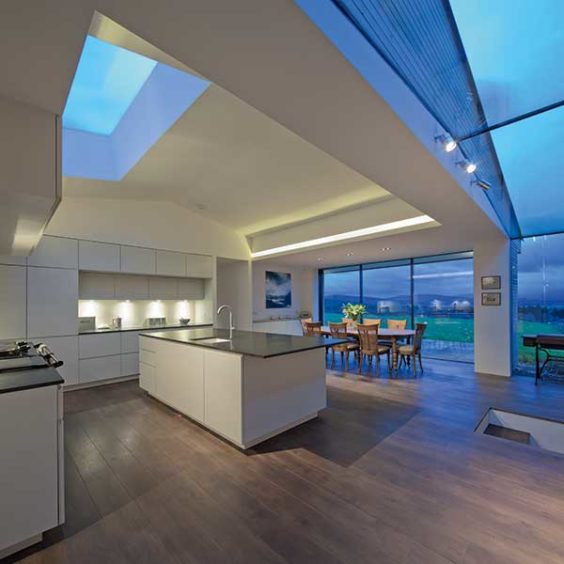 "I love the fact that my house isn't like anybody else's," she said.
"Although we chose to work with the materials 0f what was already there – an old cottage and barn – we rebuilt something completely different out of the stones. And it fits in so well with its surroundings.
"I knew I wanted a lot of windows and the house has 180 degree panoramic views of the Cairngorms.
"That's the great thing about building your own house – you can make it completely your own and choose exactly the best positioning of everything for your needs.
"I live here alone but I love to entertain so I wanted a large kitchen and space for guests and three extra bedrooms for my children when they come to visit.
"I spend a lot of time here so I wanted it to be perfect."
Sustainability was also a factor in the creation of Thelma's home, as it is becoming for many building their dream houses in Scotland, with a small but growing number of Scottish ecological build and design companies starting to take shape.
One of these is Makar, who promise to build your brand new eco-home in just three days. Using only locally sourced timbers and materials, and focussing on clever insulation techniques and energy-efficiency, the Inverness-based company have now built over 50 eco-houses throughout Scotland.
"Since the financial crash there has been a steady increase in eco-homes perhaps as people prioritise their living environment over other decisions in their lives," said Makar architect and director, Neil Sutherland.
"A healthy, comfortable, light filled and warm home which is not contributing to Climate Change and giving something back to its region in terms of renewable materials and skilled jobs, is something to aim for.
"A couple of decades back these homes were imported from Scandinavia, Germany or Canada.
"Now they are designed, manufactured and delivered from a small but growing number of Scottish companies. The availability and quality of these home has therefore increased to match the desire."
As well as being popular with the environmentally conscious, self-building also seems to be more prevalent in those nearing retirement, as designing homes with next to no running costs takes higher precedence.
For Margaret Laird and her husband, Rodger, it was this, plus the freedom of no ties after retirement that led to a move from Fort William and building their own house in Morayshire.
"I always knew I wanted to retire when I turned 60," said Margaret, now 62.
"And having worked as a social worker most of my life, I was in a fortunate enough position to do so.
"We just wanted to do something a bit different – we got married when I turned 60 after being together for 31 years – and it all just felt a bit freeing.
"So we thought, what should we do next? And Rodger had just built me a craft studio and we thought, well if we can do that, why can't build our own house."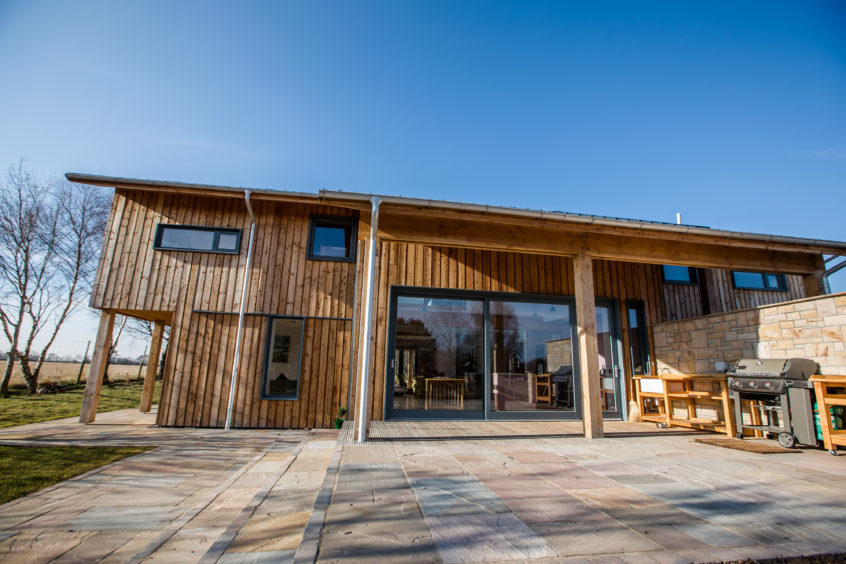 Working with Makar, the couple embarked on a journey to creating a home that was as much a part of the earth as the ground it was sitting on.
"I didn't want to just buy a plot of land and plonk a house down on it," continued Margaret.
"I wanted it to be something that would stand the test of time, and that respected the environment around it.
"The house is so well insulated and airtight that we have no heaters upstairs, and it has this mechanism that allows fresh air to flow through the house.
"It's just this beautiful living, breathing house. It's an absolute joy to live in."
For equally environmentally-conscious couple Alan Caldwell and his wife Christine Grace, building their own eco idyll in Perthshire was the ultimate goal in achieving a sustainable lifestyle.
Also working with Makar, the couple decided to take the plunge once their daughters left home for university.
"We're very green minded in that we buy locally, try not to do air-travel too much, and aim for an environmentally friendly lifestyle, so we wanted our home to be the highest level of sustainability.
"We've got very good friends in our village and we did the project at the same time as they were doing theirs, with the same eco-ideals in mind.
"We found a bit of land that would take the two houses and spent about a year and half going round Scotland looking at these amazing eco-houses and getting inspiration.
"I liked the idea of being able to open windows, and have a wood burner rather than being in a more sealed environment.
"But having seen pretty much every Grand Designs programme going, we were a bit worried about going over budget.
"Our house cost about £2000 per square metre, whereas normal houses cost about £1500, so it was a bit more expensive, but what we paid extra for in the original outlay, we definitely have and will save in energy, as the house is so well insulated. We only need to turn the heat on for two months a year."
As well as energy efficiency, experts say the costs of building homes in Scotland is significantly lower than the rest of the UK, thanks to construction costs.
Developer, self-build expert and TV personality Mark Holmes, who will be speaking at the Scottish Homebuilding and Renovating Show in Glasgow this weekend said: "Self-builders throughout the UK benefit by paying stamp duty only on the land purchase, not the build cost or end value.
"The fact that many house buyers in Scotland pay a higher level of property tax through the Land & Buildings Transaction Tax (LBTT) than those in other parts of the UK makes self-build in Scotland an ever more attractive option."
Although building your own house can often be more costly than renovating or buying an existing property, the Homebuilding and Renovating website have also outlined ways to keep prices down, with many people managing to build stunning bespoke homes for under £150,000.
And for those looking to create eco-homes on the cheap, Makar are now offering 'flat-pack' kit homes, lacking slightly in individuality perhaps but still customisable and a good friend to the environment as well as purse strings. Their compact eco-home packages start from as little as £104,000.
But for those wanting to go a little bit more individualistic and one-of-a-kind, the Scottish Home Building and Renovating Show will have plenty of experts to whet your DIY whistles this weekend, making sure there really is no place like your home.
---
The Scottish Homebuilding & Renovating Show, SEC, Glasgow, June 1-2 2019.
Tickets available here.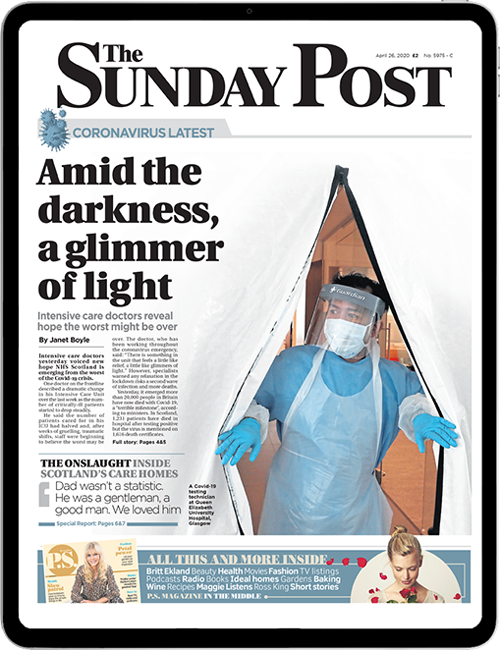 Enjoy the convenience of having The Sunday Post delivered as a digital ePaper straight to your smartphone, tablet or computer.
Subscribe for only £5.49 a month and enjoy all the benefits of the printed paper as a digital replica.
Subscribe