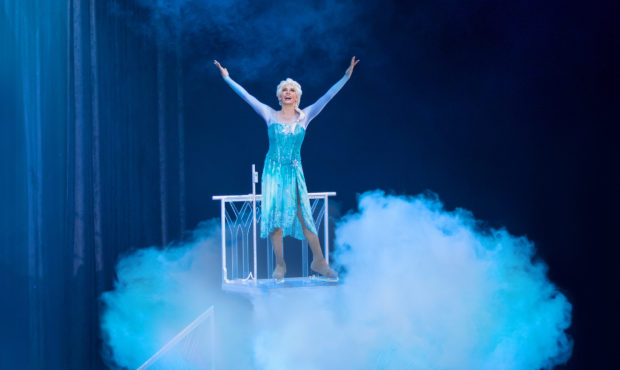 Playing the part of Elsa from Frozen each day in Disney On Ice is a big challenge for Olivia Oltmanns.
But considering she skated competitively for an entire season with a fractured back, she is more than capable of dealing with the pressure that comes with performing as one of Disney's most popular characters.
Olivia is in Glasgow this week as part of Disney On Ice's 100 Years Of Magic tour, and she'll make sure to soak in the audience reactions when they see her step on to the ice as Elsa.
"Playing Elsa is quite overwhelming and a lot of pressure, because a lot of people show up for that character," admitted Olivia, from Minneapolis.
"One of my favourite parts is when I'm out there and I see all the children dressed like Elsa.
"It might sound cheesy but it gives me a lot of energy and inspires me to do my best every day.
"I feel like I relate to the character, because she's timid and nervous at the start of the movie, and I'm quite reserved, too."
Olivia joined Disney On Ice when she was just 18 and this is her fifth year with the company. Prior to that, she was a competitive figure skater, and it was during that time she suffered a painful injury.
"I fractured my back and I was in extreme pain," she explained.
"You can break your back in certain areas and it allows you to keep doing what you are doing. The doctors told me if I continued to skate with the injury it wouldn't make it any worse.
"I managed to get through a successful season and I don't regret it.
"It was debilitating at times, but it made me so much tougher and stronger, and something like that prepares you for the rest of your life."
Olivia began skating when she was just two years old.
"My mum's a coach and she travels all over the world, so I was on the ice straight away. She never forced me to do this, though, it was my choice. I was very shy and timid at first.
"She would enter me into competitions, buy me a dress, and then I would refuse to go out on the ice.
"I was five before I finally competed, so it took me a few years to warm-up to the idea of going out in front of people. On that occasion, she told me if I took part I would get a gumball machine or $100, and I chose the gumball machine!"
Making the transition from competitive skating to the entertainment world is one she's glad to have made.
"Disney hadn't really been on my radar and I didn't know much about life after competition, but the moment I got here I knew I had made the right decision.
"I feel like I'm not only giving back to the sport but inspiring the next generation of kids to get into skating through Disney On Ice.
"We recently performed in Colombia, which is my 30th country in just five years, and there are others in the group who have visited 65 countries.
"When I got here it felt like all the hard work – training at 5am before school in the freezing cold, working 16 years from infancy – this is what I had done it for."
Disney On Ice, Braehead Arena, Glasgow, Friday until September 29