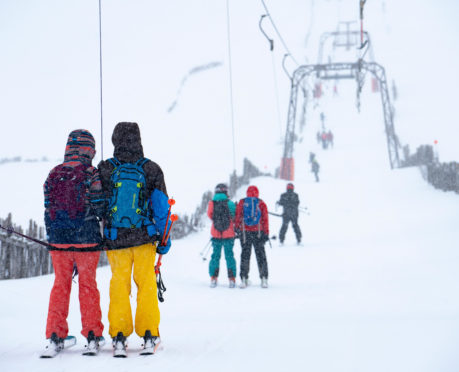 Leaving our car at the side of a snow-laden road at the base of the Ben Lawers range in Perthshire, my husband Gordon and I begin a memorable ascent – and descent – of the Munro Beinn Ghlas.
Setting off on skis, we quickly settle into a rhythm of step-glide, propelling ourselves forward with legs and poles.
Beneath our skis are "skins", a strip of fibre material that, like animal fur, has a grain, creating resistance to going backwards. The heels of our boots have been released to allow us an easier glide motion uphill.
At first we chat amiably with our friends Nienke Oostra and Michael Culley but, as the slope steepens, we are too breathless to talk. Instead, I enjoy the quiet and the chance to survey an ever-widening vista.
A dazzlingly white blanket covers the landscape, from the icy edge of Loch Tay below to the many rounded summits above.
The sky is bright blue and there is only a light puff of wind. This is ski touring in Scotland at its best and, while we feel indulgently alone in our pursuit, evidence reveals the winter sport to be fast growing.
At Active Outdoor Pursuits, which leads ski touring courses and hires equipment, bookings have been increasing annually for several years.
The Newtonmore-based company believes social media has contributed to this growth "because the more people who post photos of fantastic off-piste skiing in Scotland, the more want to try it".
Blair Aitken, a ski tour instructor and mountain guide at his own company, British Backcountry, based in Scotland, agrees.
He says: "My British Backcountry group on Facebook is often used as a gauge of the popularity of the sport. It now has more than 11,000 members and is very active."
Scotland's ski resorts and national body Mountaineering Scotland have responded to the rise in ski tourers by offering guidance on how to travel safely through the ski areas. They also provide single uplift ski touring passes so customers can access off-piste terrain.
Blair reckons another contributory factor to an increase in the sport's popularity is modern equipment.
He says: "Lightweight skis, bindings and boots allow for greater distances to be travelled without it being exhausting. In fact, a ski tour is far easier than a winter walk."
With surprising speed, our group ski uphill, first on a snow-covered single-track road, passing signposts deep in snow, through the Ben Lawers car park and on to the flanks of Beinn Ghlas.
Rather than head straight to the summit at 1,103m, we spot a slope of fresh and fluffy snow for a bit of downhill fun. Stopping to remove the skins from our skis and swapping the bindings from walk mode (heels free) to ski mode (heels fixed), we enjoy a short and speedy descent. The freedom to ski where we want on snow that has been untouched feels exquisite.
With huge grins, we regroup and return to skiing uphill. While Blair spends a lot of time in the European Alps, skiing and instructing, he believes Scotland has much to offer a wide range of skiers.
He says: "When you look at Scotland as a whole the terrain is vast and varied, yet still very accessible. We have anything from wide-open meadow skiing to steep and exciting gullies.
"Ski touring allows you to look beyond the ski areas.
"There is somewhere that will deliver the goods on all but the wildest of days."
Gordon and I had chosen the Lawers range because we hoped the roads would be open from Glasgow to Perthshire. We are fortunate because the A82 towards Glencoe is a long traffic jam as skiers try to reach the ski resort.
We meet only six other skiers on Beinn Ghlas and a few walkers, struggling to make headway in boots in deep snow. They comment enviously on our mode of transport.
It's Nienke's first ski touring adventure in Scotland. She says: "I'm amazed by how quiet the mountains are on such a beautiful day, but that is fine because we have it to ourselves.
"We have skied fantastic powder and with surprisingly easy access."
After a few hours of skiing both up and down, we stop for a picnic lunch, enjoying a sheltered sunny spot.
We decide we will not have enough daylight to reach the mountaintop and, instead, will ski across to the south-eastern side of the Munro.
From there, our descent is long and thrilling as we each decide on our own line and grapple with the low light as the sun dips towards sunset. I discover that falling over is not a problem because the snow is mostly thick and forgiving.
Rejoining the single-track road we are forced into tracks made by four-wheel-drive vehicles. The result is a crazy high-speed return to the main road and the car.
We all agree that our day of ski touring will be hard to beat and hope for many more adventures this year.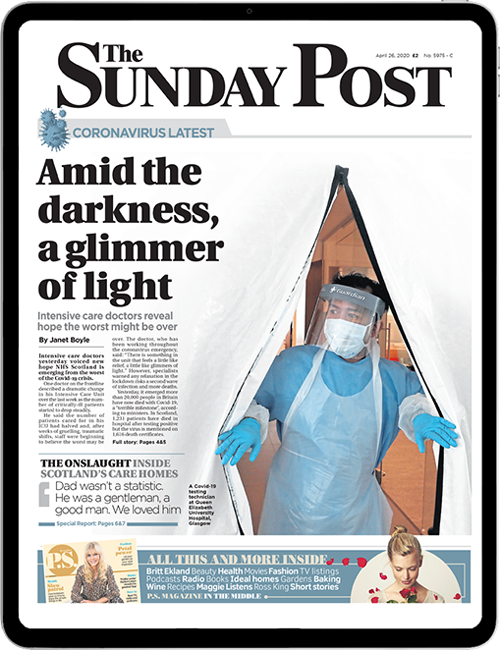 Enjoy the convenience of having The Sunday Post delivered as a digital ePaper straight to your smartphone, tablet or computer.
Subscribe for only £5.49 a month and enjoy all the benefits of the printed paper as a digital replica.
Subscribe