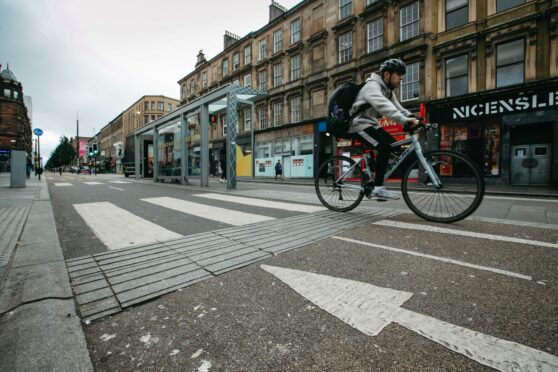 Councils may have put disabled people at risk by installing cycle lanes and changing road layouts without proper consultation, according to the country's leading blind charity.
Local authorities across the country have used lockdown to narrow roads, introduce cycle lanes and increase pedestrianised areas but, it is feared, some of the work has added dangerous and confusing lay-outs for partially sighted Scots.
Charity RNIB Scotland said a number of problems have been highlighted, particularly new cycle lanes dividing pavements from bus stops, adding: "We are concerned that many changes to our streetscapes have been made hastily and without enough consultation.
"We have raised concerns, as well, about the placing of cycleways and pavements, particularly when pedestrians have to cross to a bus stop. If mistakes have been identified, these should be fixed as soon as possible so that people with sight loss or other disabilities are not left facing a potential hazard."
In Glasgow, the start and finish of a cycle lane installed as part of a flagship redevelopment of one of Scotland's most famous streets needs remodelled after being fitted incorrectly.
The city council has acknowledged the problem with its Sauchiehall Street Avenue scheme, part of a £115 million project, but says it will not be fixed until next year.
The wrong type of tactile paving slabs, featuring raised blisters or ribs, has been used to mark the start and end of the cycle lane at junctions at Charing Cross and Blythswood Street and Rose Street. The ridges should have been placed along the direction of travel of the cycle lane to tell partially sighted people not to walk there but run across it, the direction used to denote a pedestrian path.
The development, opened in 2019, features a complex design, with the road reduced in part from four to two lanes and the building of a cycle lane between this and the pavement. These are all crossed by zebra crossings, with trees, bus shelters and other street furniture.
The new route was built as the pilot project for a £115m Scottish and UK Government-funded programme to transform 17 streets in Glasgow city centre. The scheme aims to "rebalance traffic modes, introduce green and smart infrastructure, with its design placing people firmly at the heart of the project".
Pat Toms, a cyclist, who notified the council of the problem, said: "What we have at present is clearly hazardous. Visually impaired pedestrians using white sticks feel ribs and blisters on the paving that indicate their location with respect to a crossing.
"After initially making no date commitment, the council is now saying remedial work will be carried out in January or February. Without correct guidance, visually impaired people could endanger themselves or other road users. Unnecessary delay in putting this right is not acceptable."
Pam Duncan-Glancy, Scottish Labour's social justice spokeswoman, said: "The incorrect tactile paving on the Sauchiehall Street Avenue in Glasgow is seriously concerning and could cause real harm to blind and visually impaired people.
"I urge the council to make these vital changes as soon as possible, to carry out these works carefully, and to learn from this and ensure future work done to our streets guarantees accessibility and safety for all."
The city council's head of sustainability and technical services, Christine Francis, wrote to the MSP last month, saying: "We are aware of this issue and are currently considering options to rectify it."
She said the time required to prepare contracts as well as proposed embargoes on roadworks in the city due to Cop26 and the Christmas period meant remedial work may not begin for three or four months.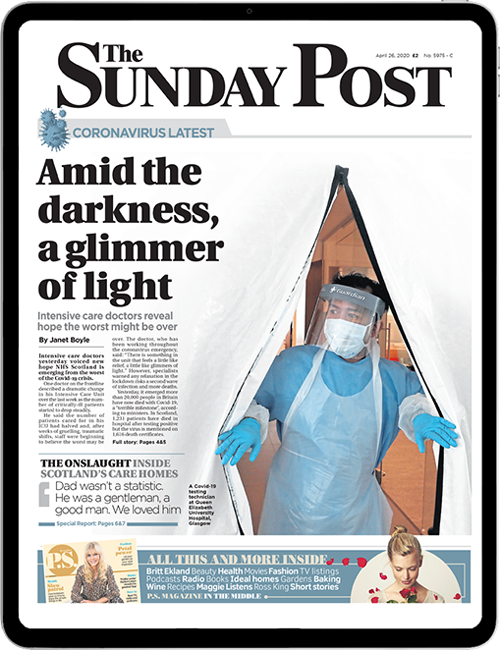 Enjoy the convenience of having The Sunday Post delivered as a digital ePaper straight to your smartphone, tablet or computer.
Subscribe for only £5.49 a month and enjoy all the benefits of the printed paper as a digital replica.
Subscribe